Civil engineering is a hugely rewarding career choice, with people working in this sector responsible for physically shaping modern society. Whether you're designing bridges, roads or critical underground infrastructure, your work will have a tangible impact on the lives of countless people in Singapore.
If you're looking to launch your career as a civil engineer, many career paths make the most of your skillset. A practical understanding of maths and science, alongside outstanding management skills, the following careers ensure you play an active role in the construction of our world.
1. Traffic engineering
As our cities swell, traffic engineers ensure people and goods travelling by road arrive safely and efficiently at their destination. As part of the larger transport engineering field, traffic engineers often work with government bodies looking to design new roads or retrofit old ones to maximise traffic flow.
Although the physical design of roads is one aspect of the job, traffic engineers will also consider how road signage and signals direct drivers with a safe and logical approach. A traffic engineer can make a dramatic difference in how everyday people navigate the streets.
Interested in applying for any of these roles? There are over 100,000 jobs available on MyCareersFuture. Apply for your next job role here!
2. Environmental engineering
The world faces complex environmental challenges in the age of climate change. Environmental engineers can use their civil engineering background to address many of these problems, ranging from public health and pollution control to waste disposal. Working alongside several other green sector specialists, this work aims to promote natural ecosystems by reducing carbon emissions and other harmful effects.
To succeed as an environmental engineer, you'll need to develop wide-ranging skills across chemistry, biology and soil science alongside a traditional civil engineering knowledge base. Keeping up with the latest environmental practices will help you produce insightful investigation reports while enabling you to determine the effectiveness of an organisation's sustainability program.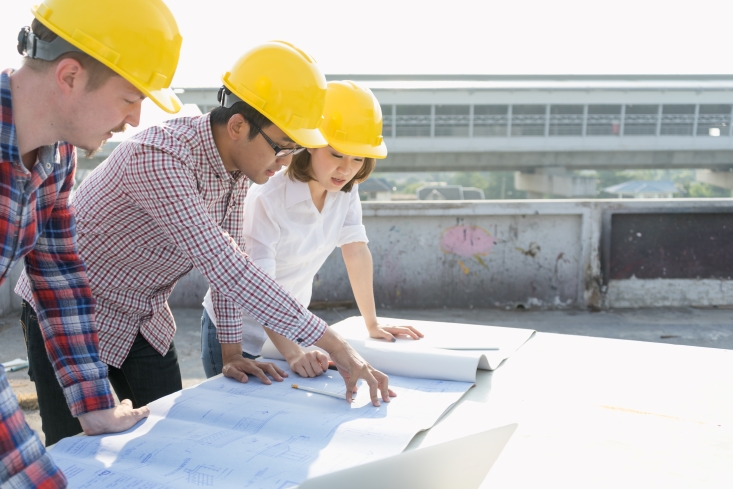 3. Water resources engineering
A high standard of living is reliant on access to fresh drinking water and proper wastewater systems. Water resource engineers specialise in this domain by working alongside water management facilities, including water treatment plants, irrigation systems, dams and reservoirs, to design and evaluate water-based engineering projects.
In addition, water resource engineers help develop robust solutions that prevent flood damage. With countries like Singapore experiencing serious flash flooding, this form of civil engineering is required to plan and construct measures that redirect water flow away from problem areas, protecting people and infrastructure.
4. Structural engineer
Although standard civil engineers appreciate the durability of their materials when planning and designing a new building, structural engineers receive extra training to take their knowledge to greater heights. This enhanced education on engineering mechanics and materials means they play an important role throughout a project's life cycle.
So, what does a structural engineer do? Their major role is to use physics and mathematics to deliver the safest and most functional project. This means making sure that each infrastructure is capable of accommodating enough occupants by weight or space, while withstanding any form of element it's exposed to.
Whether they're exploring how to design a skyscraper or a tunnel, they're concerned with how the materials used to carry out construction will remain stable and secure under even the harshest conditions.
Need personalised guidance in your job search? Register for a complimentary session with WSG's Career Matching Services today and get the support you need.
5. Geotechnical engineer
You can't just choose any piece of dirt and start digging. Geotechnical engineers conduct comprehensive investigations into the physical properties of soil and rock to determine whether a proposed structure can be safely built. These practical skills can apply to numerous sectors, ranging from the petroleum industry to coastal construction projects.
With safety as the primary concern, geotechnical engineers produce written reports that discuss whether a new structure is supported by soil properties in a specific location. They can also make suggestions about the ideal construction material based on their findings. This role is crucial in Singapore, but especially in parts of the world with frequent earthquakes and seismic activity.
6. CAD technician
If you want to operate at the forefront of technical drawings and plans, becoming a computer-aided design (CAD) technician is a wise choice. This civil engineering role works closely with architects, engineers and designers to produce incredibly precise 2D and 3D models used in the engineering, construction and manufacturing industries.
Meanwhile, CAD technicians often specialise in a specific field, such as structural, electrical and control, to help deliver an effective project. With other professionals relying on your work to make informed decisions, CAD documents aren't just about design specifications. They're also essential for determining project costs and feasibility before installation occurs.
If you want to find out more about these roles, try networking with industry experts. Here are some useful tips to improve your networking skills and get the most out of networking meetings and sessions.