The Singapore government is increasing its push for sustainable development by supporting workers and employers looking to get involved with the green revolution. With this shift helping to safeguard the climate while capitalising on Asia's regional growth, the low-carbon future presents fascinating career opportunities for jobseekers.
Although sustainability is a wide-reaching term, the United Nations Environment Programme (UNEP) defines green jobs as "positions in agriculture, manufacturing, R&D, administrative, and service activities aimed at substantially preserving or restoring environmental quality".
The sector's highlights range from high-tech agriculture and aquaculture to climate science and waste management. Ready to get started? Check out the following roles to explore incredible possibilities in sustainable development.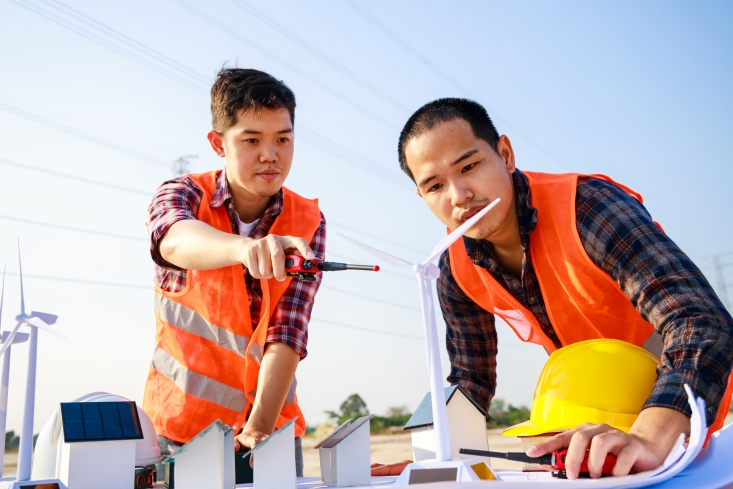 1. Environmental compliance manager 
The government progressively creates regulations, and someone must ensure these laws and guidelines are implemented within a business. This is the primary responsibility of environmental compliance managers, who determine whether their company is keeping up with industry and government standards.
With the Singaporean government implementing a carbon tax and other tight regulations, environmental compliance managers must measure their organisation's performance against internal and external policies. Meanwhile, they also play a vital role in developing new sustainability strategies to help companies reduce their impact.
Looking to shift to a new sector? Explore over 100,000 job postings on MyCareersFuture today!
2. Sustainable facilities manager 
Facilities managers handle maintenance and repairs of everyday buildings. But as we've discovered the important relationship between the built environment and climate change, making smarter decisions regarding where we live and work can make a big difference. Sustainable facilities managers use their skills to improve the environmental performance of these structures while elevating the experience of people within them.
From offices to schools and government buildings, this job involves conducting sustainability analyses to determine how a property is wasting vital energy. With this information, a building's assets can be upgraded to deliver vastly improved sustainability outcomes.
Alongside other protocols like green cleaning methods, recycling initiatives and more, reducing a building's carbon footprint is vital to our future.
3. Technical sales representatives
Sustainable products and services that benefit a company's environmental goals are much needed. However, we also need people with the skills to communicate the advantages of these products to potential customers. Sustainability-focused technical sales representatives are tasked with this crucial job.
By identifying companies that could use your company's product to reduce their emissions, you're helping to make the business world more environmentally friendly. Meanwhile, you'll also provide essential service, maintenance and repair advice through these lasting relationships.
Want to increase your chances of nailing the job interview? Learn effective job search strategies, enhance your personal brand, and more with Career GRIT. Register for our Virtual Seminars today!
4. Water treatment specialist
Water treatment specialists are needed to purify resources for public consumption. This broad role keeps people involved in every stage of the process, from maintaining water treatment equipment and collecting samples to adding purification chemicals to meet safety standards. This job will only become more meaningful as we move towards a green future.
Recycled wastewater currently meets about 40% of Singapore's needs, although this figure is expected to reach 55% by 2060. According to water management expert, Dr Cecilia Tortajada: "Singapore has become one of the world leaders in recycling wastewater because authorities have planned how to implement it for a long time and invested large amounts of funds in research and technology."
5. Environmental engineer
Environmental engineers are specialists in assessing and managing the effects of our activities on the natural world. As society is increasingly focused on smart design through the built environment, this green job is imperative to planning and executing sustainability practices across numerous facets of life.
Taking teachings from biology and chemistry to address challenging issues, environmental engineers are actively involved in several areas, including air pollution, public health, waste disposal and water management. Supported by strong analytical and problem-solving skills, this profession is ideal for people with a strong interest in maths and science.
Fulfilling career of the future
By using engineering practices to limit environmental damage, producing a more sustainable world becomes a reality. Through forward-thinking solutions that carefully balance the needs of growing human populations with the impacts of climate change, you're bound to find a career in this sector hugely rewarding.