Singapore has a thriving e-commerce industry, with 98% internet penetration signalling that customers love to do their shopping online. With the e-commerce market expected to be valued at an impressive $14.2 billion by 2025, switching over from retail offers incredible potential.
Best of all, many of the skills you already have will smoothen this transition into the e-commerce space. From outstanding customer service to attention to detail, numerous transferable skills ensure your career development reaches new heights in the online landscape.
Want to increase your chances of nailing the job interview? Our virtual seminars can teach you effective job search strategies, enhance your personal brand, and more. Explore Career GRIT to learn more!
1. Time management
As the world's leading e-commerce platform, Amazon reportedly processes a mind-blowing 4,000 sales per minute. While your employer isn't under that demand, you still need exceptional time management skills to process each order and customer query.
With the retail industry also typically fast-paced, as workers accept orders, process sales, chat with customers, stock shelves and much more, these skills will be invaluable in the e-commerce sector. Supported by tech-driven solutions, you can get more out of each day.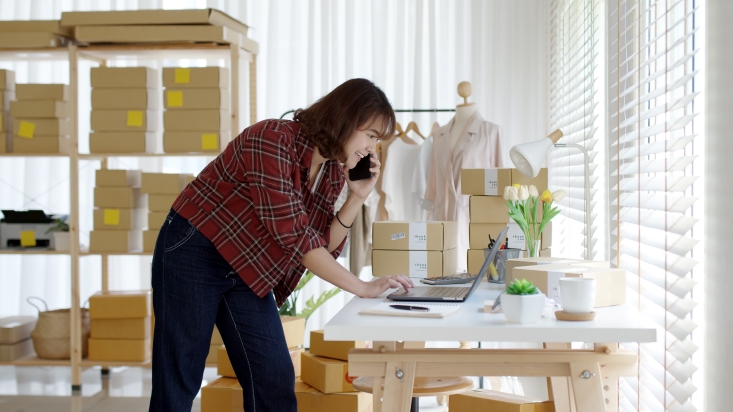 2. Customer service
Retail workers must provide excellent customer service at every opportunity. Whether that's answering questions about a specific product, guiding someone around the store or checking when the next order is arriving, offering thoughtful and precise responses ensures customers receive a satisfactory outcome.
Customer queries are typically handled remotely in the e-commerce industry. However, your previous retail experience will help you respond expertly to phone conversations, email enquiries and instant messages. You're helping the business generate sales and customer loyalty by providing fast and accurate service.
3. Teamwork
Teamwork is essential in virtually every industry, but especially in dynamic e-commerce workplaces. From keeping tabs on inventory to processing and shipping orders, each moving part must work in perfect unison to deliver a superior online shopping experience.
For example, an e-commerce website's marketing team must work closely alongside those in charge of inventory to ensure there's enough stock to launch a new promotion. Like retail, a collaborative mindset ensures your e-commerce career development is remarkably rewarding.
Need some support in your transition to a new industry? Register for a complimentary session with our career guidance team and boost your career switch!
4. Attention to detail
Retail workers require stellar attention to detail. Stock needs to be ordered correctly, price labels must be accurate and barcodes need to be scanned. While some requirements are slightly different in an e-commerce operation, this same mentality needs to be taken into your new role.
Depending on your specific e-commerce job, you'll need to keep meticulous tabs on your inventory to ensure items don't go out of stock. Meanwhile, the website must be updated with the latest information so customers can shop with confidence.
5. Marketing
Throughout smaller businesses in the retail industry, it's common for in-store workers to help with the brand's marketing. You might shoot high-quality product photography to share on an Instagram page or even model the clothes to give customers a realistic perspective.
These skills come in handy when you transition into the e-commerce sector. For instance, you might produce social media content or write SEO-driven product descriptions to capture your target market's attention. Basic marketing skills can help you land the perfect e-commerce job.
6. Business awareness
When you work in a retail environment, there's an expectation that you'll learn what makes the business special. Does the store offer a product that no one else stocks or are its prices far lower than the competition? This business awareness can also apply to e-commerce jobs in Singapore.
Like what you're reading? Join us on Telegram to get real-time updates on job vacancies, upcoming career events, career-related tips and more!
Switch to the e-commerce sector today
If you're an experienced retail worker looking for an e-commerce job in Singapore, there's a good chance your existing skills have prepared you to make the switch effortlessly.
With the e-commerce industry only becoming more popular as customers familiarise themselves with online shopping, you won't have a problem finding a rewarding role.
Discover must-have IT skills for e-commerce workers and learn how the latest digital tech is helping Singaporean businesses attract and convert their ideal target market.