What is the retail sector in Singapore?
As a modern city, Singapore is at the forefront of global lifestyle demands. Coupled with having the best business environment in the world, Singapore is fertile ground for both local and global companies to set up shop and operate from. Key sub-sectors within the retail sector are as follows:
Fashion and sporting goods

Furniture and furnishings

Supermarkets and convenience stores

Department stores

Consumer electronics
Retail drives tourism growth and contributes to a better quality of life for Singaporeans who live, work, and play here. According to the Ministry of Trade and Industry, today, the retail sector boasts over 22,000 establishments and contributes nearly 1.4 percent of GDP and three percent of total employment, making it a key sector for Singapore.
Looking for a job in retail? Apply for your next job role now on MyCareersFuture. 
How is Singapore's retail sector doing right now?
The onset of the Covid-19 pandemic in 2020 severely disrupted the retail sector in Singapore. Covid-19 restrictions, such as safe distancing measures and the closure of physical workplace premises during the Circuit Breaker, caused customer footfall to plummet, while border restrictions led tourist arrivals to come to a standstill. 
Thankfully, there is a silver lining amid the situation as the COVID-19 pandemic also accelerated trends such as the shift towards hybrid work arrangements and online spending. 
Fast forward to today, Singapore's retail sector is already well on the way to recovery. According to the retail sales index by the Singapore Retailers Association (SRA), on a year-on-year basis, retail sales increased 3.6 percent in April 2023, following a 4.5 percent increase in March 2023. The estimated total retail sales value in April 2023 was $3.9 billion. Of this, online retail sales made up an estimated 12 percent.
Economists are expecting further growth in retail sales boosted by the tourism sector.
What is the outlook for Singapore's retail sector?
The COVID-19 pandemic has brought about a change in consumer experiences and the need to transition from brick-and-mortar stores to e-commerce. While challenging, the retail sector stands to gain by adapting to the omnichannel approach, capitalising on new growth prospects and remaining globally competitive.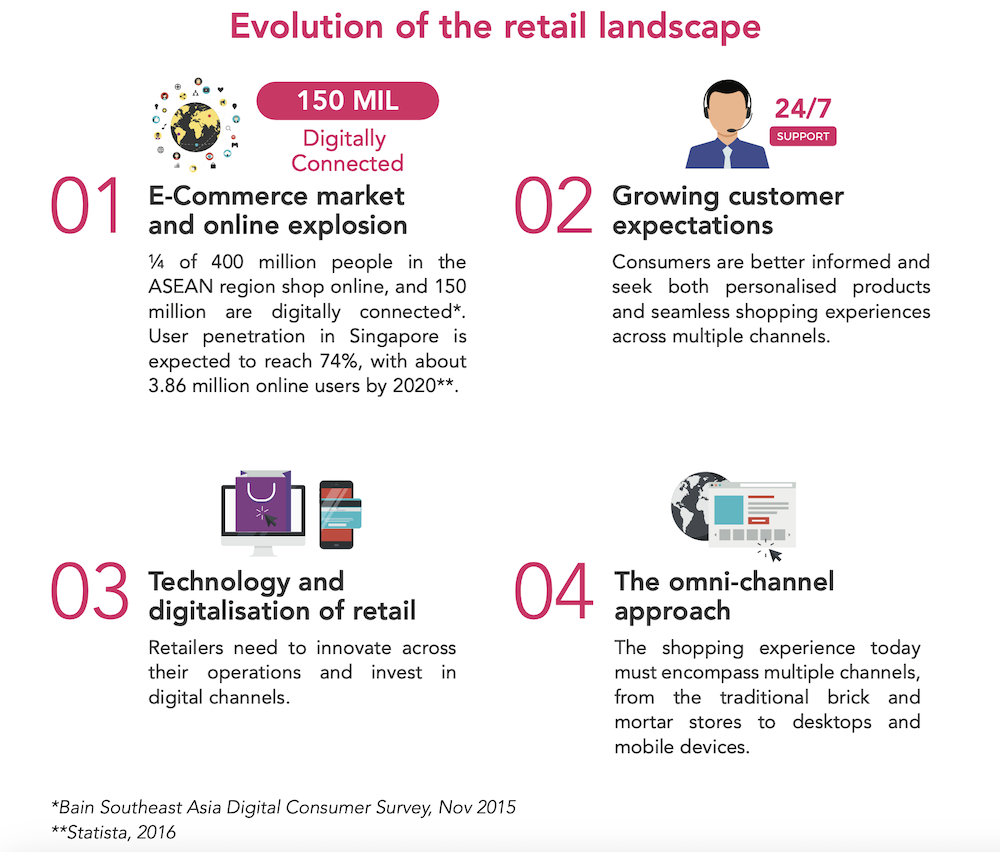 According to Kenneth Wong, Director of the Trade and Lifestyle Division at Workforce Singapore, the retail sector has always been evolving because it has to meet the needs of the consumers. Kenneth elaborated: "The industry is very diverse; it has got many different business models, and the way they service their customers is also very different. So now we've gone into digital, and we've also gone into omni channels." 
The evolution and expansion also mean good news for the jobs market. With the rise of e-commerce, plenty of jobs are emerging in the retail sector. Kenneth shares:
"There's a lot of different opportunities for the workforce so it really depends on what makes sense for the employers and also what would interest the jobseekers and the workers."
Retail Industry Transformation Map
Led by Enterprise Singapore (EnterpriseSG) in partnership with key industry players, unions and other government agencies, including the Economic Development Board (EDB), Singapore Tourism Board (STB), SkillsFuture Singapore (SSG) and Workforce Singapore (WSG), the Retail Industry Transformation Map (ITM) 2025 was launched in 2022. 
The new ITM would focus on creating a core of international Singapore brands and improving the standard of employment in the industry, with a focus on enhancing Singapore as a global lifestyle and retail hub, anchored with new experiential concepts and innovative products.
Want to increase your chances of nailing the job interview? Our virtual seminars can teach you effective job search strategies, enhance your personal brand, and more. Explore Career GRIT to learn more!
Rapid growth of e-commerce
While offline shopping channels have seen some recovery with the easing of Covid-19 measures, online channels remain important platforms for consumers in Singapore. According to a report released by Facebook parent Meta and Bain & Company, e-commerce sales in Singapore are expected to reach $19.6 billion by 2027.
Singapore's retail sector is actively hiring
With the rise in consumer demands and digital transformation, job opportunities are aplenty in Singapore's retail sector. So, if you're keen on joining the sector, there's no better time than now to hop aboard! Here are some useful reads to help you learn more about the sector.
Singapore's Retail Sector: Job Opportunities and Career Conversion Programmes to Tap on for a Successful Industry Switch
6 Ways to Brush Up Your Customer Service Skills
6 Transferable Skills From Retail to E-commerce
IT Skills That Will Help Your E-commerce Career Soar
3 Must-Learn Skills for Successful SME E-Commerce Employment
Explore Singapore's e-Commerce Industry: Entry-Level Jobs to Apply for