Almost every job requires customer service skills to some extent. Yet many people don't train this aspect of their skillset, choosing to focus their attention on hard skills that leave them missing part of the equation. Developing skills in customer service can give your career progression the boost it needs.
Keeping customers happy is the life force of every successful business. Training your customer service skills and showcasing to management that your approach builds and strengthens relationships can help you progress in your career. Brush up on your talents today with these productive tips.
Need personalised support in planning out your upskilling and career progression? Register for a complimentary session with WSG's professional career officers today!
1. Become an active listener
Customers want to know that someone is genuinely listening to their questions and concerns rather than just nodding along. This means you must practice being an active listener who pays close attention to a customer's specific needs. This way, you can take effective action without hesitation.
You can use numerous techniques to practice during day-to-day life. When communicating in person, always face the customer and make eye contact. Do your best to avoid interrupting, don't rush to conclusions and look for non-verbal cues like facial expressions and gestures that express frustration or uncertainty.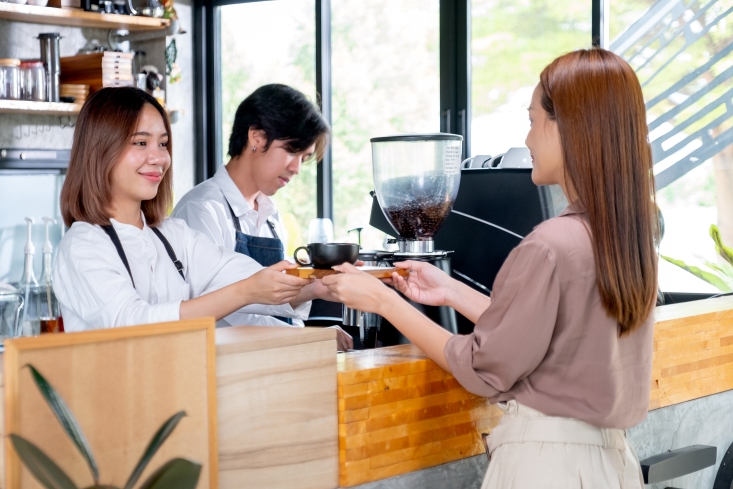 2. Understand positive language
You can put customers at ease by learning how to use positive language for each interaction. Rather than highlighting what you can't or won't do, the positive approach conveys a more optimistic outlook that helps put people at ease. This informative and proactive mindset will benefit both you and the customer.
If you're asked a question where you don't have the answer, it doesn't help anyone by simply responding, "I don't have that information." Using positive language, you'd say: "I'll help you find the right person to talk to; I really appreciate your patience and understanding."
3. Personalise your delivery
People don't like to feel like they're just a cog in the machine of a business. Adopting a more personal approach helps take your skills for customer service to the next level, as you'll ensure consumers feel like they're being treated like a human instead of just a number.
Learn the names of regular clients so you can address them properly. You should also display a friendly demeanour by smiling and making eye contact wherever possible. Meanwhile, try to keep your conversations feeling natural rather than reading from a script that leaves an impersonal impression.
Looking for a job? Explore a range of career opportunities with Career GRIT. Connect with hiring employers at various career events such as walk-in interviews, virtual job interviews, virtual career fairs, and many more!
4. Know the product inside-out
Part of being an active listener is about asking better, more insightful questions. As customers rely on customer service staff to know about a product or service inside-out, you must have a robust understanding of the technical details to ensure you get to the bottom of their concerns.
This means researching the product to understand how its features serve a customer's needs and differ from other viable options on the market. If you don't know the answer to a specific question, escalating a query to the right person is still a valuable skill that gets the customer a suitable response.
5. Apply constructive criticism
It's hard to enhance your customer service skills if you don't know where you're going wrong. To overcome this hurdle, seek relevant feedback from customers, colleagues and managers. This way, you can identify flaws in your methods and practice specific areas to deliver the best service possible.
If you receive feedback that your customer service skills lack warmth, you can look to develop your listening ability or make more eye contact, depending on the feedback. Take constructive criticism on board and use it as an opportunity to serve customers better.
6. Stay curious
Some people take customer service skills for granted. However, these essential skills will improve your performance in countless roles and ensure you get noticed by management and senior staff. Supported by a willingness to learn, you can refine your talents to deliver almost every customer the ideal outcome.
Customer service is becoming increasingly sophisticated as data-driven tools give workers insightful information to provide solutions that cater to specific consumers. However, fundamental techniques like a friendly attitude and a drive to solve problems remain as relevant today as ever.