Singapore isn't officially under lockdown — yet.
However, with the temporary shuttering of bars, cinemas, nightclubs, theatres, and other entertainment venues, it might as well be.
As a result, job losses have been mounting across all sectors, including aviation, hospitality, and F&B. Suddenly finding yourself out of work can be a frightening prospect–virus or not — but the current strained economy and social distancing measures can make finding a new job even trickier.
Here are a few ways to cope if you've lost your job during these troubling and uncertain times.
Need more career tips? Your resource for career-related articles, updates, and events starts here!
Explore other ways to earn income
If you've found that it's simply too difficult to get hired in today's economic climate, with employers postponing job interviews indefinitely, it's time to think outside the box.
You may be able to find a temporary job or side hustle that'll enable you to work from home.
Of course, these types of employment might not provide the level of pay you're accustomed to, but every little bit helps right now.
One way to find gigs is by searching for jobs on global freelancing platforms like Upwork, Fiverr, and Freelancer. Using such platforms, you can monetise hobbies that involve skill sets that others would pay for, like Photoshop or video editing.
If you're an expert on a topic, you can also develop your own online course via platforms like Udemy.
Admittedly, this option might not be possible for everyone. This is because these efforts require specific, marketable, in-demand skill sets that others are willing to pay for.
Nonetheless, desperate times call for desperate measures, and you'll never know if you don't try.
Ultimately, exploring other ways to earn an income during the coronavirus pandemic, can potentially help to diversify your income sources in the future too–so you'll be better prepared if an economic downturn hits again.
Read Also: How to Deal With Job Search Stress in Your 40s
Build your professional skill sets with online courses
While unemployment can be frustrating, you can take advantage of your time by building your professional skill sets with free online instructional videos from Khan Academy, YouTube, or even from Ivy League universities.
You can then apply what you've learned by building up an online portfolio, amongst other things. If you're picking up coding, for example, consider building a website to showcase your projects.
This provides prospective employers with a tangible measure of your skill sets, which helps with your employability in the future.
Also, this online resume will prove useful when sourcing for gig opportunities.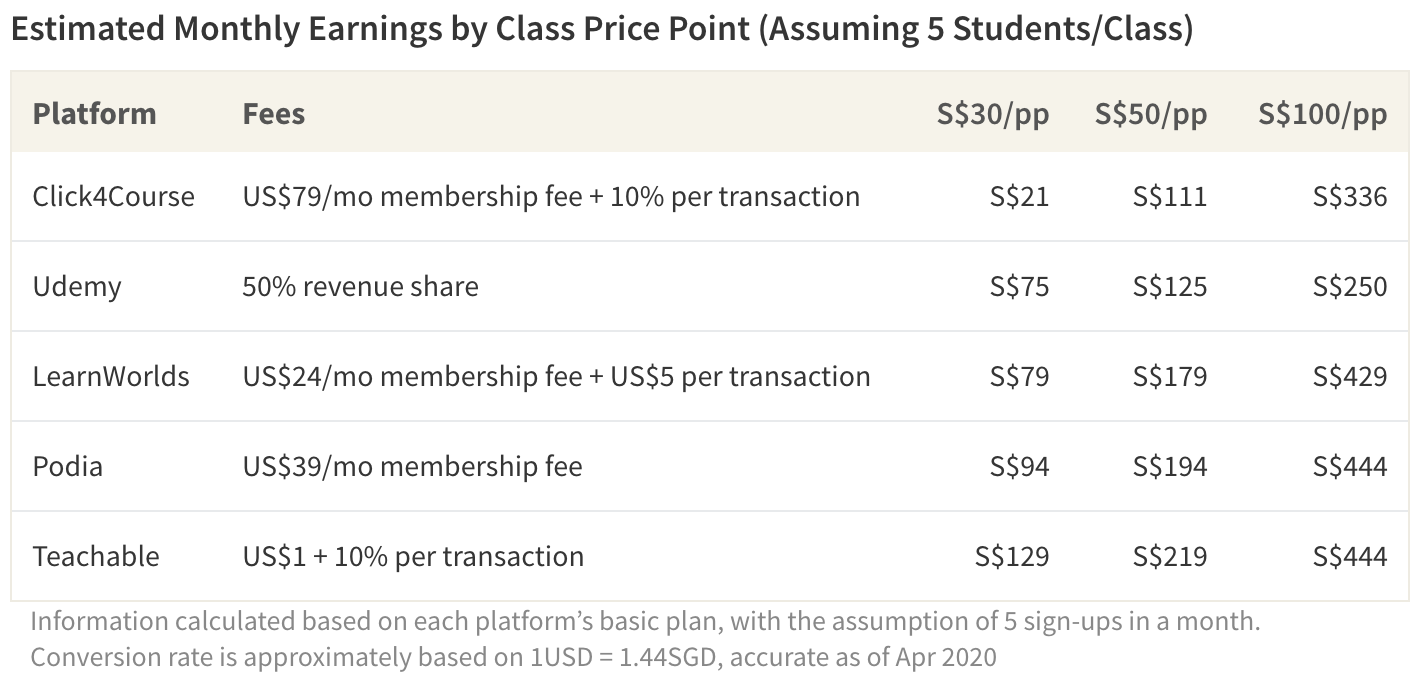 Understand how the government's Covid-19 Budget helps
Fortunately, the government has put in place measures to help Singaporeans affected by the virus outbreak. This includes financial assistance for unemployed workers (as outlined in the Resilience Budget 2020).
Between May and September this year, low and middle-income workers who have recently become unemployed can receive a grant of up to S$800/month over three months under the Covid-19 Support Grant.
Help is also available for all households nationwide. Cash payouts for all adult Singaporeans have risen to S$300–S$900, depending on income.
Also, the additional cash payout given to each Singaporean parent with at least one child aged 20 and younger is set to triple from S$100 to S$300.
Get bite-sized career tips and stay updated on the latest job listings and career events via our Telegram channel!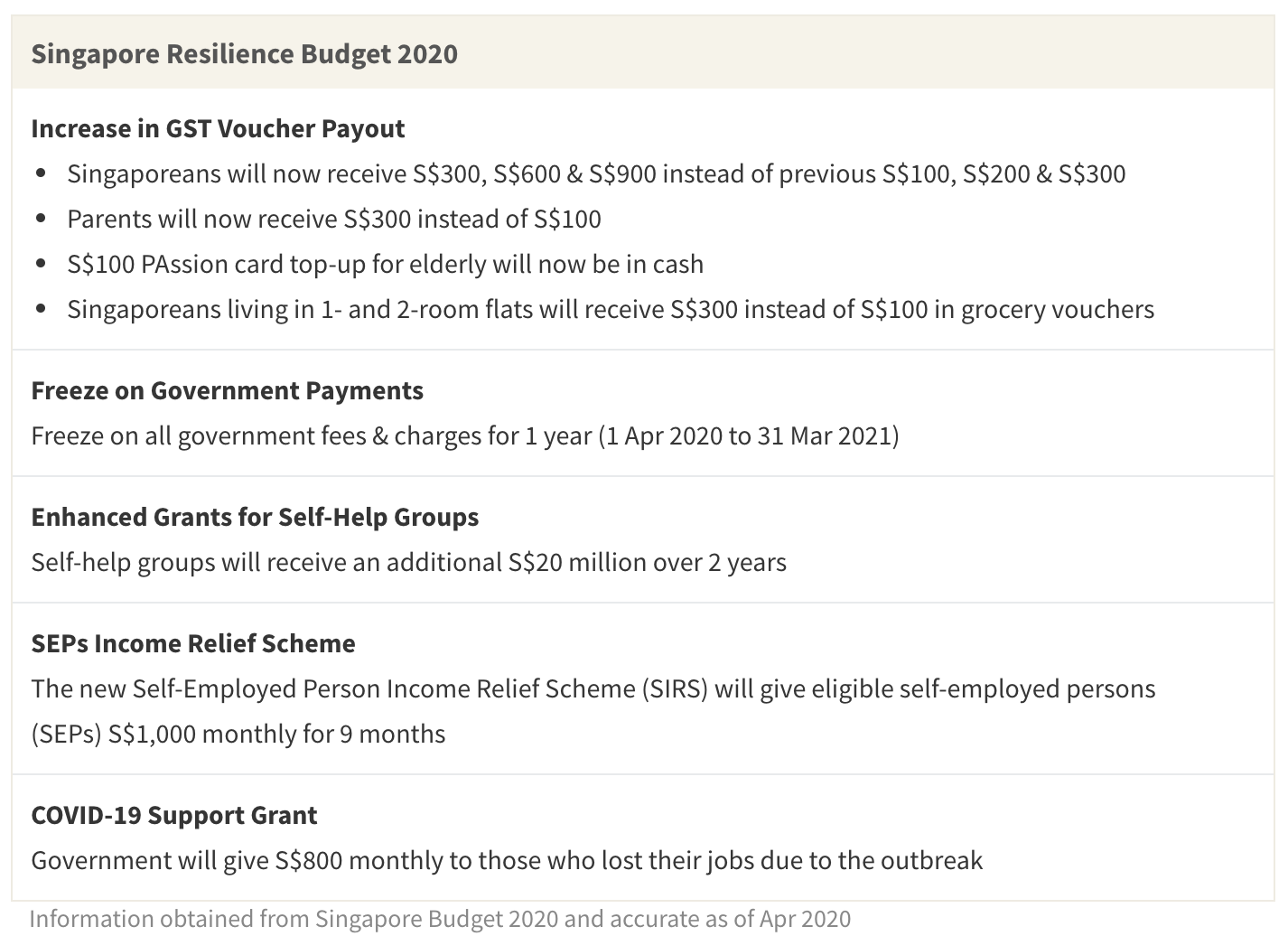 Don't Be Afraid to Ask For Help
These are indeed trying times; don't be afraid to ask for help if you need it.
If you're struggling financially and need urgent help, you can tap on the Temporary Relief Fund.
Eligible applicants will receive one-off cash assistance of up to S$500.
There are support lines available to help you cope emotionally — Samaritans of Singapore and Mental Connect are two examples of where you can seek assistance.
This article was contributed by ValueChampion Singapore.