Great colleagues make work more enjoyable. Perhaps it's the reason that gets you excited about heading to the office or remotely connecting every day.
However, growth is necessary in your career — staying put in one place may not help you progress to where you want to be. So a resignation letter is in, and it's already time to say goodbye to your colleagues. How do you do that?
Start with your farewell message.
Why should you write a farewell message to your colleagues?
Whether it's a farewell email or a message in a thank you card on your colleague's office desk, a goodbye note is a warm gesture to express your heartfelt appreciation for what you have learnt from them. In other cases, it is simply to let them know that you have truly enjoyed their company and office life was never complete without them.
More importantly, though, a farewell message to your colleagues on your last day lets you shift the focus from the dreadful news of your resignation to a moment of acceptance.
And while you do that, you can:
1. Sum up your transition plan
By your last day, your handovers would have been completed. Your colleagues would know what to follow up on and the next steps to take for each assignment. However, you may want to assure them that help is always available.
Your farewell message isn't meant to discuss your handover again. After all, nobody wants to hear you talk about work just before you leave.
Rather, you can use the space to advise them on whom to contact should they run into challenges.
While you may let them contact you in case they need urgent help, it is advised to keep work matters within the company as far as possible. This will help you avoid any potential conflict of interest with your new job that may affect your chances of successfully completing your probation
You could also leave them with some simple tips to navigate the issues, if any.
Of course, never start your message with this! Focus on your wishes first, and towards the end, a simple liner or two will do. Here's an example:
"And don't worry about all the tasks handed over to you, I know you'll do an awesome job, as always. If you run into any complications, step away and come back to it the next day. Jennifer will be around to help you too, so you'll be in good hands!"
Have a job but want to level up? Achieve career excellence, develop your skills, and expand your knowledge with resources from Career GRIT. Check it out now!
2. Stay connected with your colleagues 
Your farewell message also lets you offer to stay connected with your colleagues.
If you haven't already added them on LinkedIn, this is the best time to do so. This will allow you to stay professionally connected with them.
Leave them with your personal email if you wish to keep in touch as friends or have them follow you on Facebook or Instagram if you are comfortable.
Perhaps a good opportunity awaits at your new company and you think they will be a perfect fit. You can easily share their profile with your employer as a referral!
In other instances, you may also request a LinkedIn recommendation and offer to write one in return.
3. Show you care & respect them 
Lastly, a farewell message represents how you feel about your colleagues. Your appreciation and thank you messages are just a small part of the act. Looking at the bigger picture, you took the time to craft a farewell message for your teammates. This shows you consider them important figures during your time with the company.
Even if you're crafting one because it's expected in your office culture, setting aside a few minutes to work on a message is a sweet gesture in itself.
It doesn't matter if you haven't worked with a colleague much. Everyone has a part to play in your experience — leaving them with such a warm gesture reveals your level of respect and care for them.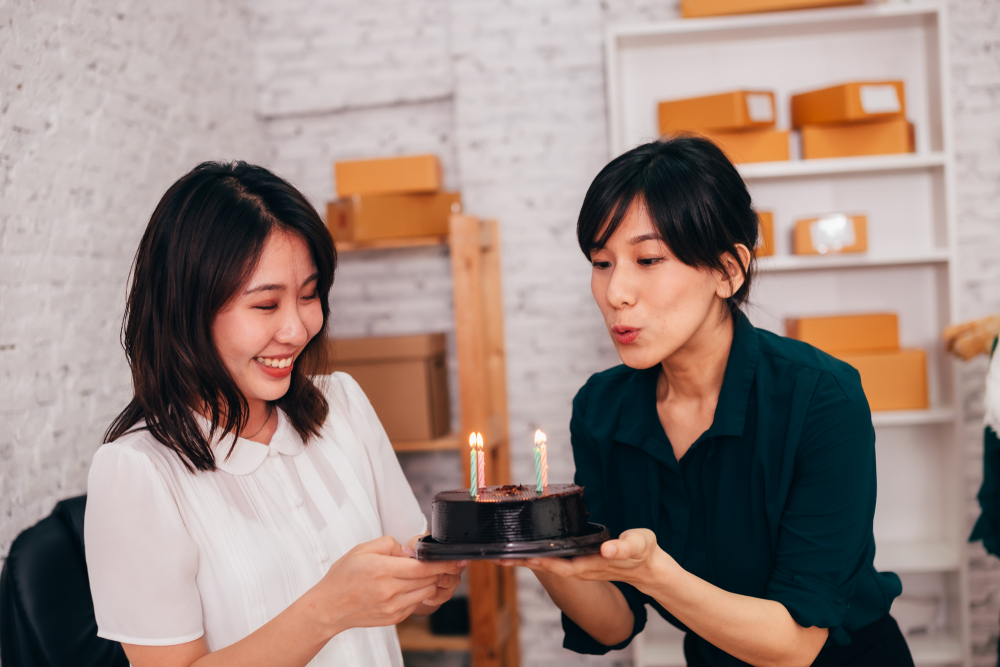 How do you write a goodbye message to colleagues?
1. Personalise your message
Giving your colleagues personalised farewell gift cards in the office or sending your message via email (especially if you're working remotely) is more meaningful.
If you don't have the time to craft individual messages, consider a single email to address all your colleagues together, while crafting personalised ones for those you have worked very closely with.
2. Focus on the good, not the bad 
Your farewell message to your colleagues should not burn any bridges so focus on your positive experiences with them. Think about a particular incident that deserves a mention or even commend them on their work ethics and how much you enjoyed working with them.
Get bite-sized career tips and stay updated on the latest job listings and career events via our WSG Jobs and Career Advice Telegram channel!
3. Send it before or on your last day
If you're dropping an email to sum up your transition plans, sending it before your last day will be more convenient in case any colleague wishes to follow up on tasks they missed out on. This will help you clear any queries before you lose access to your company email.
Otherwise, you can always drop them your farewell message on your last day itself.
However, avoid sending it at the last minute before the end of the workday. If you email earlier, you can allow your colleagues to respond with their own well wishes in time — this can go a long way in maintaining friendly and professional relationships.
4. Share your personal email & handphone number 
Whether they're handwritten farewell cards you want to give your colleagues in the office or an email message, leaving them your personal email and handphone number lets them stay connected to you. They may also reach out to you to express their well wishes.
Words to include in your farewell message to colleagues
There are many ways to write your farewell message, so there's no point in searching for a template. After all, it is a personalised message coming from you. However, if you need some help, here are a few expressions to offer some inspiration:
It was lovely working with you.
I am in awe at your level of dedication.
You pushed me outside of my comfort zone.
I cannot thank you enough for mentoring me.
You should give yourself a tap on the back for being incredibly amazing.
I wish you all the best with your time here.
Keep in touch.
We shall meet again.
Start penning your heartfelt messages and leave with a smile!