Trust is vital in the workplace. Employers must trust their staff to complete tasks without micromanaging or creating unpleasant work situations. Employees must have faith in their teammates to work as hard as they do and to have each other's backs. As remote and hybrid work becomes more common for companies worldwide, trust becomes even more important. 
As the saying goes, "trust is earned not given". This leads to a pressing question: how can companies foster a culture of trust seamlessly and naturally? 
The answer comes down to one crucial department—HR.
HR: The bridge between employees and employers
The HR department is one of the most vital and influential departments within any company. After all, it is responsible for recruiting, screening, interviewing, and placing employees. They also handle employee relations, payroll, benefits, and training.
While employees report to their bosses for the day-to-day work, they turn to HR for matters that are more confidential such as pay and workplace issues. At the same time, HR also works with management to help develop long-term strategies for the growth and development of a company.
Therefore, the HR department is in the best position to communicate the expectations of employers to employees and raise concerns of employees to employers.
Workipedia by MyCareersFuture brings you five key strategies that can be implemented.
Looking to hire? MyCareersFuture enables you to easily assess and filter applicants, speeding up your hiring process. Post a job now!
5 ways HR can foster a culture of trust
1. Communicating regularly with employees
The disconnect between employers and employees is often rooted in an overall lack of communication. When there is no proper communication between the two, assumptions, suspicions and finger-pointing will occur.
To improve communication, HR should outline company policies, practices, and strategies in ways that employees will understand. Be clear about what the company expects of employees and what they can expect from the company.
For most employees, their only proper meeting with HR is when they join as new hires. However, it is important to maintain communication with staff at regular intervals to be in the know of any concerns, ideas, or feedback and respond accordingly.
It is good practice to check on staff working away from the office to see how they are doing, and if they have any concerns. With video conferencing tools, this should not be challenging to accomplish.
In addition to checking directly with staff, HR should also implement employee engagement platforms such as Workday Peakon and Thymometrics. They provide clear channels for staff to communicate conveniently and safely and enable objective information to be gathered for management's learning. 
Singapore Management University's LKCSB Associate Professor of Organisational Behaviour & Human Resources Tan Hwee Hoon shares: 
"Establishing clear guidelines provide employees with clear boundaries in the workplace while arming them with the autonomy to navigate in ways that benefit the best interest of the organisation."
Open communication between HR and staff can help them to feel assured that they have someone to turn to if they have any issues, improving employee experience as a result.
Want to stay in the know? Receive hiring tips directly in your mailbox by signing up for our e-newsletters today.
2. Driving efforts to build a fair and inclusive workplace
Companies that uphold equal opportunities are also better perceived as good employers to jobseekers and employees. 
To build a fair, inclusive workplace, HR should first address its hiring processes by making sure that they are free of bias. Hiring candidates without bias sends a strong message to staff that there is no discrimination in their workplace, making them more likely to feel comfortable with HR.
HR also needs to ensure all employees are paid fairly and take all complaints seriously and with the utmost sensitivity.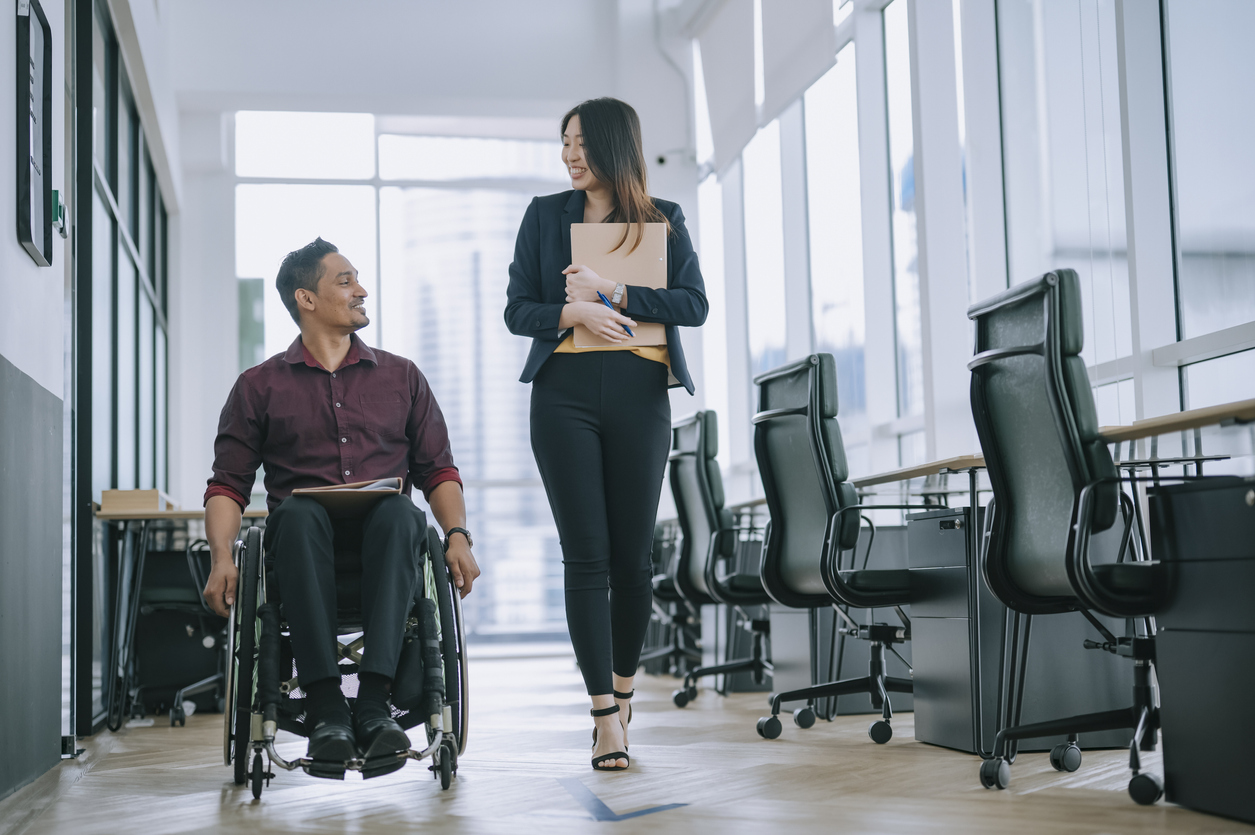 HR leaders must make sure all HR employees are trained on how employment laws impact the company. As it stands, the Singapore government is also looking to support persons with disabilities with the Enabling Masterplan 2030 (EMP 2030) providing initiatives for employers to support persons with disabilities in the workplace.
3. Being open and transparent with employees
HR has a responsibility to be transparent with staff because it is a resource for work-related information. When there is transparency of information and timely updates of new directives, staff will reflect upon this as a positive working experience with the company as a whole. Hwee Hoon shared: 
"It is not so much about sharing ethical practices, but that of creating a culture of transparency of how an organisation and decision-making is managed."
Ease of access to information and support is especially important amid economic uncertainties when staff could be worried about their job security. 
By being transparent with employees, employees can better understand the company's business decisions. This can prepare staff mentally for any major organisational changes, and encourage them to share, collaborate and innovate for the benefit of the company.
Read More: Knowledge-Sharing Culture: Fewer Pool Tables, More Pooled Resources
4. Upholding staff confidentiality
It does not need to be explained that HR teams work with large amounts of sensitive employee data which needs to be protected. This means that HR professionals need to refrain from sharing private information with company leadership without employee consent. 
Unless there are legal concerns, the employee should never feel like you're going to betray their trust in anyone at the company, from top to bottom.
For example, an employee might approach an HR personnel with regard to a medical issue that he or she may be facing. Without the employee's consent, such information should not be disclosed to his or her direct supervisor.
5. Enhancing employee wellness 
A survey conducted by Milieu Insight in collaboration with Intellect, involving 3,000 employees across Singapore, Indonesia, and the Philippines found Singapore's workforce as having the worst mental health. 
Thankfully, more employers are aware of the sentiment of employees. Speaking to the Straits Times, director and founder of aAdvantage Consulting Group, Jacqueline Gwee said: 
"Employers who believe in taking care of their employees' well-being will reap the benefits of a more motivated and engaged workforce."
However, more can be done by employers to alleviate the situation for workers in Singapore. This is where HR plays a crucial role–sourcing for and advising company management on employee wellness programmes that would benefit the company's employees.
By doing so, employees would feel that their welfare is well taken of by their employers and in doing so, improve employee retention.
Read More: The Great Reshuffle: What S'pore Employees Want and How Can Employers Support Them?
HR is the key to your company's success
HR is the key to a company's success. Without an effective and efficient HR team, there will be no talent in the company, and without talented people who are dedicated to the company, there will be no business.
Companies usually forget things that HR does, as it's mostly behind-the-scenes work. The scope of the HR department is more than just processing payroll and setting employee health benefits. HR plays an essential role in developing a company's strategy by enhancing employees' perception throughout the workforce and providing a well-rounded experience for employees.