As most of us don't get a chance to see how employers read our CVs, MyCareersFuture has created a resume checker to suggest tips on how we can improve our resumes, step-by-step.
Step 1: Analyse the job description
Go through the job description of the role you're applying for in detail, and study the duties and responsibilities, as well as the job requirements.
Understand what the keywords and skills the job role requirements are and add those to your resume if you have them.
Thinking of a career change? Your resource for career-related articles, updates, and events starts here!
Step 2: Add Skill Pills to your application
Do you know that every employer on MyCareersFuture indicates a list of skills that they require for their job post?
This list is then matched to the skill list in your profile.
So be sure to review and update your own list of skills — each skill is represented in the form of a pill on MyCareersFuture and are hence called Skill Pills — with the relevant ones required for the job, before completing your application.
This could help improve your chances of getting shortlisted by your prospective employer. 
Like what you're reading? Join us on Telegram to get real-time updates on job vacancies, upcoming career events, career-related tips and more!
Step 3: Tailor your resume
Last but most importantly, use the "Check Resume" function to analyse your selected resume against the job description.
The system will advise you on how you can optimise and improve your resume. It will also highlight important keywords that may be missing from your CV, which are critical to the job description.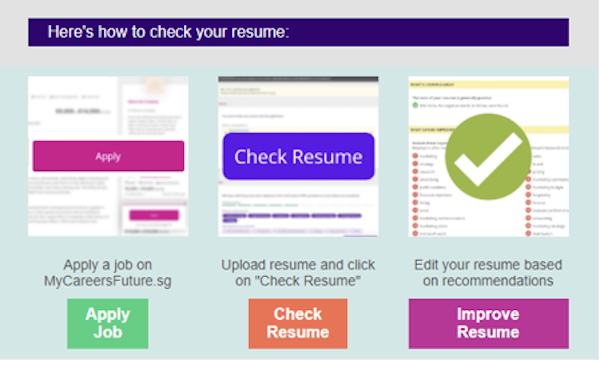 Read Also: Job Application: How to Write a CV That Stands Out to Employers