Covid-19 may have hurt quite a few local industries such as hospitality and travel, but thankfully for the maritime sector, hiring remains positive.
Job listings on the MyCareersFuture portal went up from 1,300 early last year to hit 1,770 listings by Q3 2021, according to stats by Workforce Singapore (WSG) and the Maritime and Port Authority of Singapore (MPA).
In fact, both government bodies have partnered on various programmes, with the latest being an enhanced career conversion scheme that will help upskill those keen to take on jobs in the maritime industry.
Singapore's Senior Ministry of State for Transport Chee Hong Tat revealed late last year that the goal is to bring in mid-career individuals who bring "useful skills and knowledge from other industries."
Speaking to the Straits Times, he added: "We will equip mid-career switchers and existing maritime employees who are taking on different roles with new competencies in areas such as automation, data analytics, decarbonisation and cyber security."
These programmes do work, and an example of a Singaporean that made a successful industry switch is Mr Fok Jin Jin, a 39-year-old senior liquefied natural gas (LNG) technician at LNG bunker supplier FueLNG.
Jin Jin was previously an operation technician at a petroleum company who took part in a career conversion programme for sea transport professionals in 2019.
Having successfully made the switch, he shared: "Due to the structured process and the on-the-job training provided, I found the learning curve all right!"
If you're considering making the same move as Jin Jin, here's a quick roundup of what Singapore's maritime industry is all about, and what opportunities abound!
---
Questions about the maritime industry answered:
What is Singapore's maritime industry?
Is the maritime industry stable if you're considering a mid-career switch?
What kind of jobs are there in the maritime industry?
What's the salary like?
What are the growth areas in the maritime industry?
What courses or skills are needed to join the maritime industry?
---
What is Singapore's maritime industry?
Maritime is steeped in the lifeblood of Singapore, tracing back to our beginnings as an entrepot trade hub.
Today, with sea transport being an indispensable driving force for the world economy and international trade, Singapore has become one of the world's leading maritime nations, and a vital node within the global supply chain network.
Our global hub port is an icon of Singapore's economic vitality and a critical component of Singapore's connectivity.
With a mix of maritime business such as ship-owning and operating activities, shipbroking, marine insurance, technology and finance, Singapore has one of the most comprehensive maritime ecosystems in the world!
Is the maritime industry stable if you're considering a mid-career switch?
As the global economy becomes increasingly interconnected, business activities relating to port and shipping have grown steadily to facilitate international commerce.
Against this backdrop, job opportunities and employment in the port and shipping sectors have remained robust over the years.
MPA's Assistant Chief Executive (Industry) Kenneth Lim shared: "Even amidst Covid-19, the maritime industry has remained resilient.
"Our port and shipping companies have been instrumental in ensuring that Singapore continues to have uninterrupted access to supplies and necessities, despite global supply chain disruptions."
In addition, Singapore has also played an important role to help ease global supply chain bottlenecks, by acting as a "catch-up" port for vessels to make up for lost time.
"This was made possible by PSA Singapore hiring more than 2,500 additional local workers (as of October 2021), and opening up more yard space and berths, to ramp up port operations," he added.
Looking for a job in the maritime industry? Explore available job listings on MyCareersFuture and start applying now!
What kind of jobs are there in the maritime industry, and what's the salary like?
The global and diverse nature of the maritime industry creates jobs for both seafaring and shore-based workers.
Jobseekers interested in international trade and logistics can explore commercial (e.g. ship charters, shipbrokers), operational (e.g. vessel operators, capacity management) or technical (e.g. marine surveyor) roles at shipping companies and maritime service providers.
Those with a love for the sea can consider seafaring roles to see the world, which prepares them for senior shore-based management roles such as marine superintendents or technical superintendents.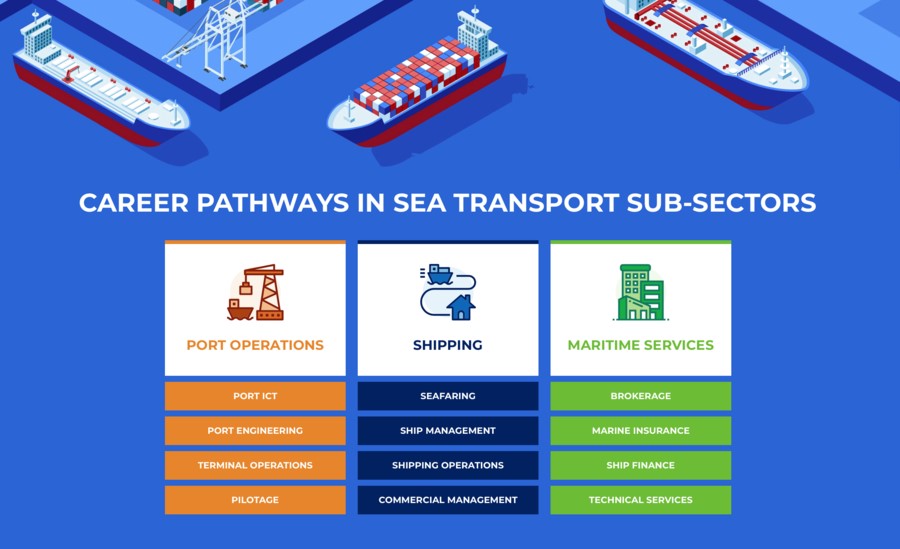 (Image Credit: MPA Singapore)
Not looking to leave Singapore that much? There are also shore-based roles that require skills in areas such as engineering, operations, business development, info-comm technology, finance, law and human resources.
"Salary-wise, most of these jobs, especially for individuals with a few years of experience, provide wages comparable to or higher than the median in Singapore," Kenneth revealed.
As for individuals who prefer a more hands-on working environment, the industry has ample opportunities in jobs such as ship agents, port technicians, and port crane operators.
Wages in these jobs are also competitive, with good opportunities for progression. (You can get more information on maritime jobs and their detailed wage ranges here.)
What are the growth areas in the maritime industry? Are there any particular courses or skills that the industry is looking for now?
"Maritime is going through an accelerated pace of digitalisation and decarbonisation, catalysed by the pandemic's impact on global supply chains and a heightened focus on environmental sustainability," said Kenneth.
He shared more thoughts on some of the well-paying and fulfilling job opportunities for locals in the following industries below:
Port Automation: "Singapore's container port operations are being progressively consolidated at Tuas Port, which will be fully automated with automated cranes and driverless vehicles.
"Individuals with skills in areas such as systems engineering, industrial automation and data analytics would find job opportunities with our port operators."
Need help in kickstarting your job search journey? Career GRIT equips you with the essential tools for an effective job search and prepares you for different employment scenarios. Explore now!
Maritime Technology, also known as MarineTech: "Technology is permeating all aspects of life and commerce, and the maritime industry is no exception.
"Maritime companies are also actively partnering start-ups through accelerator programmes, test-bedding and co-creating new solutions to address pain points.
"Singapore has ambitions for Singapore to become the Silicon Valley for MarineTech start-ups, which will create even more opportunities for individuals with skills in software development, data analytics, engineering, project management, etc. "
Decarbonisation: "Singapore has been a frontrunner in encouraging sustainability practices within the port and shipping sectors, and will continue to spearhead the industry's decarbonisation efforts.
"Given efforts to research and deploy sustainable marine fuels, as well as to decarbonise port operations and maritime supply chains, individuals with skills in areas such as chemical engineering, business development, sustainability strategy and carbon accounting would find increasing opportunities in maritime."
Wonder what type of jobs you're suited for? Find out from this short Telegram quiz!
Of course, beyond these emerging growth areas, the maritime industry will continue to require talent in existing maritime-centric job roles described earlier.
One added perk, given the Singapore government's recent push to extend our retirement ages: as most shore-based or office-bound roles in the industry are skills and knowledge-based, age is of little concern!
So go on ahead and take that leap if you're feeling an itch for a career change! Learn more about WSG and MPA's Career Conversion Programme for Sea Transport Professionals and Associates.
And if you're looking for more maritime-industry related information, read on below!

Career Switching into Maritime: How 2 Singaporeans Did it
How Well Do You Know the Maritime Industry? 3 Maritime Myths Busted