Web development is one of the fastest-growing career paths, with countless companies in Singapore and beyond looking to produce a website that satisfies their customers and spotlights their business. With this role being ideal for people who love to solve challenging problems and see their creations take shape, a career in web development might be the perfect fit for you.
Although traditional education pathways exist to help students learn website development fundamentals, many web developers are self-taught thanks to the myriad of resources available online. Here, we explore the responsibilities of a website developer in Singapore and how you can find your place in this rapidly evolving sector.
Looking to join a new industry? There are over 100,000 jobs available on MyCareersFuture. Apply for your next job role here!
Choose your specialisation
The role of a website developer is typically defined by three main specialisations: front-end, backend and full-stack. Consider which sounds most appealing to start your career in the right direction.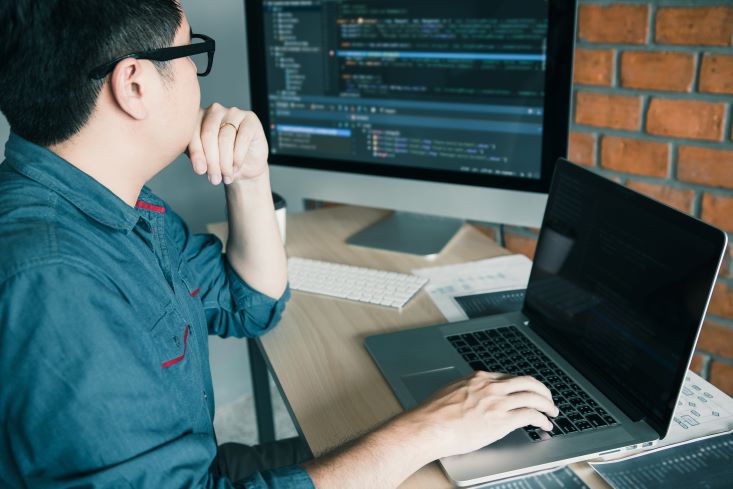 Front-end development
Front-end developers create the user interface of a website that people interact with through their computer's web browser. Through coding languages, including HTML, CSS and JavaScript, front-end web developers produce websites with quality performance and accessibility across all devices.
A front-end website developer will design the layout of the homepage alongside aspects such as image placement and site navigation. By creating a fast and logical website front-end, they hope to achieve the client's goals, whether that's presenting information or encouraging customers to make a purchase.
Back-end development
In contrast to a front-end developer who writes code for the client side, back-end developers handle code that keeps the server side of the equation operating seamlessly. This might include writing code to retrieve data for the front-end, conducting specific calculations and improving security.
While the coding languages required by a backend website developer depend on numerous factors, learning the likes of HTML, CSS, NodeJS, Java and Python will help get you up to speed. Research the projects you admire to determine the best programming languages for your career aspirations.
Full-stack development
Full-stack development is becoming increasingly popular as a career option. This role requires the skills to work on both front-end and back-end development. By learning a wide range of technologies and products that ensure you can execute a project from start to finish, you set yourself up to be incredibly in-demand.
With the industry constantly changing, staying on top of the latest front-end and back-end evolutions requires considerable motivation and expertise. However, your versatility is handsomely rewarded, as talented full-stack website developers usually command higher salaries than other development roles.
Want to increase your chances of nailing the job interview? Learn effective job search strategies, enhance your personal brand, and more with Career GRIT. Register for our Virtual Seminars today!
Learn the basics
Once you've decided on your preferred direction, you must stand out from other web developers. From elevating your skillset to establishing an impressive portfolio, budding jobseekers must display initiative to get their foot in the door at a top firm.
Practice your skills
The beauty of choosing website development as a career is that you can learn most skills online. By perfecting the basics using educational platforms such as W3Schools, Code Academy and The Odin Project, you can prepare yourself for a fruitful future.
There's also no shortage of highly rated tutorials led by industry experts on websites like Udemy and Coursera. Alongside classroom-based learning through professional organisations across Singapore, sharpening your website development skills is easy.
Looking for a job? Trying to ace that interview? Subscribe to our Telegram channel for useful career tips, resources and events!
Interact with the community
With anyone able to teach themselves website development, there's a wonderfully welcoming online community that ensures you feel immersed in the industry. As you practice your newfound talents on mock projects, you can get feedback from experts on forums like GitHub and Stack Overflow.
Singapore is also home to a thriving website development community that regularly hosts meetups for beginners and experts. Here, you can network with like-minded professionals and get stellar advice on taking your first steps in the industry.
Establish a portfolio
As your skills improve and you grow in confidence, it's time to showcase your talents in a portfolio. Whether you're looking to attract clients as a freelancer or get full-time employment at a leading company, this work should capture your interests as a website developer.
For example, you might recreate a poorly designed website to show how your work delivers incredible improvement. Meanwhile, you might create a mock e-commerce website for a brand that rises above and beyond the competition.
Start your career as a website developer
Build a rewarding career as a website developer in Singapore by learning these skills and increasing your employability. In the meantime, check out other entry-level IT roles in Singapore and consider the best reasons to attend a programming course to get established in the industry.