There is no shortage of jobs in the IT industry, with the world's leading companies employing large-scale departments to handle their everyday needs. However, fresh graduates or those making a mid-career switch could find benefit from learning the ropes at a smaller organisation.
Although these types of businesses typically won't have the large budgets to work on high-end projects, they offer numerous intriguing advantages that put your career on an upward trajectory. Here, we explore the best reasons to get your first IT job at a small- and medium-sized enterprise (SME).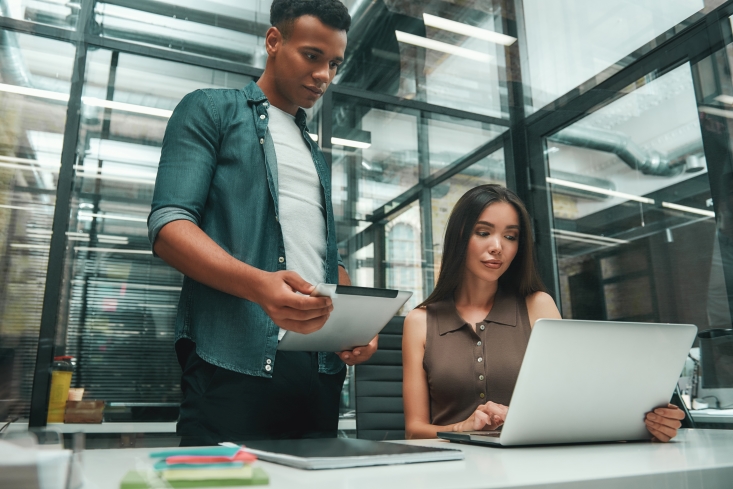 Greater autonomy
To the frustration of countless employees, working for a big company often means micromanaging. Instead of leaving workers to complete a task, there's always someone looking over their shoulder to ensure they are doing things a certain way.
This problem isn't so prominent in smaller workplaces. As there are fewer employees around to handle a wide-ranging number of jobs, there simply isn't the capacity to keep overbearing tabs on everyone.
Budding IT workers that want to work somewhere that respects their skills and productivity should consider an SME as their employer. Studies have shown that workplace autonomy leads to greater job satisfaction and mental wellbeing.
Want to increase your chances of nailing the job interview? Learn effective job search strategies, enhance your personal brand, and more with Career GRIT. Register for our Virtual Seminars today!
More responsibility
If you consider yourself an ambitious worker, there's a good chance you want to take on more responsibility in your everyday work. Working with an SME is the ideal place to find this experience, as employees usually need to take a more hands-on approach to client relationships and project development.
As you'll be playing an increasingly active role in the business' success, this sense of responsibility is great for leveling up your talent. For example, you might work directly alongside the lead systems engineer or collaborate with data analysts to deliver a stellar product.
Tighter relationships
Taking on more responsibility at the start of your career will undoubtedly teach you some valuable lessons. But you'll also want to have a tight-knit team by your side to ensure you don't make any costly mistakes. Fortunately, the working culture at SMEs is typically built around close relationships.
This attitude in the workplace is great for training and development. However, forming strong links with your colleagues is also ideal for networking and socialising. By forging trusting connections with your fellow employees, you might find a past link that could help you land your next role.
Looking for a new job? There are over 100,000 jobs available on MyCareersFuture. Apply for your next job role here!
Recognisable contributions
If you work in the IT department of a multinational corporation, you might work on some prominent projects. However, your individual contributions can often go under the radar, as your efforts to move the needle don't always have the same impact as in an SME.
Alternatively, completing a successful project in a smaller organisation can make a major difference to the company's bottom line. Naturally, playing a leading part in this success is great for your learning. But you're also bound to receive appreciation from your colleagues and managers.
Access to management
Large operations have massive hierarchies with middle managers and department heads that aren't as receptive to an individual worker's feedback. The story can be much different at an SME, where you'll have a closer engagement with those who run the business.
With managers and directors having sincere involvement in the day-to-day operations, they have a clearer understanding of the problems and limitations that exist. If you spot an opportunity or want to present a fresh idea, you might have greater freedom at an SME to discuss the topic with management directly.
Like what you're reading? Receive more career tips directly in your mailbox by signing up for our e-newsletters today.
Specialised projects
If you're entering the IT industry with a clear goal in mind, SMEs offer great opportunities to work on specialised projects that help you achieve your objectives. As these types of organisations must focus on specific services, you will get the opportunity to work in your preferred area every day.
For example, the company might work with a certain type of software that you want to become an expert in. They may use hardware or cloud-based systems that offer outstanding growth opportunities. By finding an employer in your ideal niche, you can leverage their expertise to stand out in the future.
Rise to the top with an SME
You may have a long path to take in your IT industry career, but starting with an SME guarantees you have both the technical and soft skills to carve a successful path for yourself. Searching for an IT job? Don't forget to include these top keywords in your IT resume to increase the chances of securing that position you're after. Take on a role at an SME with confidence and set your sights to soar to greater heights!