It's not particularly easy to tell if an industry is really a sunrise one (meaning it's likely to be at the start of a growth cycle) or a sunset one (which means it's at the tail end and will be supplanted or die off due to market trends).
Dr Xu Le, lecturer at the Department of Strategy and Policy at NUS Business School, shared the following ways can be used as a marker to evaluate an industry's status:
An industry could be entering a sunset phase if it has historically enjoyed significant market growth but is now showing signs of stagnation or decline due to weakened market demand.
An industry could be in a sunset phase if the declining demand for its products or services is due to the adoption of more advanced alternatives.
Seeking employment help? Make an appointment to see a career coach to help with your job search.
So which are sunset industries in the Singapore job marketplace?
Dr. Xu shared withWorkipedia by MyCareersFuture: "The traditional retail industry is experiencing a digital transformation, contending with shifts in consumer behaviour and the rise of e-commerce as significant challenges.
"In addition, traditional media has encountered challenges from the rise of digital media. In today's digitalised world, there has been a shift in people's reading habits, with an increasing number of young individuals opting to read on their smartphones, laptops, or iPads."
"The oil and gas sector is also often categorised as a sunset industry due to the growing exploration and effective utilisation of alternative energy sources."
Looking for a new role? Explore over 100,000 jobs available on MyCareersFuture now!
How quickly do sunset industries start to decline?
It's not easy to tell if a sunset industry will fade slowly with time, or if they'll fall off steep cliffs. Such as the CD industry, which ambled along fine despite the growth of portable MP3 players for a while, then suddenly crashed as the adoption of downloads became widespread.
Dr Xu believes that the duration of an industry's decline is contingent on the pace at which its products or services are supplanted by alternatives.
If these alternatives offer enhanced functionality, lower costs, or greater convenience compared to the existing products or services, the transition can occur much more swiftly.
She shared an example: "Conventional retail methods have been upended by the rapid expansion of e-commerce."
"E-commerce, in particular, swiftly emerged as a primary shopping platform for the general public during the Covid-19 pandemic."
"This was primarily due to its ability to offer significant shopping convenience to individuals who were reluctant to risk exposure to the virus during that time."
"As technology continues to advance, numerous experts anticipate that various healthcare-related services could be supplanted."
"Nonetheless, achieving such a feat is a formidable challenge, given the intricate and multifaceted nature of the healthcare industry. While technology can certainly augment healthcare services, replacing them entirely is considered highly improbable."
Take the guesswork out of your career planning with CareersFinder on MyCareersFuture. Gain personalised jobs and skills recommendations tailored to your profile. Try it now!
If you're a worker currently employed in a sunset industry, there are lateral industries you can pivot to in your career journey, of course. What matters are the skills to pick up, after all.
Dr Xu said: "Employees currently working in the sunset industries should consider improving their digital skills to facilitate a seamless transition to related sectors."
"For instance, workers in a traditional industry should strive to attain expertise in digitalising their products or services, and they should make effective use of various digital platforms for marketing their offerings."
"They should also gain computer skills to efficiently manage customer purchase records and leverage the collected data for product and service design, as well as price strategy adjustments to enhance economic efficiency."
Like what you're reading? Join us on Telegram to get real-time updates on job vacancies, upcoming career events, career-related tips and more!
So which are Singapore's sunrise industries?
Of course, it's not all doom and gloom – there are several employing industries that will continue hiring heavily despite the tepid economic climate.
According to an employment outlook survey by human resource company ManpowerGroup published in September 2023, some of these industries below have the strongest hiring intentions looking ahead:
Transport, Logistics and Automotive
Healthcare and Life Sciences
Financial and Real Estate
Consumer Service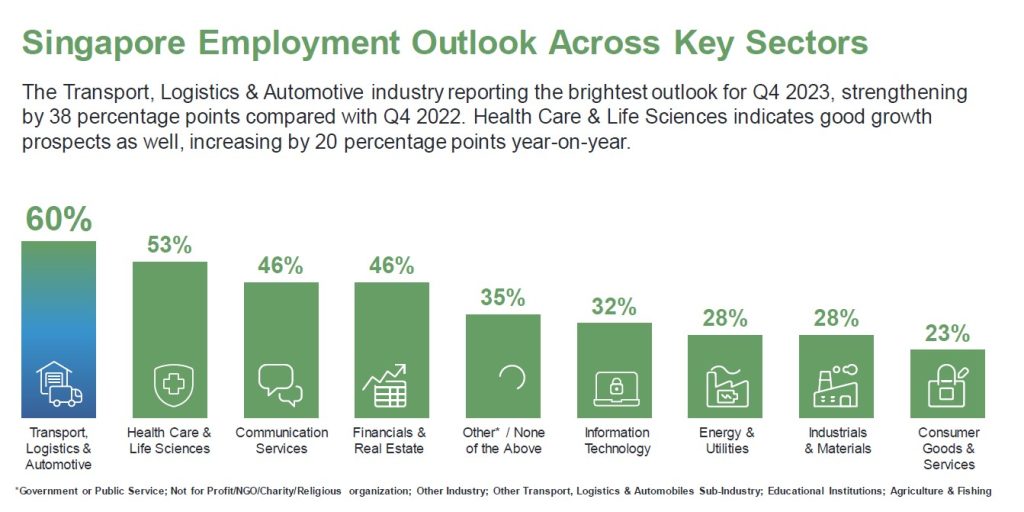 (Image Credit: ManpowerGroup Employment 2023 Outlook Survey )
Linda Teo, ManpowerGroup's Singapore Country Manager, gave an overview of the local job market, saying: "Employers are maintaining a confident but cautious outlook towards their hiring activity, continuing to grapple with the global economic slowdown and talent shortage concerns."
"Organisations are thus more wary about accelerating hiring for now, adopting a 'wait-and-see' approach by keeping hiring levels steady."
Associate Professor in Practice Terence Ho of the Lee Kuan Yew School of Public Policy at the National University of Singapore shared with the Straits Times that employers surveyed generally maintained expectations of staffing gains.
"These findings reflect a labour market that remains tight, especially in domestic services sectors such as healthcare, transport and logistics where demand remains strong."
"This contrasts with the slowdown in economic activity in export-oriented sectors, which tend to be more capital rather than labour-intensive."
Need help in kickstarting your job search journey? Career GRIT equips you with the essential tools for an effective job search and prepares you for different employment scenarios. Explore now!
However, some industries did record lower employment outlooks, such as the consumer goods industry, which may have been caused by China's recent economic challenges, and it brings to mind questions of how our local labour market may cool in the future.
There were some other key findings from the report of interest to Singaporean workers:
Employers are more keen to hire older workers, as well as those looking for a career shift
There is equal interest from employers to hire temporary and permanent workers
In fact, in 2023, a majority of organisations found difficulty finding the talent they need
Hiring managers in Singapore anticipate increasing headcount soon by 36%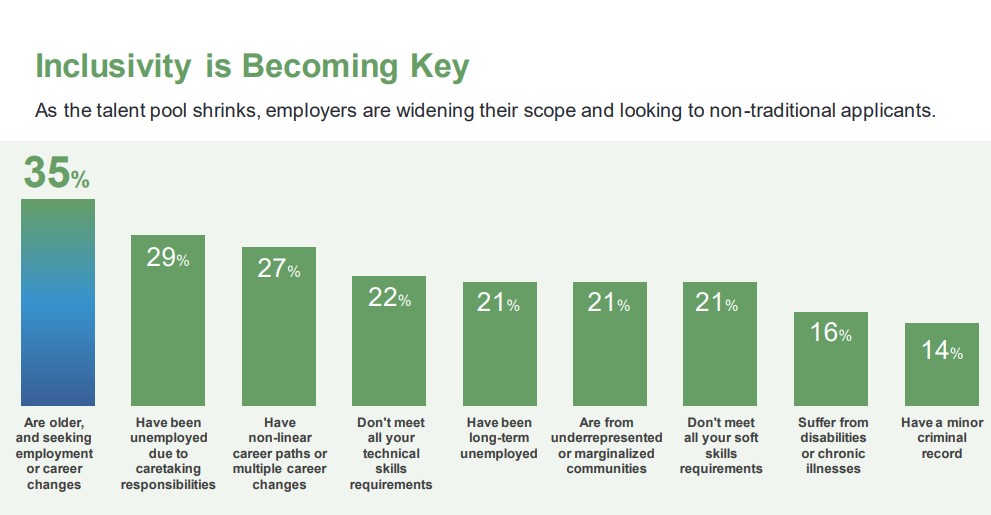 (Image Credit: ManpowerGroup Employment 2023 Outlook Survey )
Jonas Prising, Chairman and Chief Executive for ManpowerGroup, concluded: "The data for Q4 2023 reveals employer hiring confidence worldwide continues to hold steady despite economic uncertainties."
"There are still more employers looking to increase headcount, led by small and medium-sized businesses than decrease as we approach the end of 2023."
"Companies globally remain focused on recruiting and retaining the talent they need to drive growth."
"Those who emphasise upskilling programmes, workplace flexibility and culture will be most competitive in still-tight labour markets and better positioned to motivate and retain talent."
"Investing in people will remain the key as businesses build resilience and agility for the future!"