As domestic and international traffic returns to pre-pandemic levels, which reached 7,400 flights each week or one plane every 80 seconds, Singapore Changi Airport is back operating close to its peak capacity. This means air traffic controllers are needed more than ever to guide flights safely in and out.
Considering the margin for error in this role is virtually zero, air traffic controllers are expected to maintain the highest standards throughout their work. However, this demanding role also offers plenty of valuable perks, with the following benefits helping you set yourself up for a rewarding future.
Looking for a new role? Explore over 100,000 jobs available on MyCareersFuture now!
1. Earn an excellent salary
Almost everyone needs to consider salary when searching for their ideal career. Fortunately, air traffic controllers in Singapore earn a great wage, with the average salary estimated at $3,800 – $5,300 per month. Naturally, this offers the financial security needed to raise a family or elevate your lifestyle.
After gaining a few years of experience, if you decide to seek out a supervisory or management role, your earnings will increase too. With air traffic controllers requiring extensive training and playing a vital role in the aviation industry, you can also expect excellent job security.
2. Ongoing learning and development
There's always something new to learn as an air traffic controller. All aspiring workers in the sector need to complete rigorous training programmes that include classroom-based lessons, controller simulations and on-the-job training.
Once qualified, employees with a standout talent for leadership can be fast-tracked into a senior role in several related areas, such as traffic management, planning and policy. As numerous emerging technologies reshape the industry, air traffic control offers fascinating career prospects.
Looking for a job? Explore a range of career opportunities with Career GRIT. Connect with hiring employers at various career events such as walk-in interviews, virtual job interviews, virtual career fairs, and many more!
3. Benefit from rewarding work
While working as an air traffic controller is undoubtedly stressful, those with the right mentality for the role often find their career choice incredibly satisfying. This is because you literally control the skies, guiding hundreds of people to safety and keeping the aviation industry on schedule.
Despite the challenges associated with making fast, precise and consistent decisions, candidates who find themselves a natural fit for air traffic control experience immense fulfilment day in and day out. If you seek a gratifying role, working in air traffic control might be the perfect move.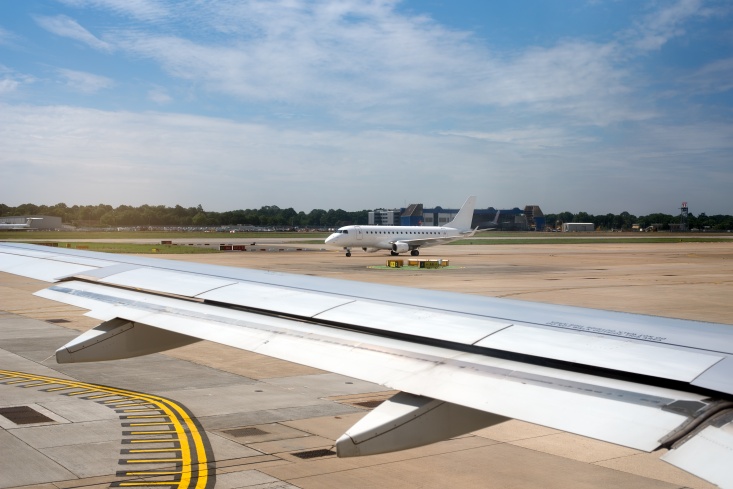 4. Work a respected job
People outside the aviation industry might not fully understand what an air traffic controller does, but they certainly appreciate how the role is crucial for ensuring planes depart, travel to and land safely at their destination. Many people would have notable respect for the dedication you show in the tower.
People can imagine the refined skill required to track and communicate with myriad planes in the sky. Therefore, you can virtually guarantee that those inside the aviation industry, not to mention most passengers, admire your specialised talent and view you as an expert at dealing with pressure.
Interested to join the aviation sector? Try this quiz to find out if it's right for you!
5. You get plenty of breaks
Your ability to focus is essential to your performance as an air traffic controller. This means people in the role are given a 30-minute break every 90 minutes or two hours. As you get plenty of downtime during your shift, you won't have a problem concentrating when monitoring each plane's path.
While some people will consider the round-the-clock nature of air traffic control a downside, as you'll likely work at some unusual hours, others find the flexibility of shifts a blessing. Depending on your lifestyle and long-term plans, air traffic control could provide the balance you're looking for.
6. Highly transferrable skills
Air traffic controllers that earn their qualifications and gain experience in the sector benefit from a wealth of transferable skills. With more people than ever working multiple careers throughout their lifetime, keeping this advantage in mind is crucial to your ongoing financial security and employability.
For example, air traffic controllers are experts at communicating under pressure. This means your experience is highly regarded in the emergency services sector if you switch to a police or ambulance dispatcher role. Meanwhile, your attention to detail, decision-making and teamwork streamline a move into project management and logistics.