If you have an unbeatable desire to deliver superb customer service and help your team succeed, becoming a highly skilled receptionist might be the right career path. With this position having a central role in how the company is represented publicly, you'll facilitate a high-quality and approachable workplace.
Alongside outstanding administrative and organisational performance, interpersonal skills are one talent area you'll need to refine continuously. By communicating effectively with a diverse list of stakeholders, you convey the organisation's trustworthy nature and streamline the completion of tasks.
Here, we highlight how first-class interpersonal skills will help you complete your receptionist's job to the highest standards. Plus, we'll delve into a selection of must-have talents that ensure you operate as an essential cog within the corporate landscape.
Want to increase your chances of nailing the job interview? Learn effective job search strategies, enhance your personal brand, and more with Career GRIT. Register for our Virtual Seminars today!
The value of interpersonal skills
Receptionists are often the first person a client or customer will encounter when engaging with your employer. This prominent status means a talented receptionist can create a positive first impression using their soft skills that put the organisation's best foot forward.
1. Greeting and guiding visitors
You don't have to reinvent the wheel when greeting a guest, but it can make a big impression when you go above and beyond what the average receptionist offers. When a visitor arrives, a sincere welcome gets things off to a good start.
However, you can use your interpersonal skills to enhance the experience by showing them to a seat and offering them a beverage, such as coffee, tea or water. This invitation into the space ensures they feel comfortable before their appointment begins.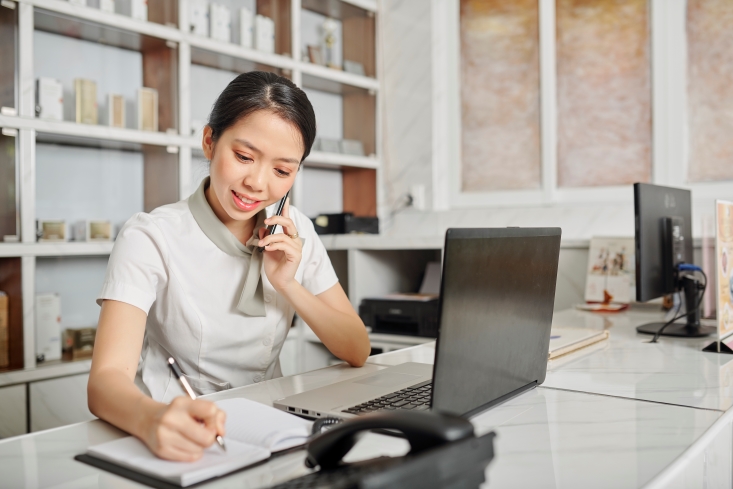 2. Answering phone calls
Most receptionist jobs involve answering phone calls. With a warm greeting and a quick reciting of the business name, you overcome any awkward back and forth where someone has to confirm they've called the correct organisation. Meanwhile, common courtesies like "please" and "thank you" go a long way.
Things can get difficult if you're answering calls while guests are streaming through the front door. While it can take some practice, exceptional interpersonal skills will help you to effortlessly engage both parties without leaving one feeling ignored. Soon, you'll take messages and transfer calls like an experienced professional.
Looking for career guidance? If you are exploring career changes and need professional advice, register for a complimentary session with WSG's Career Coaching today.
3. Navigating customer complaints
Even the most successful businesses have to handle customer complaints from time to time. Unfortunately, it can often be the receptionist that serves as the first point of contact. However, superior interpersonal skills ensure you can navigate these tricky situations with confidence and poise.
Customers want to know they're being heard, so always take every complaint seriously, even if it might seem trivial. Supported by a professional demeanour, you can deliver exceptional customer service by taking down the message, making sure it's investigated and smoothing over a potentially damaging situation.
Other crucial receptionist skills
There's little doubt that interpersonal talent is the most crucial skillset for a receptionist. Yet this diverse role requires other abilities, ranging from first-class organisation to computer skills that help you collate vital information.
1. Organisation
Receptionists in a business office need to be highly organised. Besides greeting customers and dealing with complaints, you'll need to manage filing systems and contact information so that no imperative information goes missing.
This means you'll need to follow an organisational method that keeps track of all administrative files. In many cases, you'll be under pressure to find a critical document while handling phone calls and in-person visitors, so multitasking skills are also indispensable.
On the lookout for a new job? Kickstart your career and discover meaningful career opportunities at WSG's Virtual Career Fairs. Register today!
2. Computer skills
You'll need more than verbal communication skills to stand out as a receptionist in Singapore. As you have data entry and contact management responsibilities, having a detailed understanding of receptionist software ensures you never miss an important detail.
You'll also likely spend a lot of time using email to communicate with internal employees, external customers and partners. With a refined skillset in computer software, you can improve the organisation's efficiency in numerous ways.
3. Attention to detail
Receptionists require exceptional attention to detail. As this talent goes hand in hand with interpersonal skills, remembering a valuable client's name or only having to ask for a phone number once heightens the experience people have with your organisation.
So, how can you improve your attention to detail as a receptionist? By practising active listening, reinforcing helpful habits and working at a slightly slower but more reliable pace, you can take precise notes and recall facts that showcase your talent.