Has it been a while since you interviewed for a role? If you've been waiting for an update for a week or so, it is time to follow up. Dropping a quick note can help speed up the hiring process or, in other instances, learn of your job application status to better access your opportunities.
Why follow up with an email for a job?
As jobseekers, you want to be sure you remain top of mind as the recruiters examine candidates to find that perfect fit.
Following up on your job applications after your rounds of interviews has a few benefits:
1. You present yourself as a serious candidate:
Matthew-Imbard Bouchard, Managing Director with Robert Half Singapore, makes a pertinent point on this,
"In the event that the employer has no update, candidates should ask about when they can expect to hear back and express their interest in the role once again."
However, a candidate's interest is just one factor.
Making it clear to the prospective employer that your job search is ongoing and that you have received job offers from other companies, Mr Bourchard adds, also reminds the employer that they are not the only company vying for your talent.
Find your next job role on MyCareersFuture. We have over 80,000 job opportunities daily for you.
2. You speed up the decision-making process:
It hurts to have waited long for the desired job role, only to receive a rejection letter after a month. As candidates, you need to take control of the process as much as you can.
This does not mean forcing an employer to share the results of your application or rushing the decision timeline. Corporations are careful in their recruitment to avoid costly hiring mistakes – they need to plough through candidates' cover letters again and reflect back on their responses to their interview questions to understand whether there is a job and culture fit. This is why they take time to decide on the best hire.
This should not hamper your job search success.
Consider what is important to you in a job and whether you can press on till you land an exciting opportunity. This helps you decide whether you should take the first offer, or wait for the ideal one.
Sending a follow-up email will let you know where the recruiters are in their decision-making process and where you stand.
Looking for career guidance? If you are exploring career changes and need professional advice, let us help you. Click here to register your interest and we'll be in touch soon.
3. You appear professional:
A follow-up email is useful to stay professionally connected with the prospective employer. You can reconnect with the employer for a possible opportunity in the future, or be headhunted to fill a suitable vacancy.
It is important to maintain positive relationships with your interviewers as they form a critical part of your network.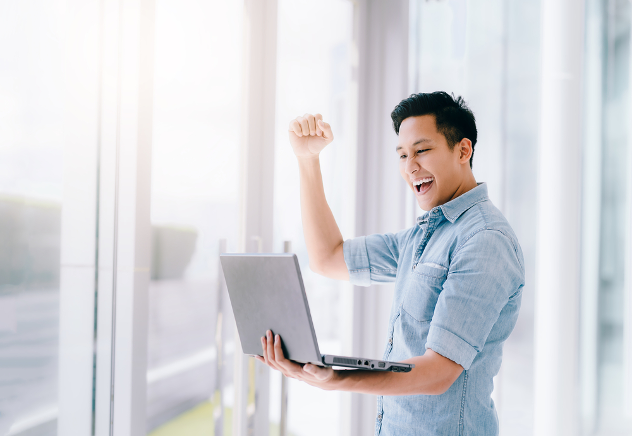 4. You can ask additional questions about the interview process or application
Should you have missed certain questions to ask during the interview, the follow-up email is your chance to clarify them with your hiring manager. Perhaps you want to understand the rounds of interviews you will need to go through, or what else you can expect beyond the interviews, such as a background screening, reference check or additional application materials required.
How long should you wait after an interview to follow up?
Before leaving the interview, ask the recruiter when they would be able to revert with an update.
Alternatively, clarify the time frame in your thank you email after your interview. Typically, hirers will provide a buffer of one to four weeks. Once that has passed, drop a polite follow-up email on the same email thread you and the hiring manager are already engaged in.
If you receive a reply informing you that your application is unsuccessful, simply thank them for their time and consideration, and offer to keep in touch.
However, if the recruiter explains that your application is still being reviewed, you may check in again in a week or two. This is when you have to decide whether you are keen to wait or pursue another position that you have a higher chance of securing.
Want to increase your chances of nailing the job interview? Our virtual seminars can teach you effective job search strategies, enhance your personal brand, and more. Explore Career GRIT to learn more!
Quick expert tips on writing a follow-up message
1. Do not lie about a job offer from another potential employer
While a potential offer from another company can influence the hirer to speed up the decision timeline, avoid lying about such an offer. Hirers may probe you for more information, which you won't have, and your responses may appear suspicious.
Secondly, should you have falsely indicated that you received an offer from a particular company, it will not take long for the hirer to find out, whether at the application stage (to understand more about the role being offered to you) or in the future, where paths may cross with a representative from the company in the professional world.
In both instances, you may appear dishonest and unethical, jeopardising future opportunities with the former company you had wished so much to join.
2. Amend your email header accordingly
Hiring managers receive many emails on a daily basis. It's understandable their response rate is slower than expected. However, you'd still want to be clear in your email subject that you're requesting an update after your initial interview.
Consider amending the email subject of the existing email thread you have with the hiring manager to make this intent apparent. That way, the potential employer will be compelled to open the email and read your follow-up message.
A rule of thumb? Use words like "request for update" or "following up on" in your subject line.
Sample follow-up email after the interview
The perfect follow-up email is one that is personalised. Below, we provide sample follow-up templates you can adapt, with email examples for different scenarios. We break down the email body with notes and placeholder texts for you to easily replace with what is more suitable.
View our follow-up email templates and drop that message today!
Read Also: Job Interviews: 3 Tips to Make a Positive First Impression
Sample Follow-Up Email #1: General
Subject line: Following up on interview for [position] at [company name]
Dear [Interviewer's name],
I hope you are well. I would like to check in on the progress of my application for the role of [position] at [company name], following my interview on [interview date]. Please let me know if you need more information to aid the decision-making process.
Looking forward to hearing from you soon.
Thank you once again.
Yours sincerely,
[Your name]
Sample Follow Up Email #2: Competitive
Subject line: Following up on interview for [position] at [company name]
Dear [Interviewer's name],
I hope you are well. I would like to check in on the progress of my application for the role of [position] at [company name]. I have received an offer for a position at [company name]. My deadline for accepting/rejecting is within [time period established].
However, I'd be happy to turn down that offer if I am awarded the role at your company. Please let me know if you will be able to reach a hiring decision before my response deadline to [company name].
Should you need further details, please do not hesitate to request them.
Looking forward to hearing from you soon.
Thank you once again.
Yours sincerely,
[Your name]