Singapore's healthcare system is well into the tech revolution. With many services becoming digitised or leaning heavily on new technologies, it is essential that those in the industry or healthcare jobseekers are equipped to deal with this development. 
Investing in digital skills is an effective way to upskill and become a more competitive choice for employers. It is also a good gateway for those wanting to make a mid-career switch to healthcare. Digital competence is becoming less of a perk and more of a necessity for healthcare industry workers. According to recruitment experts, the qualities and qualifications recruiters are looking for now are changing alongside the digital tools they're using; soft skills, such as adaptability, resilience and proactivity, are becoming more determinant than experience.
Have a job but want to level up? Achieve career excellence, develop your skills, and expand your knowledge with resources from Career GRIT. Check it out now!
As healthcare jobs in Singapore become more competitive, having key digital skills will make you a stronger candidate for hiring or promotion. 
Read on to find out the key digital skills to get a healthcare job in Singapore:
1. Know the programs and platforms
The term 'healthcare industry' covers an array of jobs. Doctors, nurses, clinic assistants, hospital management, outpatient support, clinical research and more come under this banner. There are, however, a few essential skills that these jobs all require.
Telehealth has been running in Singapore for the past 3 years and is just one digital solution that emerged during the pandemic. Bruce Liang, CEO of Integrated Health Information Systems, noted that this period is a good opportunity to also iron out workflow issues and reimbursement models.
Although not all areas of the healthcare industry will use telehealth, Liang's point is applicable across the board of digital developments. Companies are increasingly using online social platforms like Google Workspace, Microsoft 365, Microsoft Teams, Zoom and Amazon Chime. There are also healthcare-specific platforms like Trillian and Symplr that provide industry-specific functions and operate across different sectors.
Looking to transfer into a new industry? Explore available jobs on MyCareersFuture now!
Video-based communication like Zoom has made the interview process more appealing for employers and prospective employees. The limited travel time and lower-stress environment mean interviews have become more efficient than ever.
Zoom has also been used to host online webinars presenting research and business strategies. The digital format means that those who, due to distance, finances, or time were unable to attend, now have access to industry developments from the comfort of work or home.
By developing competencies around these digital platforms, you can optimise your workflow and communicate more effectively with coworkers and customers. Good communication and efficient work are huge bonuses to employers, so if you're looking for a healthcare job, familiarise yourself with common digital communication platforms.
2. Think security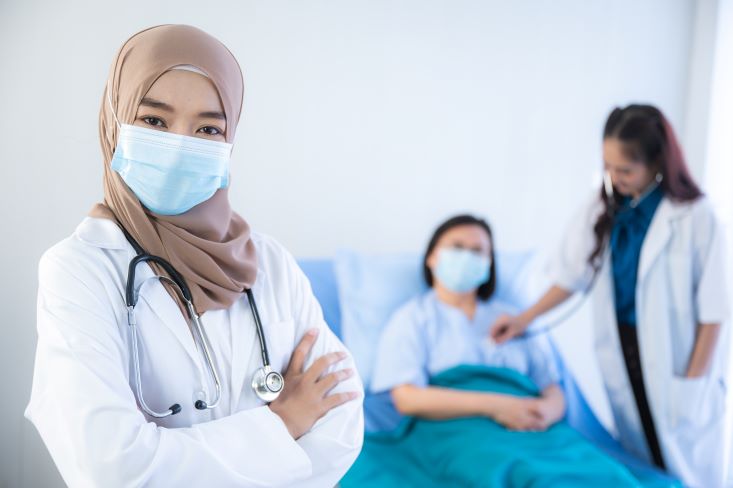 With increased digitisation in Singapore's healthcare industry comes more cybersecurity risks. The healthcare industry is a popular target for cyberattackers due to the sensitive information contained in many systems. The 2021 cyberattack on an ophthalmology clinic that compromised the data of more than 73,000 patients is just one example of this.
How to combat cybersecurity risks in healthcare? Start with basic computer literacy. Understanding how strong passwords, VPNs, firewalls and other basic security functions operate can help ensure that your workplace limits its threat surface. With healthcare data breaches up by 58% in 2020 and climbing, your basic security knowledge will provide assurance to you, your employer, and your clients that all sensitive data is secure.
3. Develop computer literacy
Basic computer literacy in healthcare involves knowing how to use a computer and perform basic tasks. There are some universal softwares that you should know about as well as troubleshooting strategies that can save you time heading to the IT department.
You should also know how network connection and diagnoses work. Most healthcare jobs will require internet connection to varying degrees, so knowing how to use a network and quickly fix basic problems will improve your workflow.
Alongside these, workers in the healthcare industry particularly benefit from search engine knowledge. It may seem easy to just google a term, but advanced functions like Google Scholar or industry-specific search engines require a little more effort to find what you're looking for. Search engine competency is easy to learn and saves a lot of time sifting through poorly researched or irrelevant articles.
On the lookout for a new job? Discover meaningful career opportunities at our Virtual Career Fairs. Register today!
4. Understand digital communication strategies
Finally, effective communication online will help navigate interpersonal relationships and improve efficiency. Professional digital communication is succinct, unambiguous, and polite. You can use these when sending emails to coworkers, filling out online forms and applications, and when liaising with customers.
This soft skill is essential for minimising stress at work and after a while it will become an instinct. Making yourself clearly understood minimises conflict and misunderstandings, meaning everyone can perform their jobs efficiently.
Save time with digital upskilling
You can see that most digital skills are about saving time and improving workflow. And most of it isn't hugely technical. Developing basic digital skills not only makes you a more competitive candidate for hiring or promotions, it makes you a more efficient and communicative worker. Invest in a digital skills course to get an official qualification or teach yourself online to learn skills as needed. Your career and workflow are guaranteed to benefit from the upskilling!