Inflation is on the rise in Singapore, with big effects on salaries and employment. A storm of local and international factors contributes to this challenging economic landscape, ranging from supply chain issues and geopolitical conflicts to serious weather events and pandemic ramifications.
Those looking for work may find the task tough during times of high inflation, so knowing how to navigate this period is essential to your success. Here, we delve into simple strategies you can use to enhance your employability and earn income while you search for a full-time role.
Looking for career guidance? If you are exploring career changes and need professional advice, register for a complimentary session with WSG's Career Coaching today.
How is inflation related to unemployment? 
Low unemployment doesn't cause inflation, but economists have observed an inverse relationship over the last few decades, where periods of high inflation typically mean low unemployment.
During inflation, the cost of overheads, manufacturing materials and other resources for business increase. This means companies have lower budgets for hiring talent.   If you're looking for a job during high inflation, you might find that most roles in your industry are already occupied. As most people have jobs, companies must increase wages to compete in the marketplace, which ultimately translates to higher prices for goods and services.
As periods of high inflation mean companies are less convinced about their investments being profitable due to rising expenses, many avoid hiring new staff until the economic conditions are more stable. In other instances, retrenchments may also become necessary.
How to find work during high inflation
Exploring the job market during high inflation can be a frustrating experience, but dedicated professionals can use several strategies to rise above the competition and secure the perfect role. Below, we consider how to best approach this economic climate.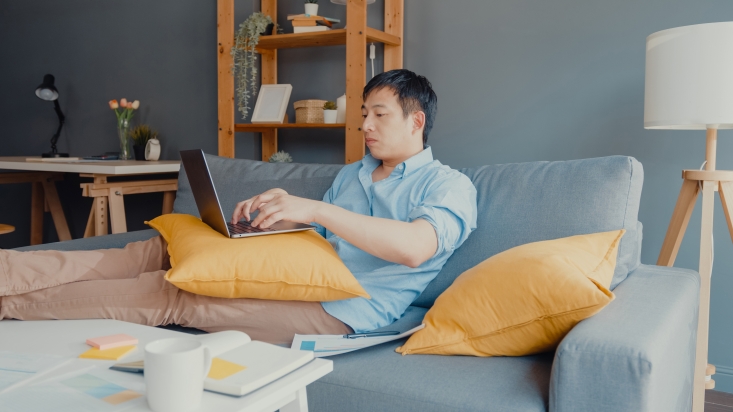 1. Produce a career action plan
Understanding your objectives through a clear action plan can help you pursue the right opportunities in a tight labour market. Reflect on your strengths and weaknesses to identify realistic roles that could put your talents to work.
For instance, it will be helpful to go after entry-level cybersecurity roles even though you're looking for a higher-level position. By joining the company and showing your strong foundation, there's a higher chance for you to climb up the ladder quickly within the organisation.
Looking for a job? Explore a range of career opportunities with Career GRIT. Connect with hiring employers at various career events such as walk-in interviews, virtual job interviews, virtual career fairs, and many more!
Throughout this process, update your resume and elevate your LinkedIn profile to show hiring managers you're ready for a new role. If you're struggling to find the right path, perhaps it's time to speak to a career counsellor who can point you in the right direction.
2. Work as a freelancer
Although some companies might avoid hiring new staff during periods of inflation, many still need experienced workers to help complete their projects. Often, these organisations will turn to freelancers to fill operational gaps while benefiting from lower fixed costs.
If your skills are suited to a freelance role, now is the perfect time to explore these opportunities. By forging strong relationships with agencies and individual companies, you can provide a valuable service that grows your network and produces much-needed income.
3. Upskill your talents
Rather than sitting at home waiting for phone calls from recruiters or hiring managers, upskilling your talents is the ideal way to spend your time away from the office productively. This approach will advance your professional skills and shows employers how motivated you are.
For example, you can undertake a relevant diploma at a technical college or find a local institution offering classes that teach valuable talents.
You can also browse the many online learning platforms, such as Udemy and Skillshare, that make learning from home simple.
Looking for a job? Trying to ace that interview? Subscribe to our Telegram channel for useful career tips, resources and events! 
4. Explore related industries
Although you don't want to lose track of your career goals, being open to alternatives in your job search during inflation is a great way to discover new opportunities. This means a potential mid-career switch.
Think about how your professional experience and skills appeal to an industry outside of your previous work history.
Naturally, widening your job search to various fields means you have many more roles to explore, of which there may be more options for better job security.
Plus, you might learn that a role in an industry you normally wouldn't consider provides incredible satisfaction and career progression that keeps you on the path to success.
Begin with a recent outlook on the job market for 2023.
5. Nurture your network
According to a LinkedIn survey, 45% of Singaporeans used their network to secure their current job. When a downturn in economic conditions makes finding a full-time role a challenge, turning to your network to give you a helping hand can make all the difference.
By maintaining friendly relationships with former colleagues and managers, you can more easily ask about current openings. Meanwhile, your network might happily share your details with business leaders and hiring managers with the authority to offer you a stellar position.
Searching for a job during inflation can be a challenge, but it is not impossible. Unemployment is a short-term problem as long as you focus on the right steps. Don't give up!