Aaron Tan. Even if you're not a car owner or automotive enthusiast, you would have come across the name somewhere, somehow. After all, it's the name of the co-founder and chief executive officer of Southeast Asia's largest car marketplace, CARRO.
Since establishing CARRO in 2015 as a startup with two friends he met in university, his company has raked in hundreds of millions of dollars in transactions in the last five years, and they don't seem to be closing the vault anytime soon. 
The company is certainly not short of accolades, either having bagged many business awards such as the top spots for the Straits Times' and Statista's list of Singapore's Fastest-Growing Companies, Nikkei Asia and Financial Times' list of High Growth Companies and the Hottest Startup by the Singapore Business Review, just to name a few.
If that's not enough spotlight for you, even PM Lee mentioned CARRO in his National Day Rally speech in 2021.
So, how does Aaron do it? What's his secret business sauce? Workipedia by MyCareersFuture served the business maestro some rapid-fire questions to get you the inside scoop.

You dropped out of school at 16 years old to run your first tech business that built websites for companies. What was your motivation to start a business at such a young age?
It was really my curiosity that got the better of me. I was trying to understand how to build search engines, chanced upon programming at a local library and quickly realised that there was a market gap then – those were the days of the dot-com boom. So, at the very beginning, the motivation was really more my curiosity and, subsequent to which, making it a business was mainly due to my interest in programming and improving my skills.
Are you looking to hire? Use Talent Search on MyCareersFuture to find talents with the skills you need. Log in now and fill your next job role! 
Many successful business icons such as Steve Jobs, Mark Zuckerberg and Bill Gates dropped out of school to start their companies. What are your thoughts on this?
I don't encourage this. I told my brother to take his degree and graduate from school. No matter what, just get a degree. I think the media over-sensationalised the dropping out of school part. But that was not the key reason why they were successful. Mark Zuckerberg got into Harvard and Steve Jobs would never have started Apple if he had not attended a course at Stanford. All said and done, school, or rather the ability to learn and relearn is critical and I would say university is a big part of learning to learn.
Can you describe the kind of parenting you received as a child?
My parents were hands-off. I am lucky that was the case. My mum left me to do my own things and I was never, at any point in time, pressured to go through mainstream education, although I made it to good schools. This flexibility in education really allowed me to do well in my areas of strength.

You founded CARRO with two friends you met from university. Why did you choose them to be your co-founders?
I didn't choose them to be CARRO's co-founders. I convinced them!
Was setting up CARRO a well-calculated risk or a business hunch?
A well-calculated one. I was a venture capitalist, so I knew what I was getting myself into. Five or six years into my previous career, I began thinking if I should continue climbing the corporate ladder, or get out, take some risks and do more. I'm glad I chose the latter. I started CARRO in my early thirties because I knew the opportunity cost would be lower compared to doing it in my late thirties.
You started CARRO because there was an opportunity to improve the car selling business. Were there other business opportunities that you considered at that point in time as well? If so, why did you pursue the car trade?
As a young Singaporean, I was mainly interested in two things – properties and cars. I grew up building systems and machines to price, and fond of analysing car and property prices. Hence this was a natural progression for me.
What were the main challenges you faced in setting up CARRO and how did you overcome them?
A lot of talent problems. How do you convince smart, hungry people to join you instead of an established MNC or larger start-up? The trick is to align your interest with theirs and sell the dream.

What are the three words that describe your business philosophy?
Net Promoter Scores. Our customers are at the heart of all that we do. I want to ensure that every customer has a good experience with CARRO that they would recommend our services to their circles. I'm proud to say that CARRO has achieved some of the industry's highest Net Promoter Scores!
Workipedia by MyCareersFuture tip: Net Promoter Score (NPS) is customer loyalty and satisfaction measurement taken by asking customers how likely they are to recommend your product or service to others on a scale of zero to 10. Read more here.
What is the work culture like at CARRO?
I like to think that most of the people here are go-getters. Recently, I had a discussion with one of my junior colleagues, and he said his reason for joining CARRO is that he wants to be part of a winning team.
Read More: Company Culture: How to Tell if the Work Environment is Good or Bad?
CARRO actively puts up job postings on the MyCareersFuture portal. How has the portal helped with CARRO's hiring?
We are always hiring and as a Singapore-based company, our priority is always to hire Singaporeans.
What are some of the key roles that CARRO is hiring for?
Data scientists, programmers and sales!
Workipedia by MyCareersFuture tip: Browse through the latest jobs in CARRO here!
As an employer, what do you look out for when selecting potential candidates for roles at CARRO?
Hunger and that desire to win will set any candidate apart from the competition.
Read More: The Dream Team: Do You Have the Persona That Employers Are Looking For?
As an employer, what is your advice to jobseekers today?
Stay hungry, stay foolish. Always be able to adapt, learn and relearn.
MyCareersFuture has a function called 'Talent Search' which enables employers to search for talents on the portal by skills/job title. Does CARRO find this useful?
The introduction of Talent Search in the MyCareersFuture portal has helped us identify passive and active candidates we could be engaging with. This has helped us to not only widen our talent pool but also remain true to the spirit of prioritising local talents first. We are taking advantage of more than 250,000 monthly active users and up to date, we have approximately closed 10 to 15% of our roles using this feature.
Leverage advanced technology for the best talents
Whether you're managing a large or small company, improving your recruitment process will go a long way toward long-term company success. Thankfully, with an advanced jobs portal such as MyCareersFuture, building an effective talent acquisition strategy is possible even with limited resources.
Hire like CARRO with MyCareersFuture's Talent Search feature!
Step 1:
After logging in to the portal with your Singpass, click on 'Talent Search' located on the left side of the page.
Step 2:
Type in the keywords relevant to the talent you're looking for in the search bar (e.g., 'product manager') and click the 'Search' button.

Step 3:
Browse the list of candidates, and once you've identified the talent(s) that you're keen on, click on the 'Invite to Apply' button.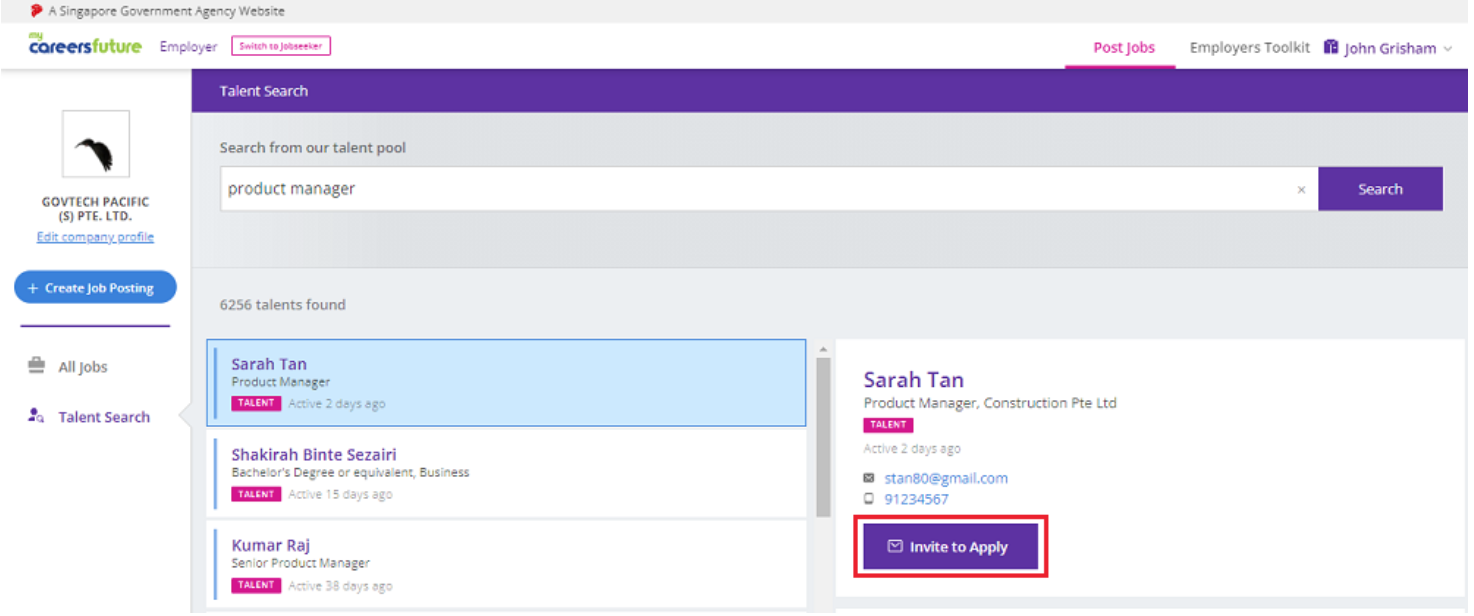 Step 4:
Select the relevant job that you would like to invite the talent to apply for and click 'Send'. An email notification will then be sent to the talent, informing them that you've invited them to apply for a job.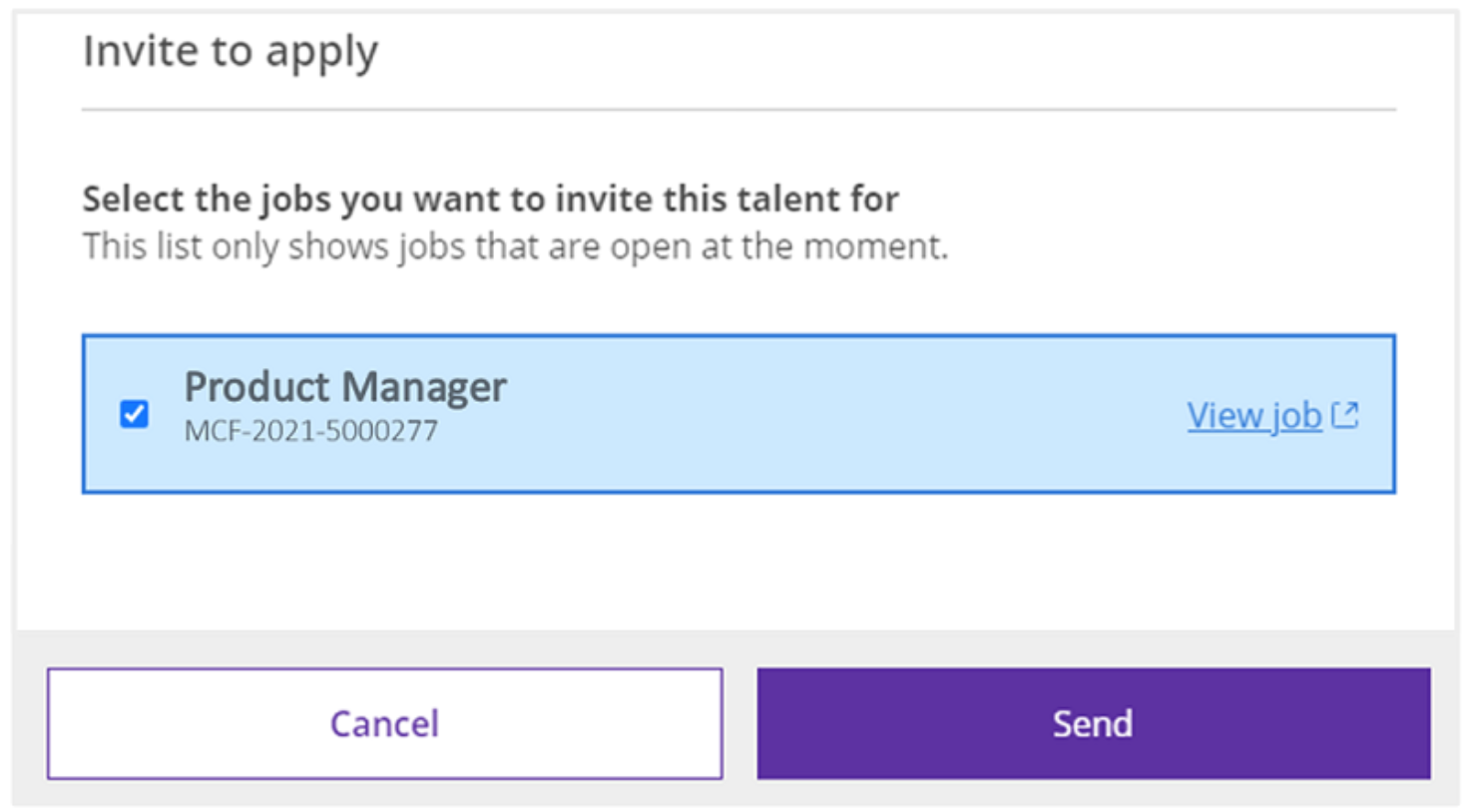 Happy Hiring!