Today, with the relaxation of the Safety Management Measures, Singaporeans have finally gained some form of normalcy in their lives. Amid our newfound freedom, lest we forget, this is impossible without the immense sacrifice and unwavering efforts of the men and women in the healthcare sector.
As we celebrate Singapore's 57th National Day this month, Workipedia by MyCareersFuture speaks to Priscilla Teo, group chief human resource officer of the National University Health System (NUHS), one of three public healthcare clusters in Singapore and an actively hiring employer on MyCareersFuture jobs portal.
How has the pandemic impacted NUHS as a healthcare organisation?
The greatest lesson that the Covid-19 crisis taught us was the importance of working together. Working in teams, across institutional lines and between agencies; combining the efforts of the public and private sectors, and that of society and individual Singaporeans contributed to the successful control of the pandemic. 
Working together to battle Covid-19 brought out the best in ourselves and each other.
Moving forward, what are some of the plans in the pipeline for NUHS? 
Amidst the Covid-19 fight, we see clear opportunities to accelerate our ongoing initiatives by riding current trends. Also, we can harness the close relationship with our academic partners including the National University of Singapore (NUS), government agencies such as A*STAR, and various industry partners to create powerful innovations. 
We continue to use our research facilities and expertise to engineer new solutions. Our clinician-scientists and innovators continue to make progress in developing practice-changing innovations, across a wide array of research areas.
The pandemic has encouraged patients to consider receiving care and other services beyond the hospital. We expanded our telemedicine services and teleconsultations so that patients could receive care within the safety of their homes. 
We also rolled out the teleconsult and other e-functions in the OneNUHS app, enabling users to access a myriad of services at their fingertips.
To further incorporate self-help, on-demand service and contactless transactions in our patient experience, we accelerated backend improvements such as a unified e-payment gateway and home delivery of medicines. 
We are also making it easier for clinics to adopt teleconsultation with the support of technology, training and best practices.
Attend walk-in interviews, virtual career fairs, workshops and more! Explore Career GRIT and find events and other resources best suited to your career journey. Check it out now.
How will NUHS ensure that Singaporeans continue to receive the best medical care?
Our schools – the NUS Yong Loo Lin School of Medicine, the NUS Faculty of Dentistry and the NUS Saw Swee Hock School of Public Health – continue to provide top-quality training to our students, nurturing them into healthcare professionals we would proudly choose to care for our own loved ones. 
We are extremely proud of the heroism of our staff who stepped up without hesitation to serve in our nation's time of need. Covid-19 patient or not, migrant worker or Singaporean, in our hospitals or out in the dorms and community care facilities, our staff showed the same compassion and dedication to all who needed care, embodying the highest ethos of the healthcare profession. 
We are also proud of our non-clinical colleagues in administrative and operations roles who volunteered selflessly to serve on the frontlines and dorms, standing side-by-side with clinical teams. Together, they have set an inspiring example of professionalism, courage and solidarity.
Meet some of the heroes of NUHS!
NUHS is hiring! Check out job vacancies here.
Halimah Raheem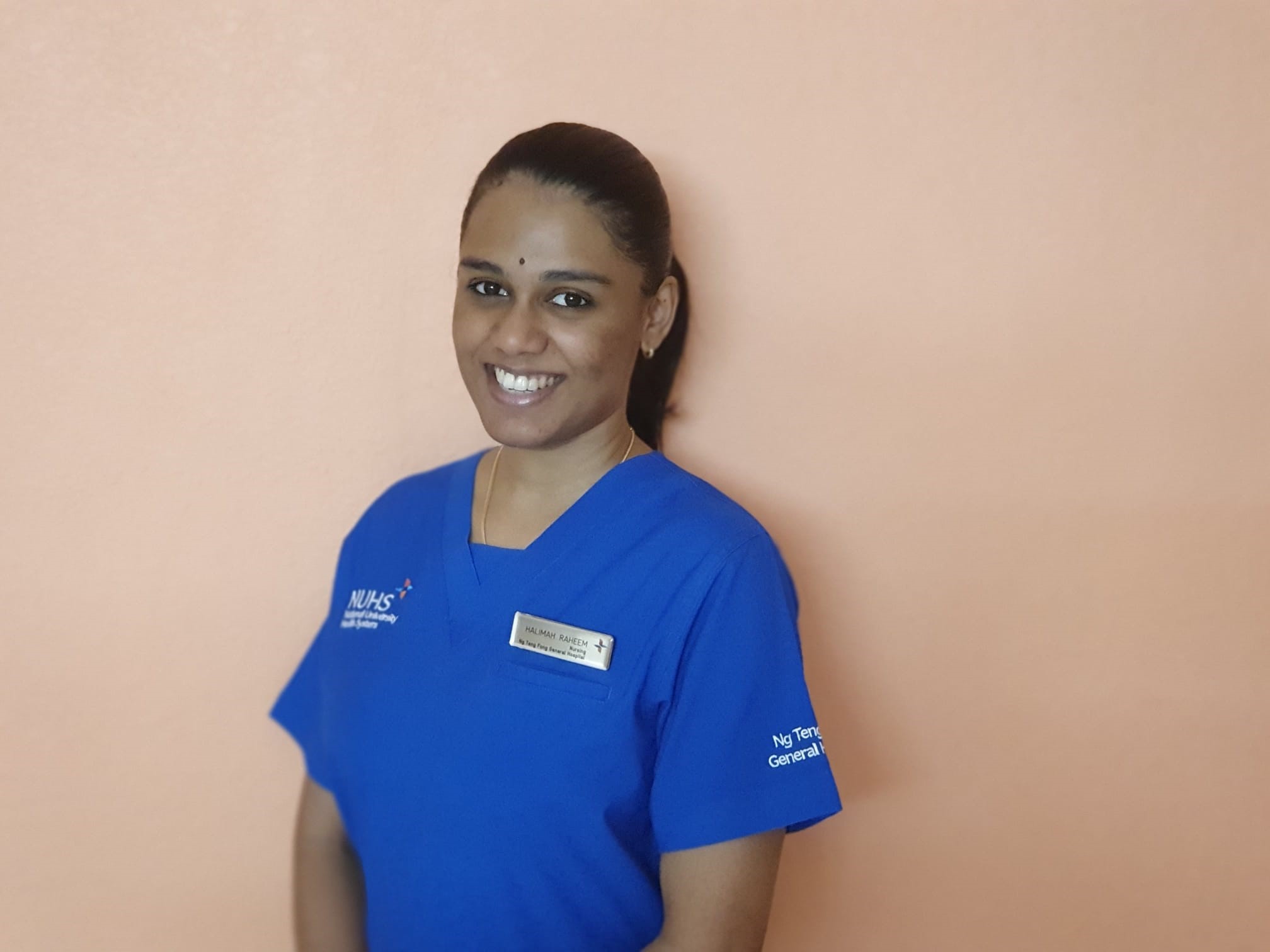 A mother of two, Halimah has been in the nursing profession for over nine years. Armed with a Diploma in Nursing, she started her career as a staff nurse at Alexandra Hospital in 2013, where Ng Teng Fong General Hospital (NTFGH) was based before its official opening. Since then, Halimah has obtained an Advanced Diploma in Critical Care Nursing and is currently a Senior Staff Nurse (SSN) in NTFGH's Intensive Care Unit. 
Kelvin Chong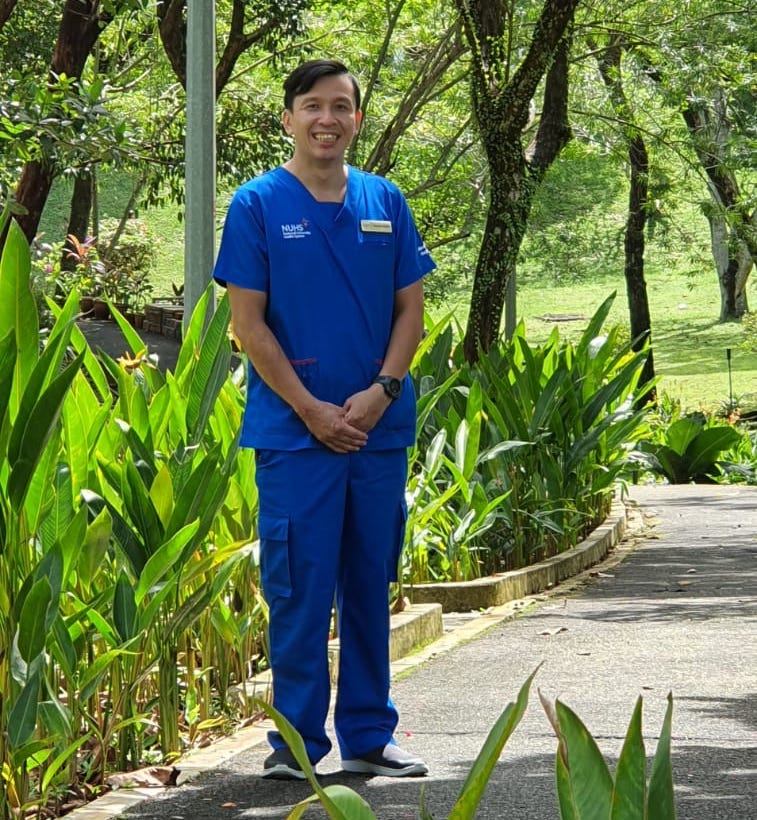 Kelvin started his nursing career at the National University Hospital (NUH) in 2007. He joined Alexandra Hospital (AH) in 2018 when the hospital was officially handed over to NUHS. Kelvin is now a Nurse Manager and in his 15 years of nursing career, he cites being part of Alexandra Hospital's transformation and being nominated for the Nurses' Merit Award in 2013 as his fondest career milestones.
Tan Ting Ting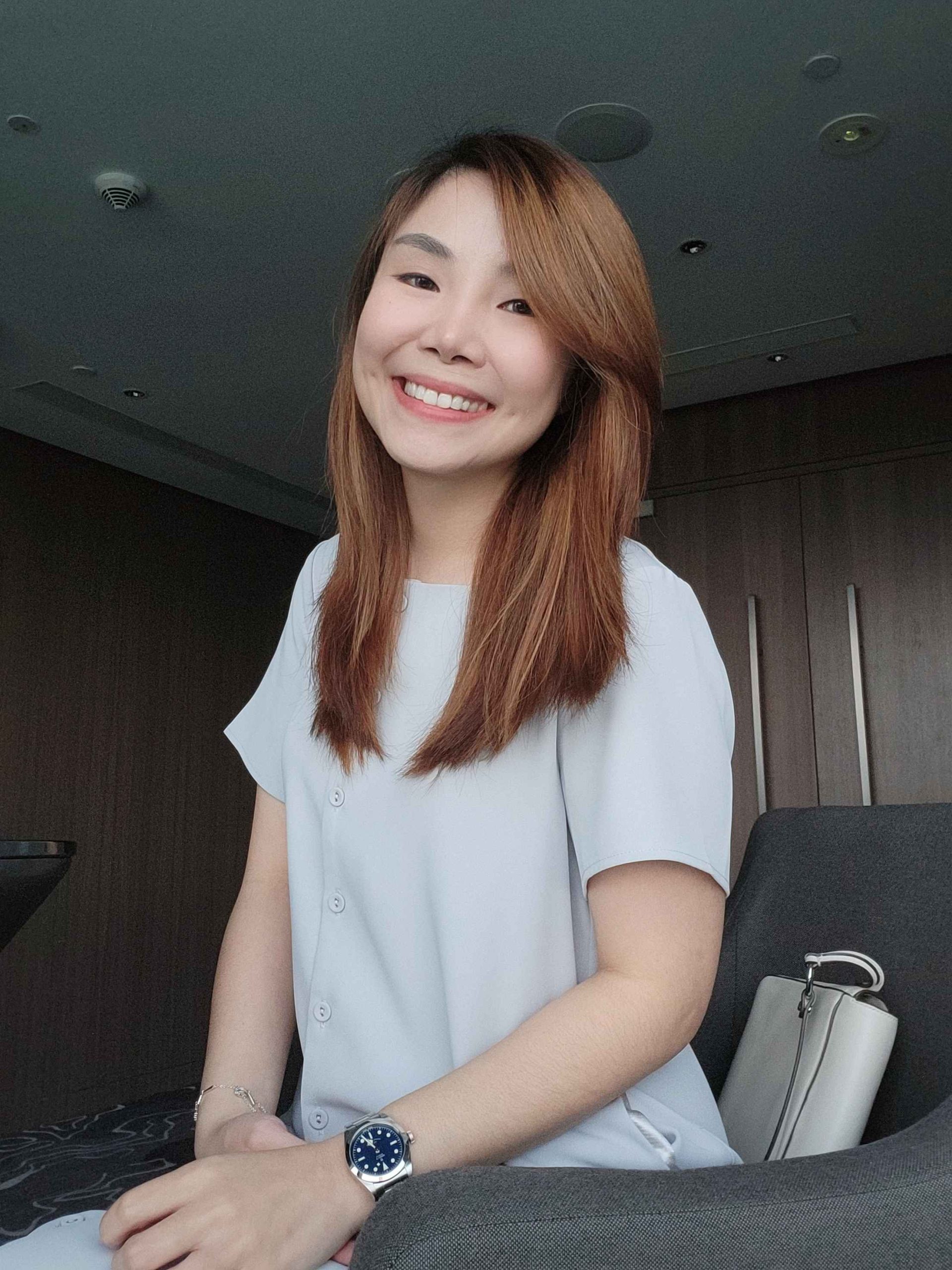 Ting Ting started her career as a Patient Service Associate at Bukit Batok Polyclinic in 2009. After 13 years in the healthcare sector, she is currently a Service Team Leader. Aside from assisting patients with registration, booking appointments, billing and feedback, she also assists in roster planning for staff and doctors, reviews work processes and shares knowledge and resources with staff to encourage participation
What was it like for you when the pandemic began? 
Halimah: Saying that it was hectic would be an understatement. We sweated buckets in the thick layers of personal protective equipment (PPE), and we had to wear them for prolonged periods. 
We all looked cool like astronauts, but it wasn't cooling at all, and even going to the restroom to attend to nature's call was a challenge. 
Kelvin: Our team started planning different contingency plans, extra holding space for suspected Covid-19 cases and refreshing the hospital team on the donning and doffing of the PPE. 
Ting Ting: We had to reconfigure our clinic operations into zones over a weekend! I led a team of staff in registering patients for the high-risk Red Zone, assisting in patient management, enquiries and also reviewing Red Zone processes on a daily basis to improve patient flow. 
What were the difficulties you faced on the job when Covid-19 struck?
Halimah: There was definitely fatigue. As colleagues contracted Covid-19, we had to cover their shifts. We also worried about the safety of our loved ones at home, as we may inadvertently bring the virus home and spread it to our family members. 
Looking back, it was physically and mentally draining. 
Kelvin: Setting up the Community Care Facility (CCF) came with unique challenges, in terms of logistics and staffing. We had to pull strings with different hospitals and organisations to borrow items for use. Manpower was also tight, as the hospitals were also preparing for any possible surge of cases. 
We had to look for part-time nurses from employment agencies or the Ministry of Health which had started the back-to-nursing rally call. 
Ting Ting: The evolving safety management guidelines came at us fast and furious, especially during the early stages of the pandemic. During that period, we were also in the midst of switching to the Next Generation Electronic Medical Records (NGEMR) system. 
I was one of those tasked to lead and support the ground staff during implementation. It was overwhelming, as I needed to conduct training classes, ensure staff are ready, anticipate questions and support them when situations arise during the system rollout.
However, the biggest challenge was having to wear the N95 mask and full PPE, while stationed in a non-air-conditioned area to screen all patients so that they would be registered in the correct zone.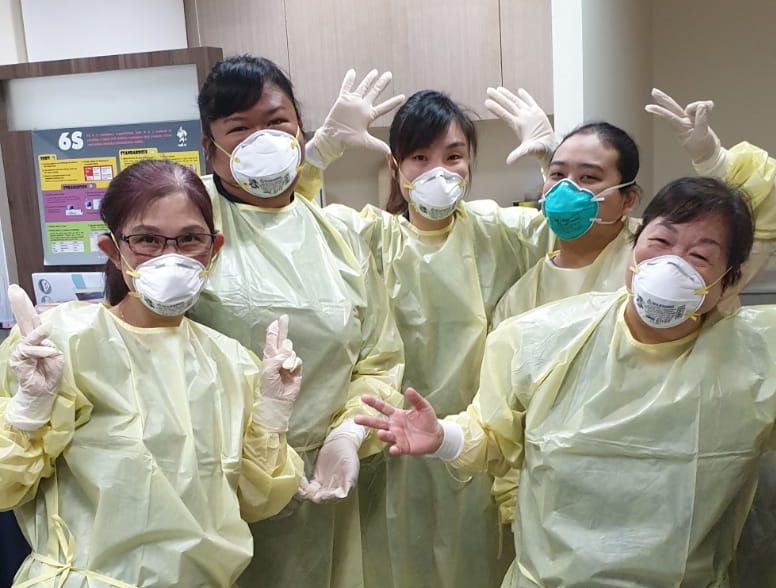 Working in healthcare is known to be challenging, so why did you choose this career in the first place?
Halimah: I was inspired by my late aunt who was my caregiver when I was little. Her dream was to be a nurse and she often shared with me about the profession. Growing up, whenever I visited someone in the hospital, I will be in awe of the nurses that cared for the sick. 
Nursing is a job which demands passion, and I knew that the job is a good fit for me. 
Kelvin: In 2003, I was involved in a road traffic accident and was admitted to the hospital for about two months. I got to see how the nurses work around the ward. It was then that I started to ponder my future.  At the same time, my brother was also a nurse and I thought that I could do well in this career too. 
Although I made the decision to join nursing impulsively, I greatly enjoyed my hospital attachment during my diploma course, and I have never looked back since! Joining nursing is the right decision for me. 
Ting Ting: I chose this career path because I love taking on challenges and I have a passion for keeping things organised. Keeping a clinic operational is important to me. 
Embark on a meaningful and rewarding career journey in the Healthcare Industry. Explore job opportunities now!
What advice would you give to someone thinking of pursuing a career in the healthcare industry?
Halimah: Being a nurse would not make one rich, but the impact on the patients you care for is deep and lasting. This job is driven highly by passion and a sense of satisfaction. From an individual perspective, the positive impact may seem small but as the saying goes, it's the little drops of water that forms the mighty ocean. 
Having patience and resilience is also key to doing well in this career. You may never discover your true potential if your limits aren't tested.
Kelvin: Give healthcare a chance and try it! There are many different pathways for nursing now and you will definitely be able to find one that is to your interest. For example, you can be out in the community as a community nurse or a resource person for patients as a case manager. 
You can also upskill yourself to become an Advanced Practice Nurse (APN) where you will run clinics and educate patients on their health and care. If you enjoy being on your feet, emergency nursing or critical care nursing could be your calling. 
Read More: How Making the Switch to the Healthcare Industry Can Bring Career Fulfilment
What gives you the strength to keep going?
Halimah: When the going gets tough, I would often think: "If it's not me helping these people, then who will?" As an SSN, my responsibilities are not only limited to the care of my patients but also extend to mentoring juniors on how they can perform their duties to the best of their abilities, even during moments of crisis like the pandemic. 
Most importantly, I have a lovely and supportive family who lifts me up when I'm down and continuously motivates me. The smile and laughter from my children and the calming words from my husband keep me moving.
Kelvin: My motivation is the appreciation and gratitude I received from my patients and their loved ones and knowing that I made a positive impact on them. As a Nurse Manager, I also draw satisfaction from giving my staff a conducive working environment and I'm happy when I see them being motivated to come to work.
Ting Ting: I have unwavering moral support from my loved ones, colleagues and friends that fuels me to keep going on. 
For this year's National Day, what is your wish for Singapore?
Halimah: I wish that as a nation we learn to treasure the peace that we have enjoyed so far and every Singaporean shall remain well and healthy. 
Kelvin: I wish for Singapore and Singaporeans to be resilient and adaptive to the changes in the evolution of the Covid-19 disease and to emerge stronger from this pandemic.
Ting Ting: Together we can take Singapore to greater heights. Happy birthday Singapore!
Read More: Breaking New Grounds: Singapore's Very Own Captain Planets