When you arrive home at the end of the day, it's only natural to want to feel you've accomplished something worthwhile. Yet many mid-career professionals struggle to find meaning in the work they undertake each day.
However, you don't have to stick with a job forever just because you made it your first career. In fact, more workers are now pursuing multiple careers throughout their lifetime.
Many Singaporeans are moving to the healthcare industry to find greater satisfaction in their work. Due to the country's ageing population and growing medical tourism sector, the healthcare industry is ideal for people seeking purpose in their day-to-day.
Need personalised support for your career switch? Register today to speak to a WSG Career Officer for some guidance!
Ready to make a mid-career switch to healthcare? Here, we consider some of the reasons professionals from vastly different backgrounds are making the switch to this richly rewarding space.
1. Help people in need
Part of the reason people find their jobs disheartening is that they don't view their work as impacting the greater good. In the modern age where people are increasingly seeking purpose in their professional lives, moving into the healthcare sector feels like a natural choice.
For instance, nurses and licensed practitioners play a crucial role in patient management to help them overcome complex health concerns. By working closely with patients every day, you will know for sure that your skills are delivering positive outcomes to them.
While there are undoubtedly ups and downs in the healthcare industry – just like any job – using your experience to return people to excellent health offers a satisfaction you won't find anywhere else.
There are over 100,000 jobs available on MyCareersFuture. Apply for your next job role here!
2. Discover the perfect direction
The healthcare industry is a popular choice for people changing professions because there are so many fascinating roles. Naturally, there are many patient-facing roles, such as pharmacists, registered nurses and clinic assistants.
However, you can also find a wide variety of jobs that support the healthcare industry in other ways outside of patient care. For example, there's a high demand for IT professionals, laboratory technicians and marketing professionals.
No matter how you're looking to make a mid-career switch to healthcare, there's almost certainly an appealing job for you. As the industry grows, new roles will provide a challenging workplace that offers the satisfaction you crave.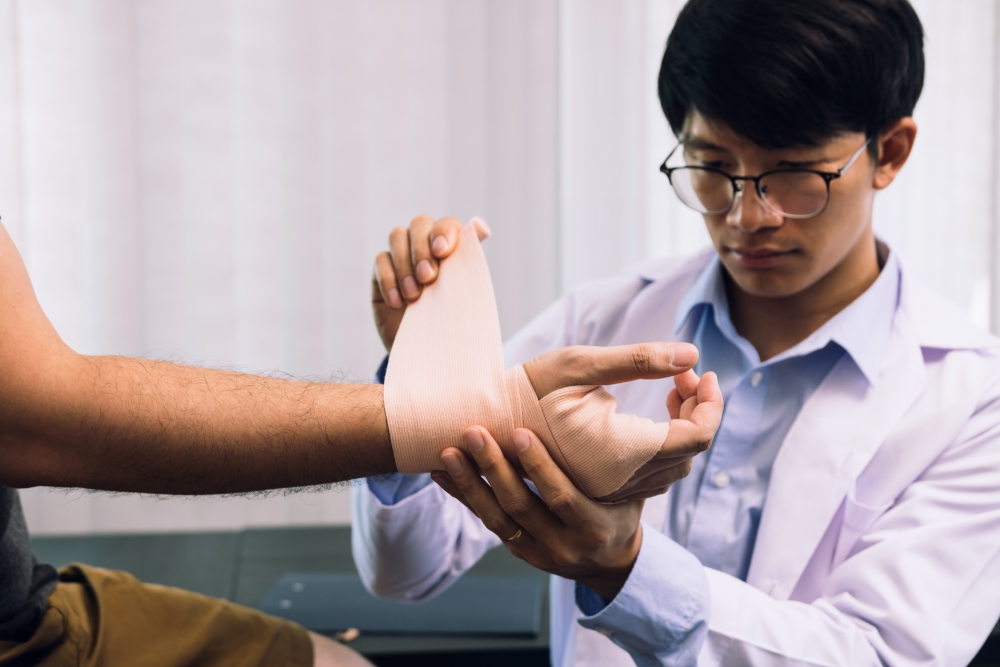 3. Great career prospects await
Once you've settled on your ideal role in healthcare, you can also feel confident knowing that the healthcare industry offers outstanding prospects. In part, this is due to Singapore's rapidly ageing Baby Boomer population.
As the healthcare industry swells, investment in the space has also kept pace. Recent estimates expect healthcare industry expenditure to reach $44 billion by 2030, up significantly from $17 billion in 2013.
This expenditure translates to more opportunities for newcomers looking to change from a different career. Now that finding your place in the healthcare industry is easier than ever, it's time to start researching the sector where you want to work.
4. Getting qualified is straightforward
Healthcare jobs in Singapore aren't hard to find. But you will need to undertake a new qualification that ensures you're ready to work within this specialised and fast-paced system. Fortunately, there's no shortage of choice.
For example, those looking to get licensed as a nurse or radiographer must receive a diploma or degree from a tertiary learning institute. Such institutions include Ngee Ann Polytechnic, Parkway College and the Singapore Institute of Technology.
Several government programmes also provide accessible healthcare education, including the  Career Conversion Programme for Allied Health Professionals.
Wondering if you're suited to join the healthcare sector? Take this quiz to find out!
5. It's a world-class system
Singapore has repeatedly been recognised as one of the world's top healthcare systems. It also tops the chart in healthcare readiness across the Asia Pacific.
Whether you find a position in the public or private system, you'll be working alongside highly trained colleagues who value the health and wellbeing of all patients.
Every industry has its challenges, but Singapore's commitment to building a strong workforce ensure no one is left behind. With a perfect role in the healthcare sector, you're set to grow into your position before taking the steps in a budding career.
Career fulfilment is possible
Give the healthcare sector a shot and you'll know why so many don't term it as a job; it is a calling. Why not consider a part-time job as a start to see where your interests take you?