Singapore's healthcare system is one of the world's best, with its mixed public and private structure ensuring everyone can access exceptional treatment. With investment in Singapore's system reaching $44 billion by 2030, industry professionals will have the support they need to provide exceptional care.
If you're looking to join this world-class system, practising common interview questions ensures you get hired in a stellar position. By demonstrating that you understand your core responsibilities and have an undeniable passion for the sector, you put yourself in the ideal spot to land a satisfying role.
Want to find a job in the healthcare industry? Explore over 100,000 job postings now available on MyCareerFuture across many industries. 
What do you think healthcare workers do?
With no two days the same in the healthcare sector, your employer would want to know that you're up to the daily challenge of treating patients and supporting your team. Convey how you look forward to working in a dynamic role that requires you to balance competing interests throughout the day.
While most healthcare roles will involve diagnosing, treating and escalating patients when necessary, you're also expected to keep tabs on the latest research. Depending on the position, express how you're constantly reviewing emerging healthcare advice and applying it to provide the best patient care.
Read More: 4 Digital Skills To Level Up Your Healthcare Career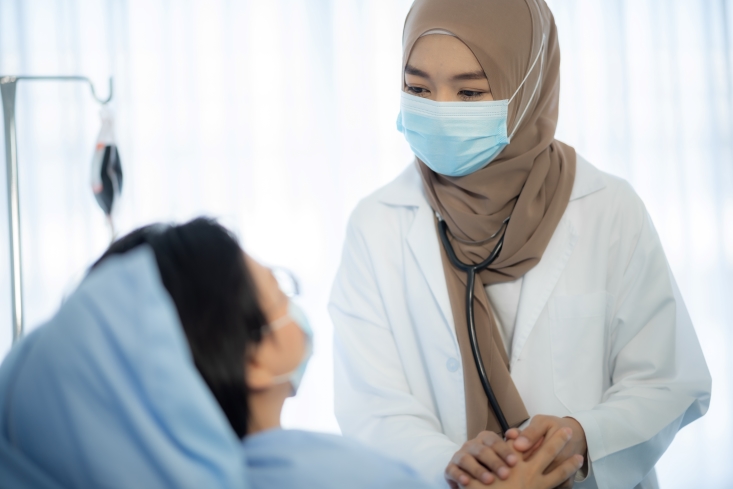 How would you calm down an anxious patient?
Healthcare workers who work directly with patients must know how to handle stressed people with empathy and compassion. For this interview question, highlight how you're a sincere listener and you want patients to know they have someone who is taking their concerns seriously.
You're also likely to face complex questions from patients and their relatives. Make sure your interviewer knows you're willing to provide answers to the best of your ability while escalating the situation to more experienced staff when necessary.
What's the best way to deal with an emergency?
If you're working in a healthcare position involving emergency situations, there's no doubt these events can be incredibly stressful. However, as a professional, you're expected to navigate these incidents with clarity and precision.
When your interviewer asks how you'd manage an emergency, talk through the steps needed to address patient concerns and how you would alert your colleagues. Consider adding an example that shows you can perform under pressure.
Looking for a job? Explore a range of career opportunities with Career GRIT. Connect with hiring employers at various career events such as walk-in interviews, virtual job interviews, virtual career fairs, and many more!
Why do you want to be a healthcare worker?
While the healthcare industry is a rewarding career for thousands of healthcare workers in Singapore, it's undoubtedly challenging work that requires dedication and motivation. You will almost certainly be asked this question, so think about your reasons prior to the interview.
Many healthcare workers have always wanted to help others who experience hardships. Maybe you just want to work in an innovative industry that is constantly changing. Don't be afraid to discuss your personal reasons for becoming a healthcare worker.
How important is confidentiality in the healthcare industry?
Few industries require a level of discretion from workers like the healthcare industry. In Singapore, patients have a right to the confidentiality of their medical records, with doctors and healthcare professionals having a duty of care to protect certain information.
With confidentiality key to performing your role as a healthcare worker, researching your obligations is the best way to handle these interview questions. By highlighting how you take these responsibilities seriously, your employer knows you can be trusted with sensitive information.
On the lookout for a new job? Discover meaningful career opportunities at our Virtual Career Fairs. Register today!
What aspirations do you have for your healthcare career?
Even if you've just applied for a junior position at a medical organisation, it's always beneficial to have a career path in mind. While it might change as you progress into the industry and discover new interests, showing that you've thought about the future is worthwhile.
For example, a nurse who has finished their qualification could talk about how they have aspirations to become an Advanced Practical Nurse or even eventually shift across into a management role. However, remember to focus on your immediate learning and future.
Get started in the healthcare industry today
Becoming a healthcare worker in Singapore makes for an incredible career. However, you'll need to ace the interview to land your ideal position with a respected healthcare employer. Get career advice from an industry veteran and discover the most important digital skills to find your perfect profession.