The number of job fairs taking place recently, and the many more we can expect this year, reflects the economy effort to bounce back to normalcy.
As we switch from virtual career fairs to in-person events, sharpening our skillsets to make the most of them will go a long way in at least securing that first interview. We dive into them below:
1. Research workshops beforehand
Many job fairs in Singapore will have an array of workshops, speakers, and networking events organised. Be sure to look at the programme beforehand and figure out which workshops you want to attend.
This way, you can optimise your time (a valuable resource) and learn about specific issues and industries that are relevant to your career trajectory. You can also meaningfully network with people with similar interests and ambitions, with whom you can team up with in the short or long term.
Attend walk-in interviews, virtual career fairs, workshops and more! Explore Career GRIT and find events and other resources best suited to your career journey. Check it out now.
2. Dress for the job you want
At all networking and professional events, it's important to dress appropriately.
If you connect with someone who is the ideal partner or mentor, but your clothing shouts that you are careless or have no attention to detail, this can be a huge turn-off to potential connections.
Make sure your dress is appropriate for the event. This doesn't always mean a three-piece suit of business wear; choose an outfit that shows your personality within the boundaries of professionalism.
Avoid ripped jeans, printed T-shirts, dramatic makeup, and messy hair. Opt for something neat and put together. If you need a better idea, consider business casual attire as it will not go wrong.
First impressions mean a lot in a networking or career fair setting where you may have a limited amount of time with someone. Make sure you dress to impress, not to distress.
3. Take notes
At an in-person or even a virtual career fair, you are going to be confronted with a lot of information rather rapidly. It can be easy to lose track of who said what and walk away with a lot of information, but not many meaningful connections.
If you network with someone who is eager to work with you, take down their number and pre-emptively organise a call or coffee meeting.
If a keynote speaker mentions a salient point relevant to your career trajectory, write it down so you don't forget them as they can be incredibly valuable for your vocational objectives.
Want to increase your chances of nailing the job interview? Learn effective job search strategies, enhance your personal brand, and more with Career GRIT. Register for our Virtual Seminars today!
These notes do not have to be a transcript or play-by-play of the conversation. Rather, they are significant ideas and highlights that you can refer to later. This will come in handy when writing a customised thank you note to anyone you have met.
There are a few methods to take notes; pen and paper are a classic combination, but smartphones, voice memos, and laptops are all equally effective. Just make sure you revise them afterwards to make it worthwhile.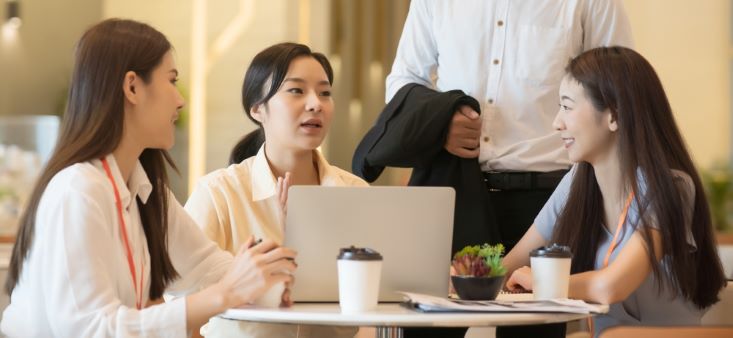 4. Be considerate of time
Career fairs are organised chaos. Industry representatives and trainees are packed into a space and time limit that frequently results in long lines and waiting time. When you eventually get your moment to speak with a recruiter, be mindful of the recruiters' time as well as the time of those in line behind you.
By doing so, you are also being cautious of your time. After all, you would want to meet more people over a short period.
There is an argument to be made about quality over quantity, but chances are that at a career fair, you're likely unable to have a long conversation with one of the recruiters anyways.
It's better to make a sound first impression, keep your notes to the point, and get contact details to discuss your ideas further at a later date.
On the lookout for a new job? Kickstart your job hunt and discover meaningful career opportunities at WSG's Virtual Career Fairs. Register today!
5. Ask for a business card
You'll be talking to a lot of individuals, and you don't want to stress about getting every single name and title correct later on. Ask the recruiter for a business card and place it in your portfolio.
This will not only come in helpful later, but it will also demonstrate your interest in furthering your career with the organisation.
Once you've left the career fair, make sure to go over each business card and make notes to follow up on. Write down a short sentence or two about what you discussed so you can bring that up when getting in contact.
This way, the recruiter will recognise your attention to detail and be able to separate you from the multitude of individuals they interacted with throughout the day.
Attending career fairs should excite you and boost your confidence, not undermine it. Go in with your head held high, ready to demonstrate your valuable experience, and open to the incredible opportunities and people you will encounter.
Need more tips? View our networking guide here for all that is to know!