Possibly one of the most uncomfortable questions that you have to respond to in a job interview would be: "What is your expected salary?" And if you're a mid-career switcher, this question may seem even more challenging to answer.
This is understandable. Unlike the fresh grad, who would probably be more willing to compromise on remuneration just to get a foothold in their career path, this is not your first rodeo. You have more experience and skills under your belt and, over the years, have worked your way up to a certain salary bracket. 
So, here's the dilemma: You're worried that the number you have in mind might be too big and lower your chances of being hired by the employer. But at the same time, you don't want to shortchange yourself by asking for something that is below what you value your skills and experience.
---
How to Communicate Your Expected Salary with Prospective Employers
Prepare by doing research online
Put off answering the question too early
Be discreet but think positive
Don't let money be the only deciding factor
---
Find your next job on MyCareersFuture. We have over 80,000 job opportunities daily for you.
Relax and prepare for the question
Before you start squirming in your seat when faced with the unavoidable question during a job interview, it's good to come in prepared. Here are five tips you can follow to improve your salary negotiation skills and hopefully land the job.
1. Do some research online
Quoting an expected salary range to a prospective employer would require you to do some homework in advance. So before attending an interview, do some research on the market salary for the job you're applying for.
Always assume that the interviewer has this knowledge already. So keeping yourself up to date with the salary situation can lessen the awkwardness of asking for a salary that is out-of-this-world or worse, shortchanging yourself.
Salary range information can be easily obtained using the MyCareersFuture jobs portal. All you have to do is type in the job that you're looking for in the search bar, and based on your skills, the portal will help you list the relevant and suitable jobs to apply for and the salary range information, within up to six different categories of jobs:
Based on your skills

Many have applied for

Recently posted jobs

Others like you also applied for

Others like you also viewed

Based on your recent searches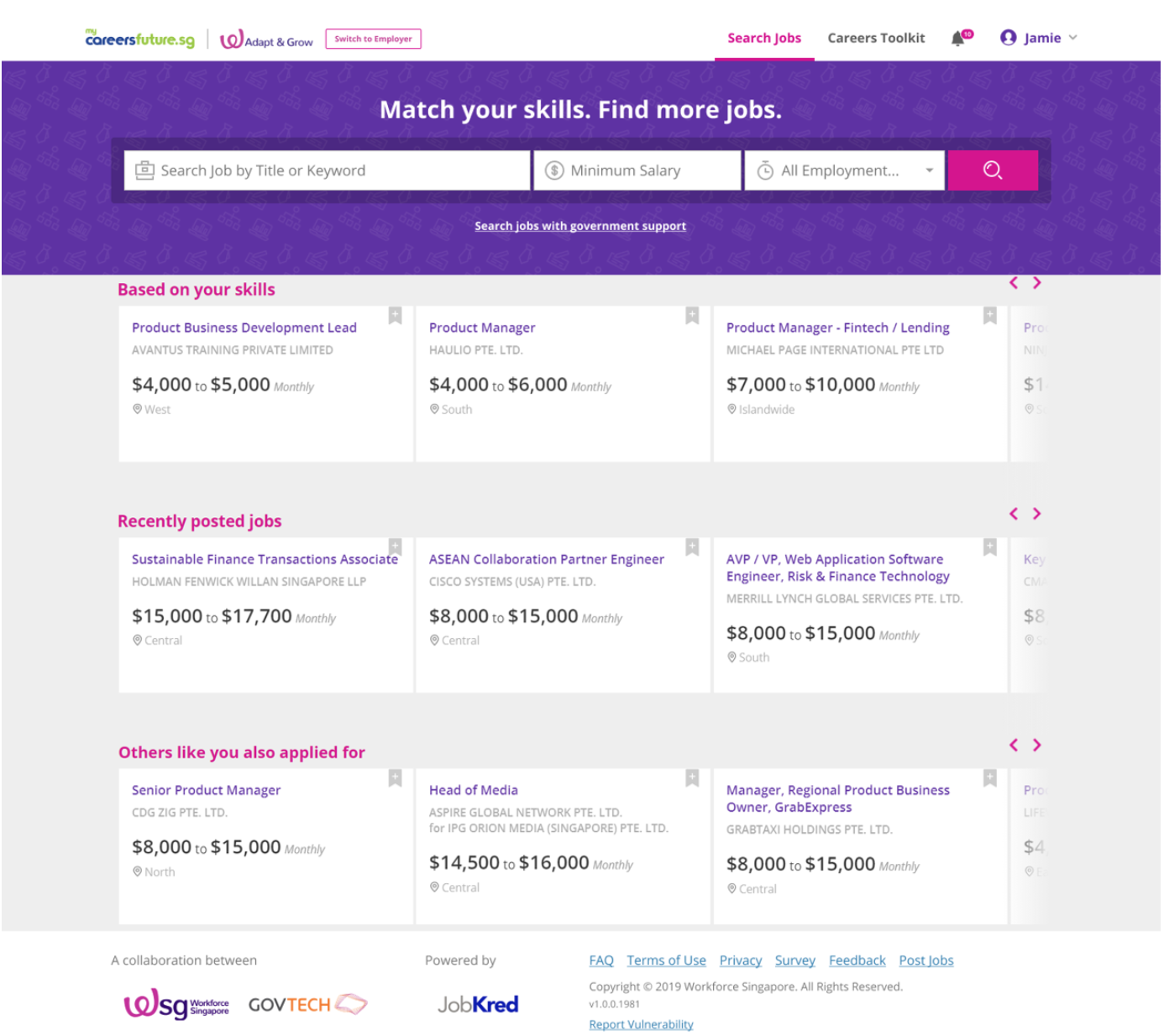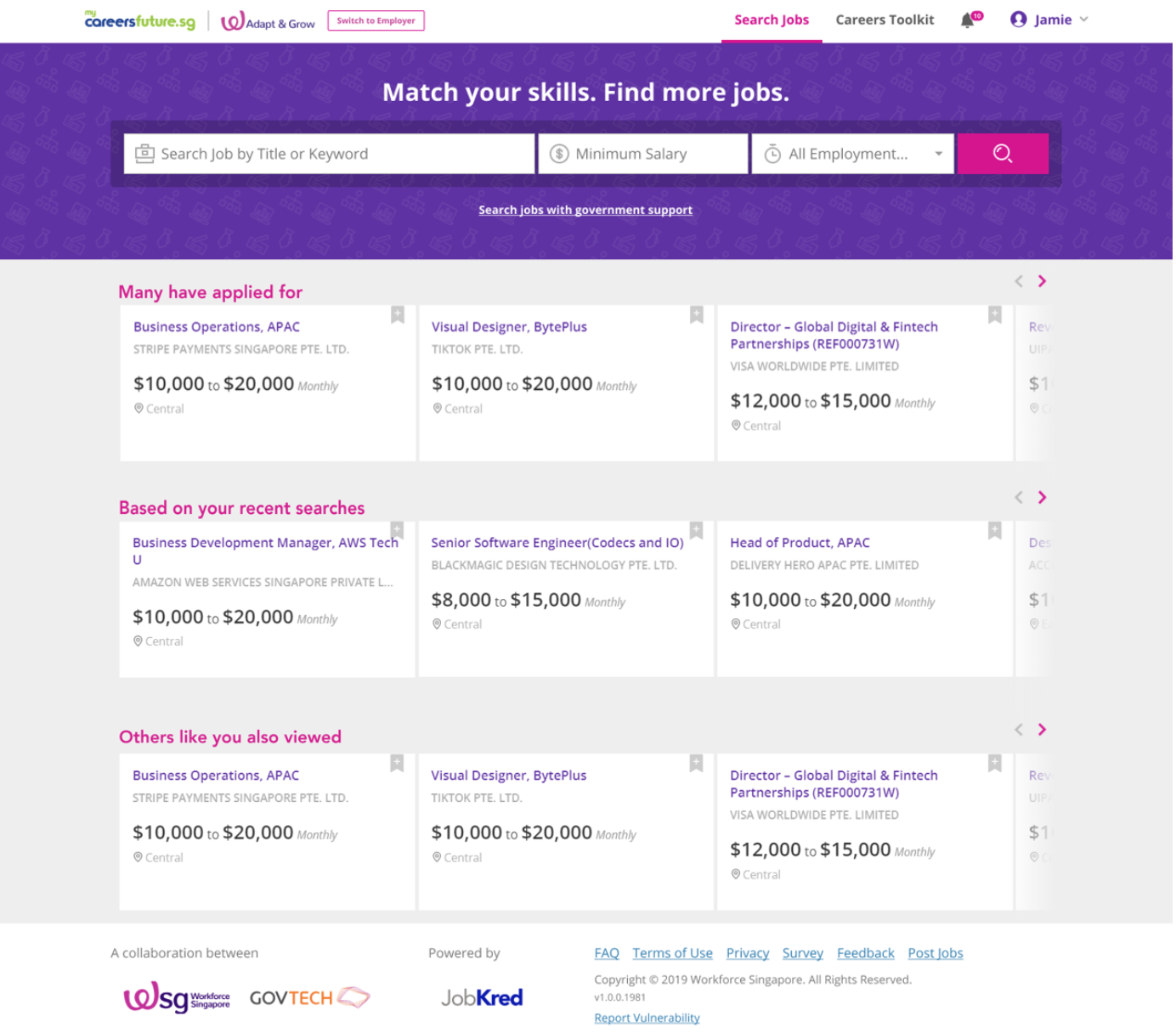 You may also tap on other websites, such as Glassdoor and Payscale, which provide insight into salaries for various jobs based on anonymous sharing from employees of various companies.
2. Delay answering the question
Usually, the salary expectation question pops up towards the end or at the end of the interview, but some interviewers may choose to bring up the question early. Nevertheless, don't be rattled and keep your cool. 
You may try to deflect this by saying, "I was hoping to discuss that question later because at this point we are still learning about each other and discussing what I can bring to the table." 
Putting off a salary discussion until you're well into the interview enables you to let the employer know the experience and skills you're bringing to the company. At the same time, you get to learn more about what's expected of the job that you're applying for.
However, if the interviewer insists on knowing your expected salary early, then give the salary range you're comfortable with, based on what you discovered during your research.
Read more: Planning a Mid-Career Switch? Prepare for These Interview Questions
3. Be flexible with your expectations
When it comes to remuneration, not all employers are able to meet your expected salary. 
Speaking at the Skills Demand for the Future Economy Forum in December last year, Robert Chong, chief corporate and HR officer of Sembcorp Industries, shared that sometimes mid-career switchers ask for the salary that they were drawing at their previous roles, for a new job that they're applying for. Although they may have attended courses and learnt new skills, they may not have the necessary experience to apply those skills yet in the new role.
If you're switching into a new industry, it is important to keep your salary expectations in check. Although you may have relevant transferable skills or upskilled yourself, you may not have years of experience or a proven track record as you had in your previous job.
If you're willing to take a pay cut, you may want to let your interviewer know that you're also open to making up for the shortfall with more paid time off or other benefits that would enhance your career there.
4. Be discreet if you want but think positive 
It is common for a potential employer to declare your last-drawn pay by providing your last payslip. If you're uncomfortable with the idea of sharing such confidential information, then know this: You are not required by law to declare your last-drawn salary, and an employer cannot insist you do so.
You may be asking why would the prospective employer need your payslip issued by your current or previous employer? Why would they value you based on another employer's evaluation?
Relax and think positive. Perhaps, they do not want to underpay you or they need it for further internal discussion to match your asking salary. In some cases, it may be that the company has budget constraints but the hiring manager is impressed by you enough to justify getting you onboard to the higher-ups.
Read more: Why Companies Should Consider Candidates Seeking a Mid-Career Switch
5. Don't let money be the only deciding factor
Whenever possible, try to find out more about the salary range that the prospective employer is offering for the position even before the interview. With this information in hand, you can make a more informed decision to politely decline the invitation, rather than feeling undervalued during the interview itself.
Sometimes, companies may not have the budget to match your asking salary — and that's alright.
 However, looking at the bigger picture, a slightly below-expected salary shouldn't be a deal-breaker if you really want to do a career switch. Salary aside, view it as an opportunity for you to enter the new industry and earn your stripes. 
Take the job, do your best and soon, you'll work your way up to the salary that you deserve.
Don't sweat the small stuff
Although salary is a big part of work, it is not all there is to what you should look for in a job. Take your time to consider what you really want out of a mid-career switch. If you need professional advice, speak to a career coach. Good luck!