Jobseekers with decades of work experience in a professional, managerial, executive or technical (PMET) capacity sometimes receive few responses despite sending off numerous job applications.
Other than highlighting your skills and business network in your resume, getting new sets of skills definitely helps to open up new career paths. Here are some ways to draw the attention of hiring managers.
Here are some ways to get employers to notice your application.
---
4 ways to make your job application stand out as middle manager/senior executive
Zoom in on your job fit
Share your stakeholder management experience
Tap on the network you've grown over the years
Highlight your upskilling efforts
---
1. Zoom in on your job fit
In your attempt to apply for as many openings as possible, you might send the same resume and cover letter multiple times, especially if you apply through job portals. This indiscriminate flood is often ineffective.
Attend walk-in interviews, virtual career fairs, workshops and more! Explore Career GRIT and find events and other resources best suited to your career journey. Check it out now.
Alethea Pek, head of human resources at Secura Group, a Singapore-based security services and solutions provider, has this to say about job applicants' resumes and cover letters: "It does feel that some of the candidates just mass apply to all the jobs available.
"Resumes with substantial details about how they are a great fit for the position would definitely attract the hiring manager's attention."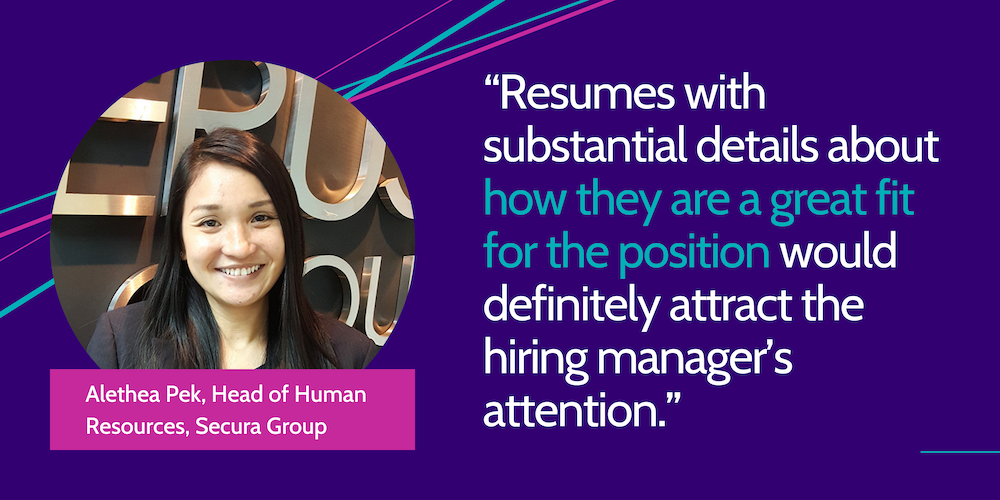 So prioritise and choose the jobs you really want, then tailor your application for that role. Or even better explore Workforce Singapore's job portal to help you match jobs to your skills. State your skills and search for the jobs that you are keen on from the list returned by the tool's algorithm.
On the results page, look for an indicator bar next to the jobs, which shows you how close you are matched to the role. This also saves you the trouble of indiscriminate applications.
Looking for middle or senior management jobs? Explore over 80,000 job postings on MyCareersFuture now.
2. Share your stakeholder management experience
In your decades-long career, you are bound to have worked with a number of clients, often across different industries, and gained experience managing internal and external stakeholders.
Try to list these experiences down or describe them in your cover letter when you apply for jobs.
For example, if you were previously a logistics manager in a specialised industry like freight forwarding and packaging, you may have developed working relationships with customers in various industries like food and beverage, electronics and consumer goods manufacturing and gained some inside knowledge on how businesses operate in these industries.
Along the way, you might also have influenced the solutions, costing models and other logistics factors to help your own business improve processes and productivity.
Highlighting such experiences and achievements in your applications will show your future employers how much value you could add to their business.
3. Tap on the network you've grown over the years
Employers value the network of industry contacts that you have and a well-established and extensive network ranks highly on many employers' list of criteria for a potential hire.
This network could come in handy to your employer as potential leads or business contacts, or if they are looking for partnerships or suppliers.
Read More: Awkward About Networking? Here's How You Can Build Meaningful Relationships Online
For instance, as a sales manager, your extensive contacts from your previous jobs will be valuable leads for you to pursue in your new position.
Michael Tien, CEO of Atlas Sound & Vision, another Singapore-based firm specialising in audio-visual equipment distribution, values this experience and network when hiring talent aged 40 and above.
"We would look at the strong wealth of experience they possess, their strong network as well as their passion for the industry", says Tien.

Highlight this value-add in the summary statement where you talk about your years of experience in your resume. If you are active on LinkedIn or use the platform for job search, include a link to your profile so hiring managers can see how many connections you have made there.
Tien goes on to say, "We definitely will look at a candidate's LinkedIn profile. This will help us in assessing their level of transparency, the number of endorsements they have and their professional network."
Looking for a job? Trying to ace that interview? Subscribe to WSG Jobs and Career Advice Telegram channel for useful career tips, resources and events!
4. Highlight your upskilling efforts
Have you received any additional qualifications or certifications outside of your academic background?
Include them under a separate section when you craft your resume to show that you have taken the initiative to upskill outside of work.
These might place you in good stead with recruiters when they see a number of applications with the same basic qualifications.
For instance, if you have spent time learning new data visualisation tools like Tableau or getting Google Analytics certified, that shows an employer that you are willing to upgrade your skills in order to be a better match for a role like data scientist or digital marketer.