Receptionist jobs are often seen as short-term roles, part-time positions, or stepping stones on your overall career path. However, there's more than meets the eye because a career as a hotel receptionist can be a rewarding experience for those looking for a fast-paced, customer-centric role in the hospitality and tourism sector. 
But don't take our word for it, Workipedia by MyCareersFuture speaks to two participants of The Singapore Best Receptionist Competition in 2022 (yes, it's a real competition!) — Jeff Kek and Jonathan Lun, to learn more.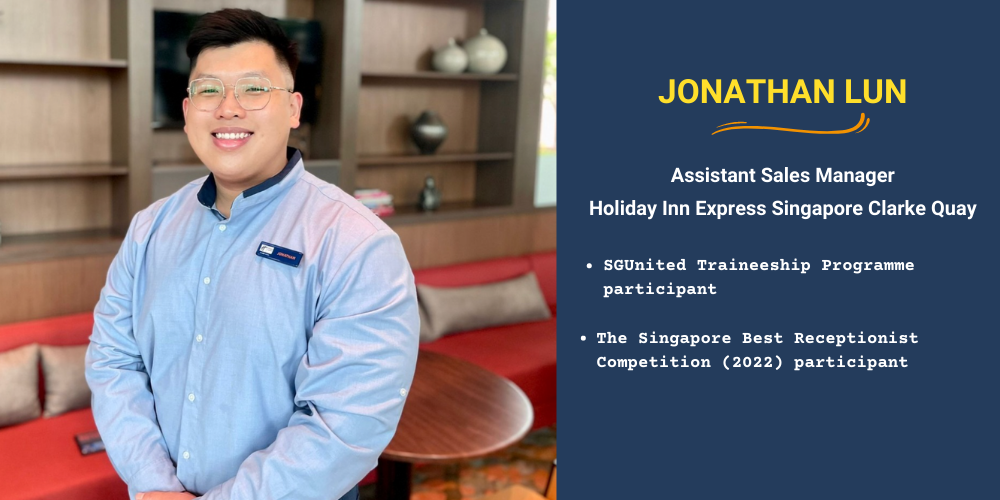 While pursuing his part-time master's degree specialising in Corporate Sustainability, Jonathan made up his mind to follow his passion for hospitality. After all, he already had two relevant certifications in the bag: a diploma in Hospitality & Leisure Facilities and a degree in Hospitality Management.
In the middle of the pandemic in 2021, Jonathan signed up for the SGUnited Traineeship Programme by Workforce Singapore, which found him working as a Guest Services Trainee at Holiday Inn Express Singapore Clarke Quay before being converted to the full-time role of Guest Services & Reservations Agent in 2022. 
From guest relations to catering sales and events, explore thousands of job opportunities in the Hospitality and Tourism Sector on MyCareersFuture!
Jonathan was promoted to the position of Assistant Sales Manager in early 2023, marking his transition from operations to a management role.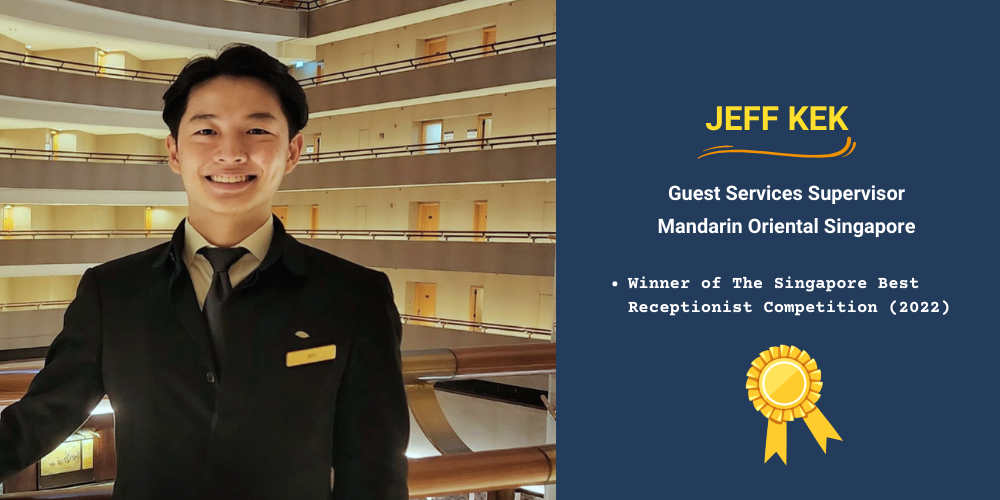 Jeff began his career in hospitality after finishing his secondary school education and enrolling in the Hospitality Operations course at the Institute of Technical Education in 2018. As a student, he interned at Mandarin Oriental Singapore and kept working part-time there until he began his National Service.
In 2021, after completing his National Service and being armed with a Higher Nitec certificate in Hospitality Operations, Jeff resumed working at Mandarin Oriental Singapore and is currently a Guest Services Supervisor at the hotel.
"I am a born and raised Mandarin Oriental hotelier," said Jeff.
Spill the tea on hospitality!
Why did you choose to work in a hotel? 
Jonathan: It was a natural progression from my tertiary education, where I pursued a Diploma in Hospitality Management. During my final year internship, I had my first experience as a hotel receptionist, where I met guests from different backgrounds while working in a dynamic environment. I have been in love with this industry ever since.
Jeff: I believe it was the career that chose me. I went into studying hospitality without knowing much of what it was about and have stayed in the industry since then. I grew to love my job and what I am doing, which is interacting and engaging with people from all over the world.
Read More: Find Out What Drew These Two Singaporeans to the Hospitality Industry
What's it like to work in a hotel environment?
Jonathan: It is fast-paced and dynamic, so we must be adaptable and people-focused. We're well-trained to react and respond to a myriad of situations quickly and efficiently and to work closely with team members and support each other. 
Jeff: It's amazing! It is a building that is a world of its own. There are many things happening under one roof, so there's always something new to learn!
What's your typical workday like? 
Jonathan: I oversee our guests' start-to-end stay experience at the hotel. I assist them pre-arrival with enquiries, to the confirmation of the reservation up until when they arrive to check-in.
Jeff: I follow up on what needs to be fulfilled and prepare for the hotel's operations ahead. I also interact with guests, answering their queries, and assisting them with their check-ins and check-outs. On the back end, I respond to emails and do administrative work. Every day is different!
What are some of the things that you like about your job?
Jonathan: It offers me the perfect platform to interact with people from all walks of life across different backgrounds. The gratification of resolving any of our guests' issues also keeps me motivated and engaged at work.
Jeff: It will be the interactions with guests. Every conversation is unique because everyone has a different story to tell. Talking to people from across the globe allows me to learn from their experiences.
In your opinion, what are the three qualities that make for a good hotel receptionist?
Jonathan: Firstly, professionalism; a good hotel receptionist should be professional in all aspects of his or her work. Always project a friendly and welcoming image while maintaining a high degree of poise, even in stressful situations.
Secondly, flexibility as the job is dynamic and fast-paced, which requires being flexible and adaptable to unpredictable circumstances. This means being able to manage multiple tasks simultaneously and shifting priorities as needed.
Read More: Essential Skills for the Hospitality Industry
Thirdly, empathy because a good hotel receptionist should possess a high degree of emotional intelligence, which allows them to understand and respond to the needs and concerns of guests. This means being able to listen attentively, show empathy, and provide practical solutions to problems while maintaining a positive and helpful attitude.
Jeff: I always believe that you must be genuine. Sincerity comes from within. People will sense when you are genuine or not. The other two would be positivity and patience. 
There is not one day that will ever be 100% smooth sailing. On days when it gets tough, it is important to remain positive and have confidence that everything will work out fine. You have to remind yourself to stay calm and work through whatever situation comes your way.
Inspired by Jonathan and Jeff's stories? Apply for hotel receptionist roles today.
Can you briefly share a memorable experience at work?
Jonathan: It was when the hotel was contracted as a Stay-Home-Notice hotel during the COVID-19 pandemic. The unpredictability of when quarantine guests will show up kept me on my toes. I remember having to process large numbers of COVID-positive guests arriving in bursts.
My team members and I were sweating profusely under our personal protective equipment (PPE) as we ensured all safety and health protocols were closely adhered to while we checked in the guests in a structured manner.
It is one of my fondest memories where our teamwork and tenacity shone through.
Jeff: I once prepared a cup of cappuccino for a VIP guest and asked if he would like to have any sugar in his drink. He replied, "You are sweet enough". 
Wondering if the hospitality and tourism sector is your calling? Take this quiz to find out!
What is your advice for people considering a career as a hotel receptionist?
Jonathan:
If you enjoy being around people and possess strong communication skills, this is the role for you. The ability to practice effective communication, including the ability to listen, is a crucial success factor. 
Adaptability and tenacity are also key to the success of this role as we must navigate through different situations, working hours and unexpected turns of events.
Lastly, a little goes a long way where a little thoughtful gesture can help to elevate a guest's stay experience, so going above and beyond is critical for success as a hotel receptionist.
Jeff: Go for it! Some days may be tough, but I believe that every job has its ups and downs. You will have a lot of fun learning and gaining different experiences as a hotel receptionist.
What's one myth about being a hotel receptionist that you would like to debunk?
Jonathan: People often assume that the job of a hotel receptionist is only to handle the arrival and departure process of guests. However, we are responsible for a much wider scope of work. This includes coordinating with other departments to resolve or manage guests' issues, room inventory management, management of cash floats and more.
Jeff: That hotel receptionists only do check-in and check-out of guests. We do a lot more than that. We have other tasks such as handling guest requests, administrative work, etc.
This one's for you, Jeff. What does winning the Singapore Best Receptionist Competition mean to you?
Jeff: It still feels very surreal to me. When I was still new in this career, the thought of being able to participate in the Singapore Best Receptionist Competition seemed like a big dream. So, to be allowed to participate and eventually emerge as the winner in the prestigious competition is simply life-changing.
Check out the rest of the participants in last year's competition below!
Fancy working in the hospitality and tourism sector like Jonathan and Jeff?
Jobseekers or mid-career switchers who are keen on joining the hospitality and tourism sector can get support and On-the-Job Training by signing up for the following Career Conversion Programme for Tourism Professionals by Workforce Singapore:
You can also fill out this interest form, and be contacted for any recruitment events and job matching opportunities in the tourism sector!