Forging a successful career requires time, energy and motivation. Yet that doesn't mean you can't also benefit from a side hustle, especially considering many of the most common outlets teach you hugely valuable skills. Plus, a productive job on the side promotes social connection and personal satisfaction.
According to a 2017 survey, 54% of Singaporeans have a side hustle, with 43% wanting to have new experiences and 42% following their personal interests. To help you find a side hustle that improves your day-to-day performance, we've selected some of the most beneficial roles that foster learning and motivation.
Digital marketing
Digital marketing has been one of the fastest-growing industries in recent years, with boutique agencies and large-scale operations helping businesses reach and convert their ideal target market. Fortunately, it's possible to teach yourself these skills, ranging from search engine optimisation to social media marketing.
As the internet becomes intertwined with our daily lives, understanding basic digital marketing strategies ensures you know how to engage potential customers. Meanwhile, nurturing relationships with clients teaches you how to expertly manage people and projects throughout your everyday career.
Need professional advice in figuring out your career progression? Register to speak to our career guidance team! 
Student tutoring
Becoming a part-time tutor can be a wonderfully rewarding experience for numerous reasons. For example, you help cultivate the next generation of students as you impart challenging skills that benefit their future career development. However, working as a tutor also pays dividends in your own career.
As you rise through the ranks at work, there's every chance you'll need to teach colleagues how to perform specific tasks. If you've established a solid knowledge and educating base from tutoring students, you'll know how to guide their learning and transform them into top-notch company assets.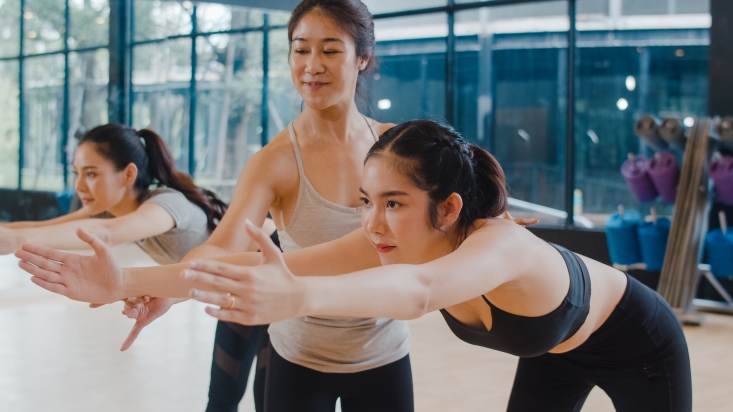 Personal training
Professionals who love to exercise often turn to personal training when starting a side hustle. You'll get to practice your leadership qualities as you help attendees achieve their fitness goals in a rewarding setting. Plus, you can also work on your mental and physical well-being at the same time.
Regular exercise benefits your career in numerous ways, including job satisfaction, improved sleep and reduced stress, as a healthier lifestyle ensures you perform at your peak more often when at your day job. If you consider yourself a fitness guru, perhaps personal training is a potential side hustle.
Writing and editing
Communication remains a vital skill in establishing a fruitful career, and it's also essential for remote working and collaboration. By taking your writing and editing skills to the next level in a freelance side hustle, you'll develop a talent for business communication that ensures your emails and reports hit the mark with management and clients.
With numerous online platforms making it easy to get involved with content writing and copywriting, finding your first clients shouldn't take too long. Then, the skills you practice can apply to your career, with your first-class communication elevating your team's success.
Want to increase your chances of nailing the job interview? Our virtual seminars can teach you effective job search strategies, enhance your personal brand, and more. Explore Career GRIT to learn more!
Website design
Web design is another side hustle that provides outstanding benefits when seeking career development. By learning fundamental coding skills and understanding what makes a website user-friendly, you can better appreciate how your company meets customer needs.
As most businesses rely on a website to showcase their products and share information, studying web design skills and applying them to your own creations ensures you gain an advantage. With this knowledge, you can help take your company's performance to greater heights.
Bookkeeping
If you're comfortable with numbers, bookkeeping might be the side hustle for you. By learning the basics of financial data and developing sharp skills in accounting, you can generate business reports that help companies perform at their best.
Considering many smaller businesses don't require the oversight of a full-time bookkeeper, freelancers often help fill the gaps. This gives you the chance to learn essential computer skills, understand financial reports and provide unmatched customer service.
Elevate your career with a side hustle
No matter what career you choose to pursue, a complementary side hustle can speed up your development. Consider your existing talents and how you can apply these to a side business. In the meantime, learn about the must-have professional skills you need to land your dream job.