2022 was certainly a big year in the Singapore job market, with the country pushing quickly from pandemic mode and back to business-as-usual for its workforce.
The year started with talk of the Great Resignation, swiftly overtaken by concerns about inflation and the economic fallout due to the war in Ukraine towards the middle of the year.
That led to a wave of tech retrenchments towards December and a certain level of uncertainty amongst Singaporean jobseekers and employees. What's coming next?
It's not all doom and gloom, of course. Singapore's government has navigated the post-pandemic waters well, looking ahead at the industries and jobs that will provide employment and growth opportunities for our local workers.
No matter which industry you're eyeing, you can find your next job on MyCareersFuture. We have over 100,000 job opportunities daily for you. Start applying now!
Of course, that's only half the battle- it's also just as crucial that, as jobseekers and employees, we continue to futureproof ourselves and stay career resilient by doing the following:
Consider the longevity of our current careers and professional skills
Change the Singapore mindset of career growth, being open to breadth in experience rather than simply climbing the corporate ladder
Figuring out what skills we need to excel in and what industries to consider joining
Relearning how to learn, which can be hard for some after years of leaving school
Here's a closer look at some key industries to pay closer attention to. Click on the industries below that you're keen on!
What's the Agri-tech industry in Singapore like?
During his National Day Rally (NDR) 2022 speech, Prime Minister (PM) Lee Hsien Loong highlighted the importance of Singapore being less dependent on exports for our food security.
This was seen by how food supply chains were disrupted during the COVID-19 pandemic, the war in Ukraine pressuring grain exports, and Malaysia previously banning the export of its fresh chickens into Singapore.
In response, Singapore launched a 30 by 30 (to produce 30% of our local nutritional needs by 2030) goal. Given the importance of self-sustenance, it's unlikely that our country will stop at that, even after achieving the 30% target.
As such, our Agri-tech industry will be crucial. It is a growth area that uses modern technologies to increase production yield, improve food quality, and promote sustainability.
In 2022, Workforce Singapore (WSG), the Singapore Food Agency (SFA), and Republic Polytechnic (RP) rolled out the first career conversion programme (CCP) for the Agri-tech sector.
It is projected that about 4,700 new and redesigned jobs will be created by 2030. 70% of these are expected to be filled by skilled workers and professionals, managers, executives, and technicians (PMETs) who have skills in urban food production and have multi-disciplinary expertise in science, engineering, and info-communications.
Mr Tan Choon Shian, WSG's chief executive, said: "To build capabilities in the future Agri-tech workforce, it is timely for WSG to introduce the CCP for Agri-tech to help Singaporeans secure jobs in this growth sector, which offers diverse career opportunities.
"We are happy to partner SFA and RP in this programme to ensure that the Agri-tech sector is supported by a strong Singaporean core."
Looking for career guidance? If you are exploring career changes and need professional advice, register for a complimentary session with WSG's Career Coaching today.
What's the aviation industry in Singapore like?
Aviation is an important part of the Singapore economy, accounting for around 3% of GDP and employing approximately 200,000 people. The air hub anchors major aerospace companies in Singapore and supports other economic sectors such as tourism, manufacturing and logistics.
One of Asia's most connected international aviation hubs, Changi Airport links Singapore to some 130 cities globally, with over 80 airlines operating more than 4,500 weekly flights.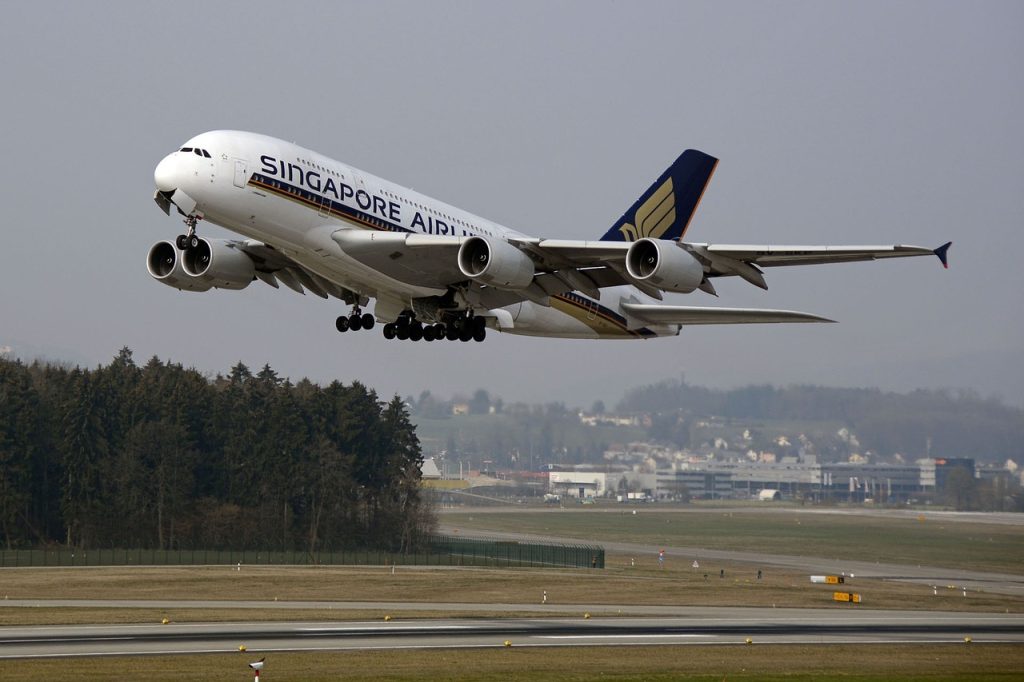 Coming out of the global travel restrictions in 2020 and 2021, Singapore's aviation sector is experiencing changes as people begin to travel again for work and leisure. International air passenger arrival volumes are steadily soaring to pre-Covid-19 levels.
To help the sector attract, grow and upskill the manpower needed to support the near-term ramp-up in air travel and Changi Airport's future growth, with the development of Changi East, including the new Terminal 5, the OneAviation Careers Hub was launched in the third quarter of 2022.
The one-stop online aviation resource portal provides the following for Singaporeans who wish to join the aviation sector and existing aviation professionals seeking to grow their careers:
End-to-end job facilitation
Career and training advisory and counselling
Recruitment services
A tripartite initiative, the hub was developed by the Civil Aviation Authority of Singapore (CAAS), National Trades Union Congress (NTUC) Aerospace & Aviation cluster, NTUC's Employment and Employability Institute (e2i), and supported by SkillsFuture Singapore (SSG) and WSG.
Learn more about the jobs in the aviation industry that will be available for Singaporeans here!
What's the maritime and shipping industry in Singapore like?
Maritime is steeped in the lifeblood of Singapore, tracing back to our beginnings as an entrepot trade hub.
Today, with sea transport an indispensable driving force for the world economy and international trade, Singapore has become one of the world's leading maritime nations, and a vital node within the global supply chain network.
Our global hub port is an icon of Singapore's economic vitality and a critical component of Singapore's connectivity.
With a mix of maritime businesses such as ship-owning and operating activities, shipbroking, marine insurance, technology and finance, Singapore has one of the most comprehensive maritime ecosystems in the world.
As more companies in the Sea Transport sector continue to digitalise and transform, new jobs are created, and cross-disciplinary skills in areas such as data analytics, automation and robotics, and sustainability are required to meet the changing demands of the maritime workforce.
In late 2021, The Maritime and Port Authority of Singapore (MPA) and WSG rolled out an enhanced CCP for Sea Transport Professionals and Associates.
Run in partnership with Singapore Polytechnic, the CCP targets mid-career switchers to undergo skills conversion and take on new roles in Port Operations and Services, Shipping, and Maritime Services with good career prospects.
Learn more about the maritime roles that will be available for Singaporeans here!
What's the construction industry in Singapore like?
According to a Business Times report, Maybank analyst Chua Hak Bin noted that the construction industry is still experiencing acute labour shortages.
Many public and private projects are ongoing or coming online, with the Changi Terminal 5 and Tuas Port long-term projects expected to take several decades to complete.
According to OCBC's small and medium enterprises (SME) index, the construction sector has typically been growing quarter on quarter since the end of 2020.
In February 2022, Singapore's Ministry of Manpower (MOM) also announced initiatives to support  firms in the construction industry to transform their business and hire locals as below:
CCPs offering up to 90% funding support for salary and training costs for firms to hire mid-career jobseekers and equip them with the necessary skills to take on jobs.
Jobs Growth Incentive (JGI), which provides salary support for firms looking to hire new local mature workers who have not been employed for at least six months, persons with disabilities, and ex-offenders.
iBuildSG Scholarship and Sponsorship Programme, which offers scholarships/sponsorships jointly with firms in the Construction sector to high-calibre students intending to pursue Built Environment courses at Institutes of Higher Learning.
Want to increase your chances of nailing the job interview? Our virtual seminars can teach you effective job search strategies, enhance your personal brand, and more. Explore Career GRIT to learn more!
What's the pharmaceutical and biotech industry in Singapore like?
Another sector that PM Lee highlighted during his NDR rally, the biomedical sector employs over 25,000 and contributes to 20% of Singapore's manufacturing gross national product (GDP).
In fact, during the pandemic, researchers here have made significant contributions, such as helping to secure vaccines early and developing test kits. Industry giants Sanofi and BioNTech are even coming to Singapore to build vaccine manufacturing facilities.
Local scientists are also now doing cutting-edge research and development (R&D), with some becoming principal researchers and founding start-ups in the industry.
An example would be the company Mirxes, responsible for the world's first test kit to detect early-stage gastric cancer through a blood test, or liquid biopsy. Their kit illuminates tiny pieces of genetic material, called microRNA, that serve as biomarkers to detect the illness.
PM Lee added: "Had we not continued to build up our biomedical research teams and activities and develop home-grown talent, all this would never have happened.
"This is the difference that top talent can make."
As Singapore continues to attract the world's top biomedical companies to locate their manufacturing plants here, locals will be needed to be equipped with the latest skillsets to take on these jobs.
As such, WSG's CCP for Advanced Biopharmaceuticals Manufacturing is a talent development programme aimed at building the next generation of skilled manpower for Singapore's Biopharmaceuticals manufacturing industry in anticipation of hiring demand.
For those looking to make a mid-career switch to the industry with some engineering or science background, you'll be provided with training and work attachments in top biomedical manufacturing companies, ahead of potential job placements!
What's the green infrastructure industry in Singapore like?
Earlier in 2021, the Singapore government unveiled a Green Plan 2030, a "whole-of-nation" movement to advance the national agenda on sustainable development.
In a LinkedIn post, PM Lee said: " By 2030, Singapore will be greener, with more land set aside for nature parks. We will deploy more solar power, and tap more green energy.
"We need to ensure a Singapore for our future generations. All of us have to work together, and make Singapore a bright green spark for the world."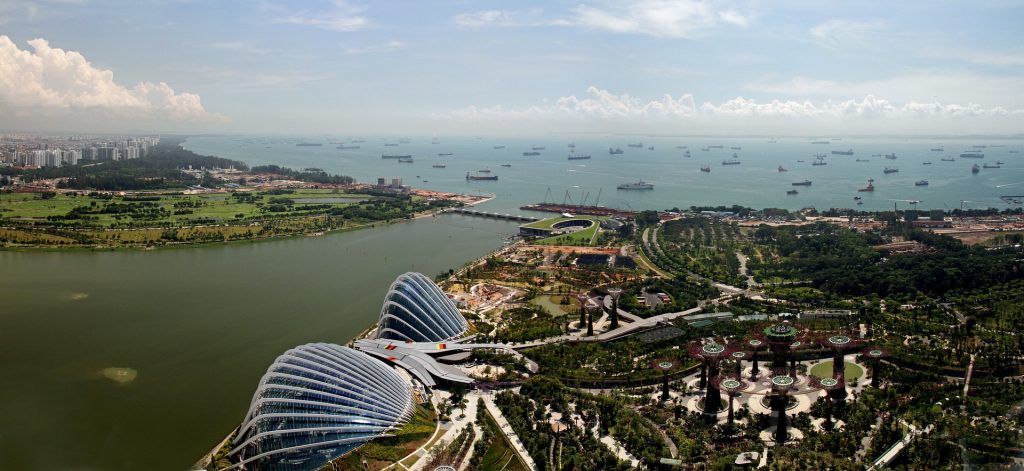 Sustainable or "green" infrastructure is a key industry that has grown quickly as part of these plans and encompasses the six key sub-industries below:
Future mobility and transport
Safety and security
Smart buildings and precincts
Smart energy
Green construction
Water and environmental services
The challenges and the hiring needs to match them, are wide-ranging, from managing urban carbon emissions to using artificial intelligence (AI) and the Internet of Things (IoT) to manage and optimise our buildings and resources more effectively.
For those keen to take up these challenges, WSG launched a CCP to support workers who will reskill to support Singapore's sustainability objectives.
In fact, WSG will provide funding to employers for up to 70% of a trainee's monthly salary, capped at $4,000 per trainee a month for the training duration, with higher funding and cap for older as well as unemployed trainees.
What's the banking and financial services industry in Singapore like?
Momentum in Singapore's banking and financial sector is expected to accelerate, especially after Singapore's Deputy Prime Minister (DPM) Lawrence Wong shared updates to Singapore's industry transformation map (ITM) in September 2022.
In a nutshell, the ITM aims to create 3,000 to 4,000 net jobs annually and achieve average growth of 4-5% annually between 2021 to 2025.
Singapore's Deputy Prime Minister (DPM) Lawrence Wong shared a new S$400 million grant to develop local talent for financial services in Singapore.
"We want to build a skilled and adaptable Singaporean workforce in finance. That means investing significantly in our finance professionals throughout their careers," DPM Wong said.
The grant will support the ITM's next steps:
To enhance Singapore's asset class strengths
Digitalise our financial infrastructure
Help catalyse Asia's transition to net-zero green goals
Shape the future of our financial networks
Jobs in Singapore's banking and finance industry that can be expected to rise in 2023 include:
Sustainable finance
Fintech
Data process and analysis
Wealth and asset management
Considering a Mid-Career Switch? Register for a complimentary session with WSG's Career Matching Services for some helpful guidance today.
What's the logistics and supply chain industry in Singapore like?
Singapore plays an important role in the global supply chain and the logistics industry is a big contributor to our economy. The sector has recently grown and adapted to changes due to the Covid-19 pandemic.
To strengthen Singapore's status as a global logistics hub, the industry is projected to have a 5% growth rate with a number of job opportunities that come along with it.
According to a report by HR company Robert Walters released in December 2022, some of the roles that will be in the highest demand moving forward include:
Global logistics managers
Category managers
Leadership roles pertaining to supply chain and procurement centres of excellence
These roles will demand workers to have a stronger emphasis on cost optimisation and processes, leading to an increase in demand for corporate strategy talents and hybrid roles.
If you're ready to take on a role in the logistics and supply chain sector, here are some of the common roles to know about:
Procurement managers
Demand planning analysts
Distribution centre supervisors
Supply chain consultants
What's the tourism and hospitality industry in Singapore like?
Tourism is one of the world's largest industries, and many countries rely heavily on it to drive their economy.
In particular, China's latest moves to scrap COVID-19 quarantine rules for entry into the country will also boost Singapore's hospitality sectors in 2023.
The country was Singapore's largest source of inbound tourists from 2017 to 2019, accounting for almost 19% of total visitor arrivals in the year before the pandemic struck.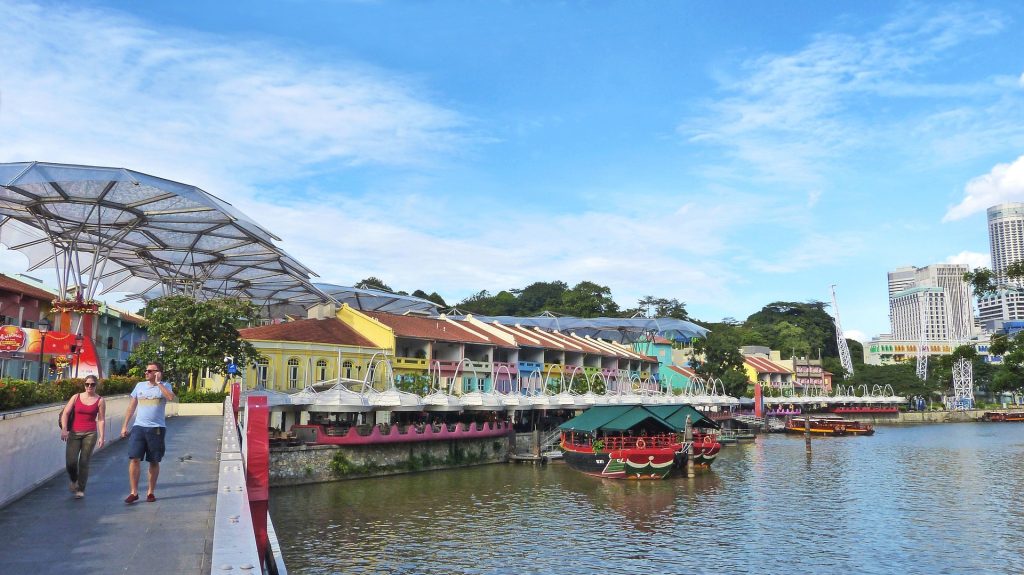 Maybank economist Chua Hak Bin said to Channel NewsAsia: "The jump (in returning Chinese visitors) and 'revenge travel' should be more visible by the second quarter of 2023."
CIMB Private Bank economist Song Seng Wun agreed, saying: "Given China's size, it is really the final piece of the puzzle for a recovery.
"But we (Singapore) went through this phase ourselves. When everything reopened, do you rush to go out, or do you remain a bit more restrained for a while more? I think we will probably see a more meaningful impact after the first quarter of next year."
In Singapore, the resilience of the travel industry is also a positive sign that we're ready for recovery. The tourism industry boom means that many organisations will require more manpower to accommodate the growing demand.
If you have the transferable skills and experience or willingness to learn, then considering a mid-career switch here can offer a unique turn in your professional life.
There are many subsets of the tourism industry. These include transportation, accommodation, food and beverage, entertainment, and connected industries. Evidently, there is much overlap with the hospitality industry, which is also experiencing rapid growth at present.
Interested in joining the industry? Here are some of the unique careers you can explore in the hospitality industry.
What's the healthcare industry in Singapore like?
All the industries mentioned so far have been linked to tech in some shape or form, but going digital isn't the only way to boost career prospects.
Minister for Health Ong Ye Kung shared in November 2022 plans to increase the hiring of nurses by the end of 2023, with the move beginning mid-year.
"Even whilst we ramp up foreign recruitment to bolster our nursing workforce, the large majority of our nursing workforce will continue to be local and contributed through our nursing school intakes and mid-career training programmes," he said, according to the Straits Times.
Want to be in the know of the latest career tips, events and workshops organised by Workforce Singapore? Sign up for our e-newsletters now!
In addition, as one of the first few Asian countries to reopen in the aftermath of the COVID-19 pandemic, Singapore's medical tourism hub has also recovered, with a large influx of overseas patients seeking delayed elective treatments.
Employers are also looking to integrate well-being as a core component of their healthcare benefit programmes.
The Ministry of Health (MOH) recently announced major reforms to Singapore's healthcare system, shifting the national focus towards preventive care in the future.
Given the number of hours Singaporean workers clock at the workplace, a key strategy to reach our healthcare goals will involve working with employers to enhance the welfare of their workers, Minister Ong added.
He said: "I believe preventive care opens up far more opportunities for innovation and participation by enterprises and industries, and we have a great opportunity to build a strong public-private-people partnership for health."
These various factors will result in a growth of hiring in the healthcare sector! In fact, many Singaporeans have also made mid-career switches to the health industry to find greater satisfaction in their work. Read this if you're considering that career change to healthcare too!