When you think hospitality, waiters and waitresses in starched white shirts carrying armfuls of dishes may come to mind, but the hospitality industry in Singapore is much more diverse and challenging than this. Food and beverage, travel and tourism, lodging, and recreation all come under the banner of hospitality. Each of these requires a diverse team of talented individuals to ensure the business runs smoothly and continues to make a profit. Some of the positions you can pursue in the hospitality industry are included below alongside the education level and key skills.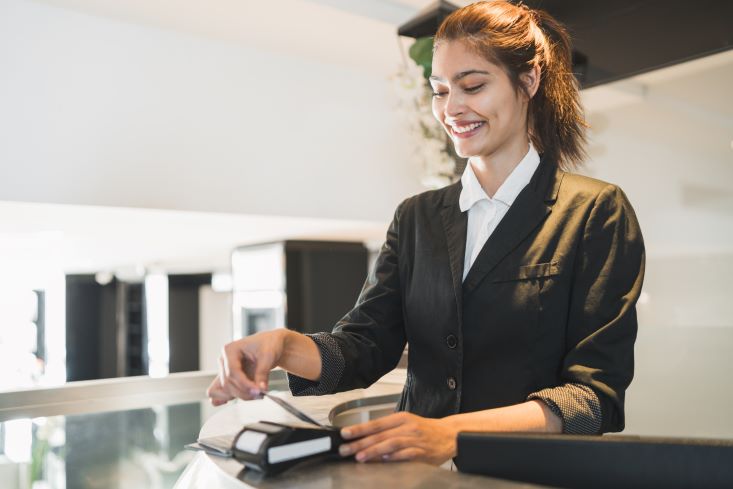 Front Office
A Front Desk Agent is one of the hotel jobs in Singapore that you can apply for. The agent is responsible for greeting hotel guests in an efficient and courteous manner. As the first face that many see upon arrival, the Front Desk Agent checks guests in and out of their rooms, distributes room keys, answers questions and processes payments for hotel services. A friendly disposition and knowledge of local tourist spots is essential for applicants in this position.
Apply to jobs in several industries! There are over 100,000 jobs available on MyCareersFuture. Start searching now.
Responsibilities
Hotel Front Desk Agent responsibilities include registering guests, managing reservations and providing information about rooms, rates and amenities. If you have a knack for customer service and work experience in the hotel industry, then this may be the career path for you.
Qualifications
Front Desk Agents should have a working knowledge of popular travel and tourism websites like Trivago and TripAdvisor. They should also be familiar with hotel reservation softwares. These two skills are sometimes taught on the job, but the employer should specify this.
A good attitude and passion for customer service will benefit applicants in this position. As would a certificate in hotel management or a similar qualification, but this is not always essential.
Revenue Management
In the hotel sector, there is currently a shortage of qualified Revenue managers. This means there are many opportunities for senior hospitality and hotel workers to progress in their careers. This position is more behind-the-scenes than other roles on this list. Workers in this position use data to analyse performance and maximise profits.
Responsibilities
A Revenue Manager is responsible for increasing profits by analysing data and implementing responsive strategies. Some of the responsibilities include: predicting demand, determining behaviours (such as the times of the year with the highest booking rates), understanding consumer spending habits, developing dynamic pricing packages, and analysing the competition's pricing strategy.
Qualifications
There are few courses available in Singapore for Revenue Management. Largely, it is a position that those with experience in hotels and hospitality will be well suited to as working knowledge of consumer behaviour and competitor trends will inform a positive strategy more than a broad profits theory. That said, a degree or diploma in business will provide general skills for those interested in this position.
Looking for career guidance for your career switch? If you need professional advice, register for a complimentary session with WSG's Career Coaching today.
Sales and Marketing
Although many businesses in the hospitality industry may have a good thing going, they rely on advertising to get people in the door and start making a profit. A business with the best service in town will go to waste if people don't visit and take advantage of the service. This is where sales and marketing professionals come in.
Responsibilities
Though similar, sales and marketing have slightly different responsibilities that front-facing roles in the hospitality industry. Sales workers are responsible for customer retention, maintaining business relationships, converting prospective customers, and establishing new business contacts.
Marketing workers are responsible for generating and maintaining a business's image. This can be through social media, advertising, sponsorships and more. It requires a large amount of market research and analysis to figure out how to generate and maintain interest in the business brand.
Qualifications
For marketing, a degree in marketing will be highly beneficial, but experience in a similar field can also work in an applicant's favour. Similar to sales, a degree in business administration would benefit an applicant, but these positions often require intensive on-the-job training to ensure all research, development, and relationships are tailored to the brand.
Want to be in the know of the latest career tips, events and workshops organised by Workforce Singapore? Sign up for our e-newsletters now!
Food and Beverage Services
A classic of hospitality in Singapore, this is where the waiters, caterers, chefs, bartenders and baristas come in. Food and beverage services are often customer-facing, meaning applicants require soft skills in communication, stress management, and time management. This can be a rewarding job for people who like being creative, working with their hands, and helping to develop a positive B2C experience.
Responsibilities
The responsibilities will vary between roles. In restaurants, this will involve making food and drinks for customers, cleaning dishes, clearing tables, operating a POS, cleaning and setting up. Some positions, like a head bartender, have more specific requirements such as developing a cocktail menu. Read up on each of these to find the exact responsibilities involved.
Qualifications
Most food and beverage positions do not require a degree, however, a certificate in hospitality, food service, or something similar will be highly beneficial in the hiring process and improve your work performance. Some roles require technical skills; baristas need to know how to properly texture milk and create latte art, and bartenders need to understand the fundamentals of balancing a drink. Most of these skills can be obtained through short courses or on-the-job training.
Get Started on Your Hospitality Career
Keen to get started? A crucial part of getting your desired hospitality role is to showcase your capabilities and skills to potential employers. Take a look at this hospitality industry in Singapore so you can successfully market yourself as a suitable candidate for this role.