Singapore is home to one of Asia's most impressive aerospace hubs. Featuring more than 130 companies, alongside 30 more that explore satellite technology, Singapore is the ideal location to forge your career in this dynamic sector. With world-class training facilities, you'll be prepared for this fascinating role.
Although the aerospace industry has grown quickly across Asia-Pacific, Singapore has developed its reputation as a dominant regional force. With the local sector growing by 8.6% over the last 20 years to achieve an impressive yearly output of $8.0 billion, this industry will maintain a prominent position in Singapore's future in the years ahead.
Looking for jobs in aerospace and other industries? Explore over 100,000 job postings on MyCareersFuture today!
So, what qualifications do you need to get started? And what responsibilities are involved in the day-to-day role? Here, we delve into the industry to highlight how to give yourself the best chance to land a rewarding aerospace engineering job that sets you up for a long and stable career.
Why become an aerospace engineer?
If you're fascinated with aircraft and physics, getting qualified as an aerospace engineer ensures you work on these remarkable machines every day. Depending on the specific sector you're interested in, you'll get to design, test and manage everything from passenger airliners and satellites to military aircraft.
To find your place, you'll need to get a degree in aerospace engineering or mechanical engineering. For example, the Nanyang Technological University offers a Bachelor of Engineering in Aerospace Engineering. Meanwhile, Republic Polytechnic has a Diploma in Aerospace Engineering that makes the most of the institution's tailored 1,500sqm aerospace hub.
Salaries in the aerospace industry are also attractive. Although the pay ranges depend on the specific sector and role, the average compensation for a first-year aerospace engineer is $48,000. However, this salary can grow significantly after establishing your credentials, with senior aerospace engineers commanding salaries well over $100,000.
Exploring a job switch but need personalised advice? Register to speak to our career guidance team and get the support you need.
Singapore's aeronautical industry is expected to expand considerably in the years to come. President of ST Engineering Aerospace, Jeffrey Lam, explains that the sector is quickly overcoming the COVID-19 pandemic through widespread digital transformation, employee upskilling and investment in innovative technologies.
"Singapore's aerospace industry draws its strength from a multitude of factors which, to name a few, include its air hub status, credibility and quality of workforce," says Lam.
What responsibilities does an aerospace space engineer have?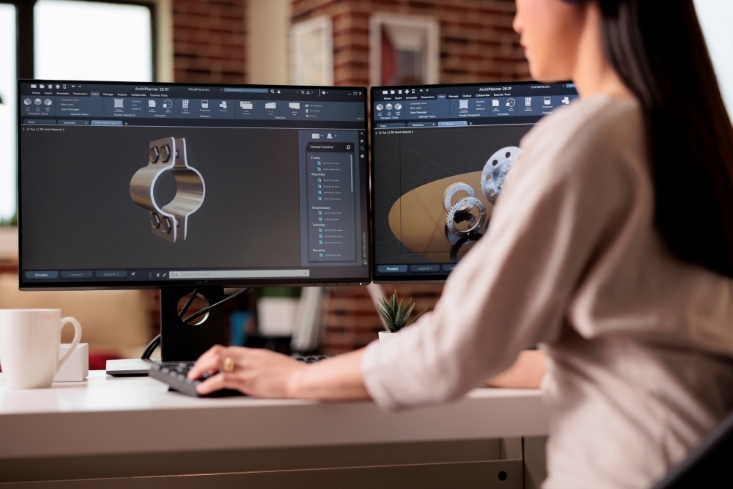 The broad nature of aerospace engineering means that no two days are the same. However, some fundamental responsibilities make the most of your analytical talents. Here are the duties most aerospace engineers encounter when they get to work.
1. Develop virtual models and test solutions
Using sophisticated computer programs, aerospace engineers will develop complex mathematical models that provide solutions for their projects. Although the software you rely upon will depend on your company's aim, programs such as CATIA, 3Dx, and SolidWorks assist with planning advanced design elements.
You'll have to develop a detailed understanding of the client's needs to ensure your models are fit for purpose. This way, you have the information you need to predict structural behaviours, make manufacturing suggestions or pick the ideal material. For this reason, you'll need in-depth technical and collaborative skills.
2. Identify and resolve problems
Whether you're working on aviation, defence or space technology, a large part of your job involves diagnosing problems and developing robust solutions. Clients might want their existing equipment to have greater fuel efficiency or improved propulsion. This is where having a specialised skillset helps position you in aerospace engineering.
For example, you might have outstanding knowledge of aerodynamics, flight mechanics, guidance systems or thermodynamics. With these areas of expertise needed to complete specific projects, achieving the ideal outcome for your company or its client becomes much easier. Alongside a cooperative mindset, you can play a major role in a piece of engineering beauty.
Interested to join the aviation sector? Try this quiz to find out if it's right for you!
3. Coordinate with stakeholders
While aerospace engineers focus on their technical skills, your projects will often involve many people who need to work in perfect unison to achieve the best outcomes. Having a range of soft skills means you feel comfortable communicating with a variety of stakeholders that have a vested interest in your team's success.
A highly collaborative mindset also ensures your team works quickly through design problems. Smooth communication with the client is also essential to understanding their needs, while you'll also be expected to carefully document the process from start to finish. Adopting a team-oriented mentality ensures you become a sought-after aerospace engineer.