I enjoyed Math and Science as a young child. That was a key reason why I pursued Chemical Engineering in National University of Singapore, where female students comprised only 10 per cent of the cohort in the early 90s.
In 1992, I started my career with TECH Semiconductor (currently Micron) as a process and equipment engineer, and was part of the start-up team that established the first 200mm fab in Southeast Asia. I also had the opportunity to be sent for overseas training in the United States and Japan.
Leaving the job to focus on caregiving
In the initial years of my career, female engineers in the semiconductor industry were far and few between.
With this reality came a unique set of obstacles for female engineers, especially when it came to managing family matters. Traditional gender norms saw women as natural caregivers and fathers as breadwinners, but it was rare to hear of colleagues taking time off for maternity leave or taking unpaid leave to care for their sick children.
In 2004, I made the difficult call to leave my first job as it was not easy to balance an operations role given the long and unpredictable hours while caring for my two kids who were in pre-school then.
Interested in joining a new industry but unsure how to navigate a career switch? Register for a complimentary session with WSG's Career Matching Services today and get the support you need.
I also felt that this was my opportunity to pursue greener pastures and find something that could allow me to juggle my professional career and parental responsibilities.
After a four-month break to care for my kids full-time, I evaluated my next career move and decided to take a leap of faith by joining GlobalFoundries in a customer-facing role, something that I had not done before.
More support for women in the semiconductor industry
Despite being male-dominated, the semiconductor industry has advanced greatly since I joined.
Through the years, there have been significant effort and focus to raise awareness on diversity and inclusion (D&I) in the industry, and creating equal opportunities for female talents.
An increasing number of female leaders in the industry have broken the perceived glass ceiling, and more male leaders now advocate for D&I, welcoming more women into the industry.
Some companies have also taken steps to develop female leaders and support those starting young families, for example, through the installation of nursing rooms in the office. Such actions render support and open up conversations of inclusivity.
The industry is also attracting female mid-career jobseekers to help grow the local talent pipeline.
Through the Career Conversion Programme by Workforce Singapore (WSG) and the Singapore Semiconductor Industry Association (SSIA), the proportion of women entering the industry from 2019 to 2021 was about 24%, up from about 17% from 2016 to 2018.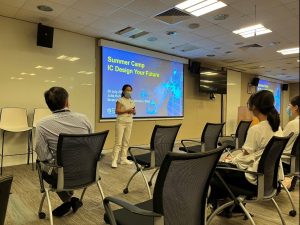 Developing others as a volunteer Career Advisor
There is a strong belief in this industry that people make the difference.
Throughout my career, I have been very fortunate to have met many wonderful supervisors and mentors who were willing to coach and advise me on my career development and growth.
As a young female manager then, there were times where I was apprehensive of proposing new initiatives due to my fear of failure.
My mentor at that time worked on my confidence and belief in my ideas, and to also be prepared for uncertainties.
This experience taught me to bring courage to work and lean in, try and not regret. It also taught me to focus on people's strengths and develop them to their fullest potential.
Having personally benefited from mentorship, this drove me to become a WSG volunteer Career Advisor, as I find meaning in helping fellow Singaporeans with their career journeys.
Since I joined in March 2021, it has been a rewarding journey to work alongside other volunteers who are equally passionate about helping others.
As a volunteer Career Advisor, it is important to listen and understand what the advisees are looking for, know their goals and aspirations, call out their strengths and transferable skills, then advise them on what the available options are.
It was through this platform where I also reconnected with an ex-colleague from GlobalFoundries who is a volunteer Career Advisor herself.
As she shared her story of how she returned to the workforce after taking a two-year career break to be a full-time homemaker, we realised that women tend to face similar challenges in terms of balancing work and family commitment.
Today, she works in a data analytic software company where she leads a customer development and sales team for the Southeast Asia region. I was impressed by how her self-confidence and continuous learning attitude propelled her forward during this transition.
The semiconductor industry is hiring! Explore and apply for openings on MyCareersFuture now!
Advice for back-to-work women: know your strengths, ignore stereotypes
In my sharing as a volunteer Career Advisor, I hear common refrains from back-to-work women that they find a skills gap in many job roles they apply for, after having taken a prolonged career break.
My first advice to them is to understand their strengths.
While the semiconductor industry is highly technical and may be suitable for someone with a strong background in the STEM field, recruiters are also looking beyond a perfect fit in terms of technical capabilities, and more in transferable skill sets.
These include communication, problem-solving skills, an aptitude to be a team player, and adaptability.
Second, break away from past stereotypes.
Female talents may be a minority in the field of engineering, but their performance may be more outstanding in the sea of male talents. Innovative ideas can be cultivated regardless of gender.
Lastly, women's tenacity and perseverance are strong attributes that are very suitable for this industry, especially for women re-joining the workforce, as they have the hunger to perform and contribute.
If balancing work and family priority are challenges, working mothers should discuss with their company possible solutions, such as the need to telecommute or have flexi-work arrangements.
There are progressive employers who have invested and built a culture where women have equal opportunities to achieve their potential.
Being a woman in the semiconductor industry is no longer a lonesome journey.
The writer is Julie Koh, a Strategic Programs Director at Singapore Semiconductor Industry Association, and a volunteer Career Advisor with Workforce Singapore. She returned to the workforce after four months as a stay-at-home mum. Find out more about the volunteer Career Advisors initiative at https://go.gov.sg/vcai-app. This article was first published on TODAYonline.