Every company needs a highly effective supply chain to reach peak performance. It's the role of the supply chain manager to ensure this facet of the business delivers the ideal outcomes; with this person responsible for sourcing raw materials, the manufacturing process and logistics required to distribute finished items to customers.
A business can experience massive problems if its supply chain breaks down. If you don't have the materials to meet demand, you can't deliver the products on time, leading customers straight to the competition. However, this role is highly rewarding for workers with outstanding organisational skills, problem-solving abilities and attention to detail.
If this sounds like you, find out how to get qualified as a supply chain manager and build your career in this fast-paced and ever-changing environment.
Need personalised guidance in your job search? Register for a complimentary session with WSG's Career Matching Services today and get the support you need.
How to earn your supply chain manager qualifications
Completing a relevant bachelor's degree in supply chain management, engineering, business administration or logistics is the simplest way to become a supply chain manager in Singapore. For example, the Bachelor of Business (Logistics and Supply Chain Management) at the Singapore Institute of Management (SIM) is a three-year qualification providing the skills needed to excel in the supply chain industry.
Many institutions in Singapore also offer a master's degree where you'll develop expert skills and enhance your earning potential. Perfect for mid-career professionals with a couple of years of experience in the supply chain industry, this high-level qualification instils the latest industry theories and technologies to ensure you find your next groundbreaking supply chain manager job.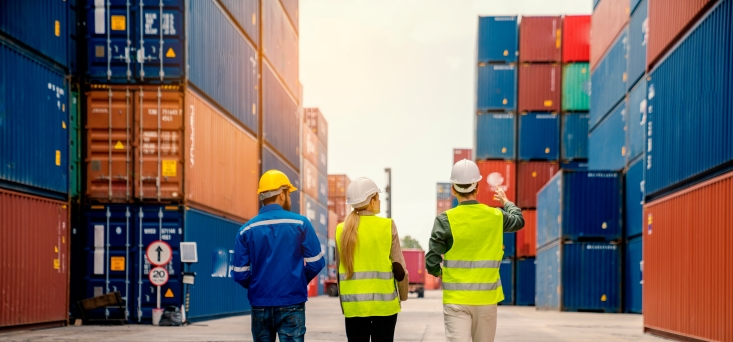 Common career paths for supply chain managers
There's no single way to become a supply chain manager in Singapore. However, most people use an undergraduate degree to get an entry-level role in a relevant position, such as supply chain analyst or warehouse manager. Through these junior jobs, you'll gain invaluable experience that prepares you for a solid promotion to supply chain manager.
Depending on the scale of your employer, supply chain managers will be responsible for one of three key areas: costs, operations, and logistics. In addition, many job titles come under the banner of supply chain manager, ranging from transportation manager to manufacturing and operations director. Although you might focus on different tasks, the goal is always to do things faster, more efficiently, and with cost savings.
Looking for a new role? Explore over 80,000 jobs available on MyCareersFuture now!
Once you've worked as a supply chain manager for several years, you're in line for promotion into an upper management role that oversees the company's logistics. Supported by additional degrees and certifications, you could become a supply chain director, the chief operations officer or a supply chain vice president. Although these roles differ slightly, you'll direct almost all logistical planning and budgeting.
What skills does a supply chain manager need?
Supply chain management is a diverse role. Jobseekers looking to forge a career in this space must have a mix of hard and soft skills to enable their technical expertise and deliver effective collaboration with stakeholders. Consider these must-have talents to enhance your skillset.
1. Business acumen
Depending on your specific supply chain management role, having refined business acumen will help you perform to the highest standard. For example, you must understand how disruptions to the global supply chain will impact your operations while having the skills to overcome such hurdles.
In many cases, this means having strong interpersonal and negotiation talents. As you'll have established mutually beneficial relationships with stakeholders such as suppliers and distributors, it may be possible to secure a deal that others can't. Naturally, outstanding communication skills also improve your success.
Want to be in the know of the latest career tips, events and workshops organised by Workforce Singapore? Sign up for our e-newsletters now!
2. Data analysis and IT skills
The supply chain industry has undergone significant changes due to rapidly evolving and highly sophisticated technology. You can ensure your projects achieve their goals by learning how to use the latest techniques and technologies, such as predictive modelling and machine learning.
While specialised industry-specific software has removed some guesswork from the industry, you'll still need polished skills to get the most out of these tools. With first-class skills in data analysis, you can enhance every aspect of your company's supply chain.
3. Project management
Considering the supply chain's complex nature, you must have top-notch project management skills to execute daily tasks seamlessly. By knowing how to manage budgets, deadlines and human resources, you can establish a balance that achieves the ideal result.
Supply chain managers require unmatched problem-solving skills and attention to detail, as numerous obstacles can attempt to halt your progress. Achieve outstanding outcomes by creating rational plans that deal with foreseeable hurdles.
Ready to get started in the supply chain career path? Here are some tips to stand out when you're answering questions in an interview.