Structural engineers have a crucial role in the built environment sector, as they ensure everything from skyscrapers to bridges and dams are structurally sound. Relying upon an in-depth knowledge of maths and physics, this type of engineering prevents structures from toppling over at the first sign of trouble.
If you're interested in becoming a structural engineer, approaching the job market with the same rigorous planning and dedication as your role is essential to success. Here, we explore this position's responsibilities in detail and highlight the benefits of earning your structural engineering qualifications.
What does a structural engineer do?
Every structure must be designed and built to withstand the many forces that could cause it to collapse.
Naturally, a building or bridge must be able to support its own weight. However, it also needs to be strong enough to resist extreme weather events like gale-force winds and earthquakes, and the people and equipment residing inside.
To do so, structural engineers help determine which building materials are best suited to achieve the structure's intended purpose. As materials each have their own strengths, weights and flammability, engineers use complex calculations to identify the ideal building products for the job.
Looking for a job in the built environment industry? Explore available job postings on MyCareersFuture now!
Working in engineering firms, architectural practices, construction companies and government agencies, structural engineers closely collaborate with other built environment practitioners, such as architects and contractors, to ensure the project is built correctly.
In addition, structural engineers may be responsible for safety inspections and maintenance to ensure the structure's ongoing longevity.
The difference between a civil design engineer and a structural design engineer
Although civil and structural engineers frequently collaborate, they're responsible for distinct parts of the building process. Civil engineers typically focus on the design aspect of a project, while structural engineers are responsible for ensuring the structure won't collapse once built.
Meanwhile, structural engineers are also tasked with selecting the materials that achieve a specific construction project's goals. For example, a civil engineer might propose a road that reduces traffic in the surrounding area, but a structural engineer must select the materials that make it strong.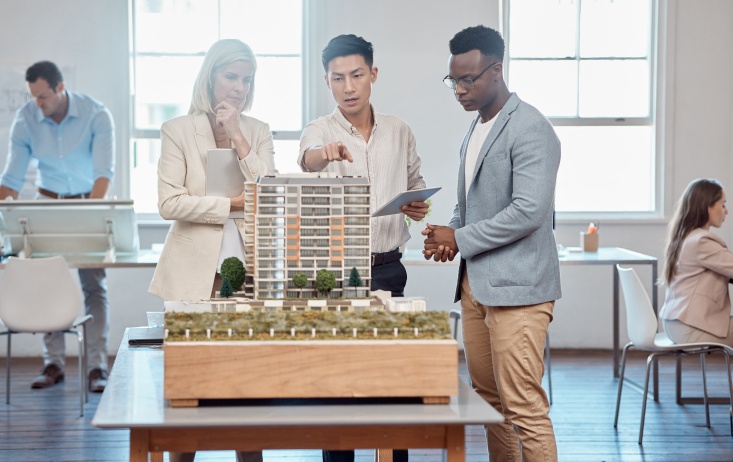 The top benefits of becoming a structural engineer
It's easy to think of numerous reasons why becoming a structural engineer is a fantastic decision for your future. Below, we consider some of the motivations for pursuing this fascinating career.
1. You get to shape the world
Looking to make an impact? A career in structural engineering means you can literally shape the world. Plus, you get the satisfaction of providing everyday people with high-performing buildings and infrastructure that improves their lives in several ways.
With some projects taking years to complete, being involved in the process from beginning to end delivers an incredible sense of achievement. Every new challenge puts your creativity and problem-solving skills to the test.
There are over 100,000 jobs available on MyCareersFuture. Apply for your next job role here!
2. You improve safety for everyone
Safety is paramount in the built environment sector. As such, structural engineers are critical to ensuring buildings and infrastructure are fit for purpose and can withstand even the most extreme conditions. So how do you achieve this through your work?
Supported by an in-depth knowledge of design principles and materials, you'll develop structures using the latest standards and procedures. Meanwhile, you will need to complete safety inspections and make recommendations that help provide a safer outcome.
3. Your work is respected
Structural engineers fulfil a vital role in modern society. As countries like Singapore continue to develop, each building and infrastructure project must be completed to a high standard with the latest safety protocols. As such, society perceives this work as highly important.
Outstanding career progression also awaits. After gaining experience as a junior employee, senior roles involve more complex and specialised projects. Then, as a lead or executive structural engineer, you'll manage teams of workers and determine the organisation's direction.
Want instant access to the latest job listings, career events, job search & interview tips and more? Join our Telegram channel today. 
4. You earn a great living
You can't overlook the importance of salary when choosing your ideal career path. Luckily, structural engineers in Singapore earn a healthy wage that increases as they move up the ranks into senior positions and sets you up for a fruitful future.
According to some estimates, the salary for structural engineers ranges from $4,000 to $7,000 per month. However, those specialising in a complex niche or collecting a wealth of experience with the same company can likely command significantly higher wages.