Ms Chin Hui Ling, 25, had always dreamed of starting her own business.
However, Hui Ling's hectic work life left her with little time to chase her dream. "Ever since I started working a few years back, I devoted all my time to my work. I didn't have any spare time, mind space, or energy to think about entrepreneurship," says the former account manager for advertising and public relations company Ogilvy & Mather.
After working in Ogilvy for two years, Hui Ling was ready to move on to a new company. But Covid-19  grounded her plans to a halt when the company rescinded the job offer.
What followed was a dark period where Hui Ling felt like she had hit rock bottom. But she managed to pick herself up with the support and comfort of her friends and family.
Now that she had more time on her hands, Hui Ling started reflecting about her passions and what she wanted to achieve in her life.
Her conclusion? She wanted to start her own business and make a positive impact on people. With that in mind, Hui Ling invested close to $2,000 to buy gemstones and jewellery making equipment before launching her jewellery line Chin Crafts (@chincrafts). Through her business, Hui Ling contributes 20% of her proceeds to a different charity every month to give back to society.
Describing the process of starting her business as nerve-wracking, the first-time business owner worried about everything. 
For instance, Hui Ling feared that no one would like her jewellery designs. But that concern was laid to rest when her customers sent her encouraging messages praising her products and sharing how much they love it on social media. 
Besides that, she also struggled to juggle a fledgling business with her job search.
"I'm sure you know how tiring a job hunt can get with all the interviews, preparation, and research, but I always make it a point to set a few hours aside every day to work on my business plan," she explains.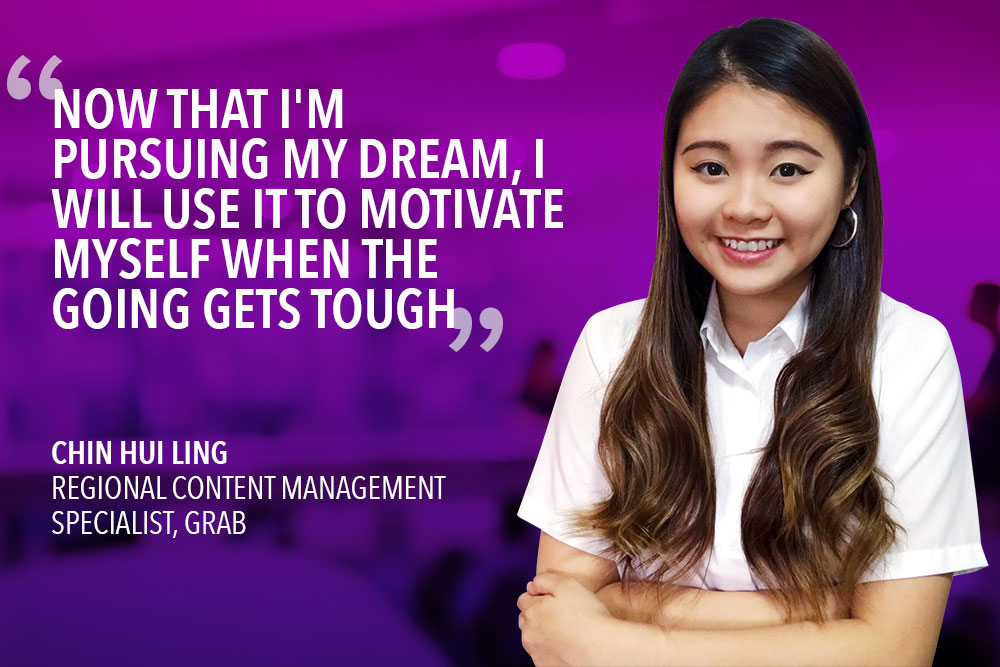 Lessons from business
Through the process of running a business, Hui Ling honed her skills in jewellery making and gained greater confidence in her ability.
She also learnt that there is never a bad time to start a business given how interconnected the online world is.
"I've seen many individuals venturing out to do new things during circuit breaker, sustaining their operations and communications solely on Instagram and Facebook. Now that I'm pursuing my dream, I will use it to motivate myself when the going gets tough," she shares.
Since then, Hui Ling has secured a job as the Regional Content Management Specialist at Grab after a two-month job search. She continues running her jewellery business on the side. To date, business has been brisk, with Hui Ling receiving an average of 15 – 20 orders each month. She has also donated $600 to six non-profit organisations.
While Hui Ling intends to continue running her business on the side, she has a bigger dream of scaling up her business and producing more unique jewellery pieces.
Changing tracks
For Mr Muhammad Dinie Safiy, 24, the circuit breaker period was a turning point in his life.
Before that, Dinie worked as a food delivery rider after he completed his National Service as he was unsure of what he wanted to do. Eventually, he decided to quit the industry after he met with an accident on the way to work.
Following that, Dinie wanted to enter the digital marketing industry as he felt that all it needed was technical skills, a laptop and an internet connection.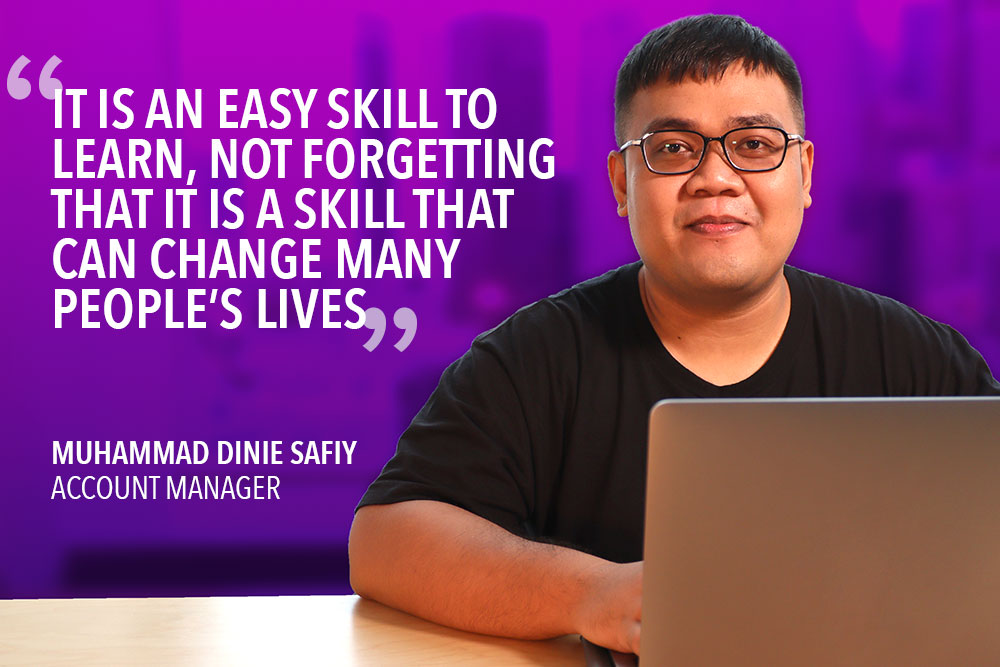 "It is an easy skill to learn, not forgetting that it is a skill that can change many people's lives," he shares.
Without any background in digital marketing, Dinie interned at Get Customers, a digital marketing agency to learn the ropes.
When the internship ended, he joined the company as a full-time account manager.
Explaining his decision to leave the food delivery industry, Dinie says: "Being a delivery rider is a great job as I am able to serve hungry people. However being on the road, under the hot sun and rain can be dangerous and physically tiring."
Now that he is an account manager, he feels more relaxed physically. He also sees digital marketing as a viable long-term career. Apart from that, there is also the added benefit of being able to work on his laptop at home, with his loved ones by his side. This contrasts with his previous career as a delivery rider where he spends the bulk of his time on the road. 
Despite the benefits of his new career Dinie shares that making the switch had its fair share of challenges. For instance, he had to understand different clients' products and how Facebook's algorithms worked.
To address these issues, he read up about the clients' products and attended his company's in-house digital marketing course, as well as other relevant courses such as video editing and content creation.
A worthwhile pursuit
Ultimately, Hui Ling and Dinie feel that chasing their dream is a rewarding experience. You can also acquire transferable skills such as resourcefulness and project management skills which apply to your career. These skills also make you valuable to potential employers.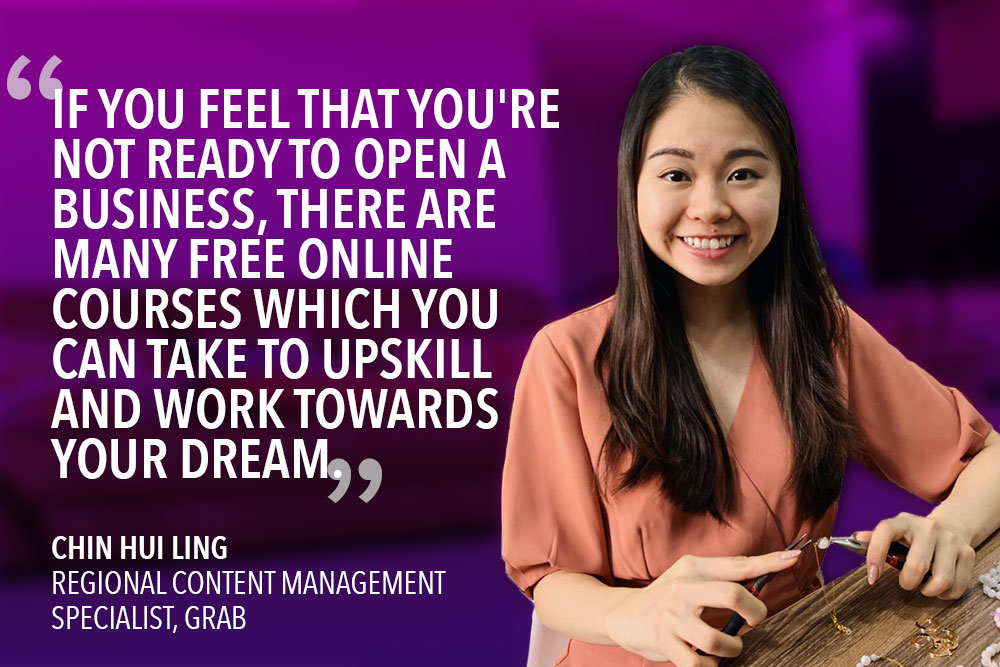 Sharing her advice with other jobseekers, Hui Ling says: "If you feel that you're not ready to open a business, there are many free online courses which you can take to upskill and work towards your dream. Just remember to take good care of your health, and never feel embarrassed when you need someone to lean on. You can do this, press on!"