Everyone is bound to encounter professional situations where self-introductions are necessary. Yet explaining your background, skills and interests is undoubtedly daunting when talking to your next boss or colleague. So, what can you do to navigate the situation and leave the best impression?
Like most other professional skills, teaching yourself how to make the perfect self-introduction is possible. Whether interviewing for a new job or participating in a networking event, this guide will enhance your confidence across every encounter.
How can you introduce yourself?
Introducing yourself begins with your present. Start by sharing your name and your current vocation.
Next, switch to your past. This is where you bring in your background relevant to the context and the person the introduction is to.
End off with a hint of the future, which can entail a hook to encourage the other party to keep the conversation going.
Looking for career guidance? If you are exploring career changes and need professional advice, register for a complimentary session with WSG's Career Coaching today.
When do you need to make a self-introduction? (Samples starters added!) 
There's no shortage of moments where you'll have to make a self-introduction in the professional world. While sometimes you'll have an opportunity to prepare, others will take place on the spot. Below, we briefly cover common examples where self-introductions are required.
1. Networking at events
Networking events are an outstanding opportunity to take your career to the next level, so you must be prepared to introduce yourself. However, these bustling sessions are often intimidating for people who don't consider themselves natural conversationalists.
Fortunately, you'll have time to get organised beforehand.
You can start the conversation comfortably by practising a statement that includes your name, company, professional interests and reason for attending the networking event. Then, listen carefully to the person's response and connect over a shared interest or an interesting point made in a presentation at the event.
These networking tips can further help you.
Self-introduction starter example: 
I'm Joe, a software engineer with ALT Partners. We're currently looking for vendors to assist us with a new client project. I've seen your company's portfolio and found it incredibly stunning, clearly in line with what we're after. I'd love to share our ideas with you first. How about a drink on me?
2. Looking for jobs at a career fair
If you're attending a career fair, there's an opportunity to interact with team leads and managers. They could be the ones to know should you interview for a job in that company.
You can prepare yourself by compiling some of your work or school experiences, depending on your experience level, and stringing them into a sentence or two.
Ideally, you'd want them to continue speaking with you to learn more. That way, they'll be able to remember you better when they chance upon your resume during the applicant screening stage. Who knows, they may even schedule an interview right on the spot!
Self-introduction starter example: 
My name is Sally, and I just graduated with a degree in Mathematics. I've been a part-time Math tutor throughout my four years in university, and I'm looking to switch to a more permanent arrangement with an academic institution like yours. I believe I'll be a good fit for the opening you have indicated in this flyer, with my experience teaching students across all Primary and Secondary levels. I have brought copies of the teaching materials I prepared for my students. May I share them with you?
3. Attending a job interview
Making the ideal self-introduction at a job interview is crucial to landing the job. Typically, this self-introduction will be more formal than most other instances, so practise a brief speech alongside responses to several predictable follow-up questions.
You'll know when to give a self-introduction when your interviewer drops the question, "Tell me about yourself", or the equivalent.
Besides your introduction, consider your non-verbal cues. Try to keep eye contact with the interviewers, smile from time to time and maintain open body language. If you combine these elements, it leads to an excellent self-introduction that ensures you stand out as a candidate.
Self-introduction starter example: 
I'm Mac, a graduate in biological sciences from LP University. Apart from my academic background, I also have about a year of experience in the field, thanks to a series of internships. Fresh out of university, I'm looking for a company where I can apply the skills I've gathered to bigger projects and grow my capabilities from there. With the relevant experience I have, I believe I'll be able to get up to speed in your team very quickly even as an entry-level joiner, and rely less on supervision.
Want to increase your chances of nailing the job interview? Learn effective job search strategies, enhance your personal brand, and more with Career GRIT. Register for our Virtual Seminars today!
4. Starting at a new job
The first days and weeks at a new job involves introducing yourself to a wide range of people, including your colleagues, managers, business partners and clients. This form of self-introduction should focus more on your role's responsibilities and how you're there to support the team.
Even if you meet someone who you won't likely encounter often in your role, it's a good idea to make an introduction to expand your network. Plus, if the context feels right, don't be afraid to chat about interests outside work to form social connections.
Self-introduction starter example: 
My name's Noelle, and I've just joined the outreach department as their new Senior Outreach Specialist. I'll be working on expanding the company's engagements, part of which will involve our collaboration for design and content. I've worked with writers and content creators in my previous roles for more than two years and I have always found the spirit of teamwork incredible. I look forward to working with you! What do you do at work?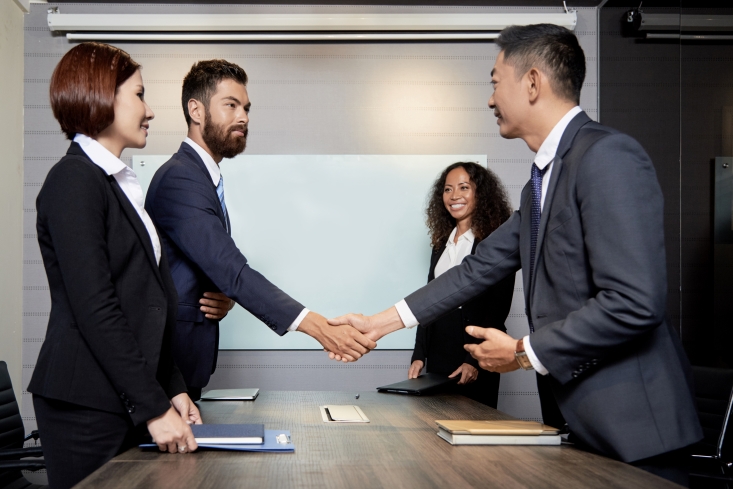 3 helpful tips on how to introduce yourself
From keeping it brief to avoiding talking just about yourself, mastering the art of self-introduction comes with practice and confidence. Consider these simple tips to navigate each situation and ensure others view you as professional and courteous.
1. Do keep it relevant. Don't reveal what's unnecessarily implicating.
Avoid going off on long tangents when making a self-introduction. Instead, think about the context of the setting and your audience, and tailor your self-introduction to the interests most pertinent to someone's needs.
A self-introduction at a job interview should focus on your professional experience and how it applies to your candidacy for the role.
Leave out discussions about why you left the company or what you disliked about the role. These may cast a negative impression on your interviewers.
Want to be in the know of the latest career tips, events and workshops organised by Workforce Singapore? Sign up for our e-newsletters now!
2. Do practise ahead of time. Don't always rely on impromptu conversations.
You don't have to make every self-introduction on the fly. Although sometimes you get put on the spot and must act spontaneously, self-introductions made at a new job, networking event and job interview are easily practised ahead of time.
When you practise, impromptu conversations go more smoothly since you already know what you need to talk about. Improvising is also much easier.
Just saying the words out loud and focusing on your body language can help you feel more prepared when the time comes. Plus, if you encounter random situations where you have to talk about yourself, you've already practised your introduction numerous times.
3. Do be cautious about your body language. Don't exhibit bad body language.
You can prepare the perfect self-introduction speech, but it will leave a good impression with the right body language. While we might not always remain conscious of it, how we converse with people depends heavily on tiny details in eye contact, hand gestures and body positioning.
Smiling and maintaining eye contact are things most people already know. However, avoid crossing your arms, turning your body away or fidgeting in your seat. Practise these skills with others to hit the mark with your self-introduction.
With these tips, you'll be able to set a good, if not an ideal, impression. Make that first shot the best one. Good luck!