Singapore is home to one of the world's best-performing healthcare industries, with pharmacists playing a crucial role in establishing this reputation. Today, this dependable career choice attracts people interested in maths and science, and those looking to work directly with patients.
If you're looking to enter the healthcare sector but haven't yet decided which path to take, considering a career in pharmacy could prove to be an incredible decision. Here, we cover some main reasons people choose to get their pharmacy qualification in Singapore.
1. The career paths are diverse
Most people think of retail pharmacists when imagining the sector. While these professionals dispense prescriptions to patients in-store, it involves much more than just putting labels on the box. These workers provide general healthcare advice, describe the proper use of medication and follow local regulations.
Many pharmacists also find jobs in hospitals or aged-care facilities where they assist in the care and treatment of patients. In addition, pharmacists will often go into research or academia, where they'll use their skills to explore innovations that push everyday healthcare and general well-being forward.
Considering a Mid-Career Switch? Register for a complimentary session with WSG's Career Matching Services for some helpful guidance today.
2. You help patients directly
If you want to work in the frontline of healthcare, getting qualified as a pharmacist is an ideal choice. Like the previously mentioned roles, many pharmacists work directly with patients to offer effective treatment that helps people manage their ailments.
In addition, pharmacists collaborate with numerous other healthcare professionals to give patients the best possible care. For example, you might contact an individual patient's doctor to discuss healthcare needs or consider someone's medication options with your colleagues.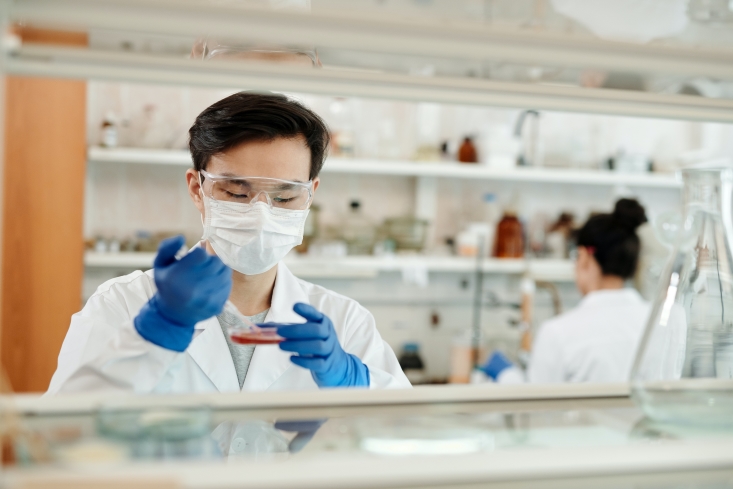 3. There's great job stability
Pharmacy has proven itself to be a remarkably stable career choice over the years. While economic concerns and other external factors may affect specific roles, pharmacists remain crucial to the healthcare industry, as people who are unwell will always require informed over-the-counter medication and treatment.
Once registered as a qualified pharmacist, moving from one part of the industry to another is also possible. If you start your career in retail pharmacy, you can choose to level up your skills to make a mid-career switch into a different position, such as in a hospital pharmacy or even a research pharmacy.
4. Demand is guaranteed
Singapore's demand for pharmacists goes hand-in-hand with its impressive job security. With the number of senior Singaporeans set to double by 2030, with one in five aged over 65, the country's population will depend on highly skilled pharmacists even more in the years ahead.
When deciding on your career path in the healthcare sector, pharmaceuticals offer a range of attractive benefits that deliver the ideal combination of stability, demand and innovation. While your technical knowledge of medications is hugely important, soft skills like verbal communication are also essential.
Want to work in a new industry? There are over 100,000 jobs available on MyCareersFuture for you to choose from. Apply for your next job role here!
5. You work alongside new technology 
As the healthcare industry is a significant driver behind new technology, pharmacists regularly work with state-of-the-art methods to deliver improved patient outcomes. Even if you're working in retail, you can still benefit from new techniques that enhance prescription processing and patient advice.
However, as digital transformation continues to enhance the healthcare sphere, several exciting innovations will also change how pharmacists develop pharmaceutical drugs and keep up with the latest research. For those wanting to work alongside cutting-edge tech, a career in pharmacy is a stellar choice.
Wondering if you're suited to join the healthcare sector? Take this quiz to find out!
6. The earning potential is excellent
No matter what career you choose, salary and earning potential are always important considerations. According to the Ministry of Manpower, the starting median gross monthly wage for graduates is estimated at $2,500. However, this quickly grows as senior or specialised pharmacists make upwards of $9,000 per month.
This salary, alongside flexible work conditions, stability and fascinating career paths, makes pharmacy unsurprisingly attractive to countless Singaporeans exploring jobs in the healthcare industry. Take charge of your career and play an active role in your community by moving into the pharmacy sector today.