At work, many of us relish the opportunity to learn something new. This is understandably so since acquiring new skills or knowledge gives us a sense of achievement and fulfilment. 
A LinkedIn survey of 2,049 business professionals from various fields also showed that individuals who learnt more than 5 hours a week are more likely to be "happier, less stressed, more productive, confident and more ready to grow". 
These individuals, called "heavy learners", are also 21% more likely to be happier at work and 48% more likely to feel purposeful at work, as compared to light learners who spend less than an hour a week learning. 
In a nutshell, the findings indicate that the more you learn, the happier and more successful you become. 
Attend walk-in interviews, virtual career fairs, workshops and more! Explore Career GRIT and find events and other resources best suited to your career journey. Check it out now.
So, how do we reap the benefits of learning if we are bogged down by tasks such as emails, meetings and other administrative work?
A Harvard Business Review article proposes that we can learn in the flow of work – fit learning around our daily work tasks, instead of perceiving learning as an "endpoint" where we have to reach. Here are some tips to help you seize every opportunity to learn something.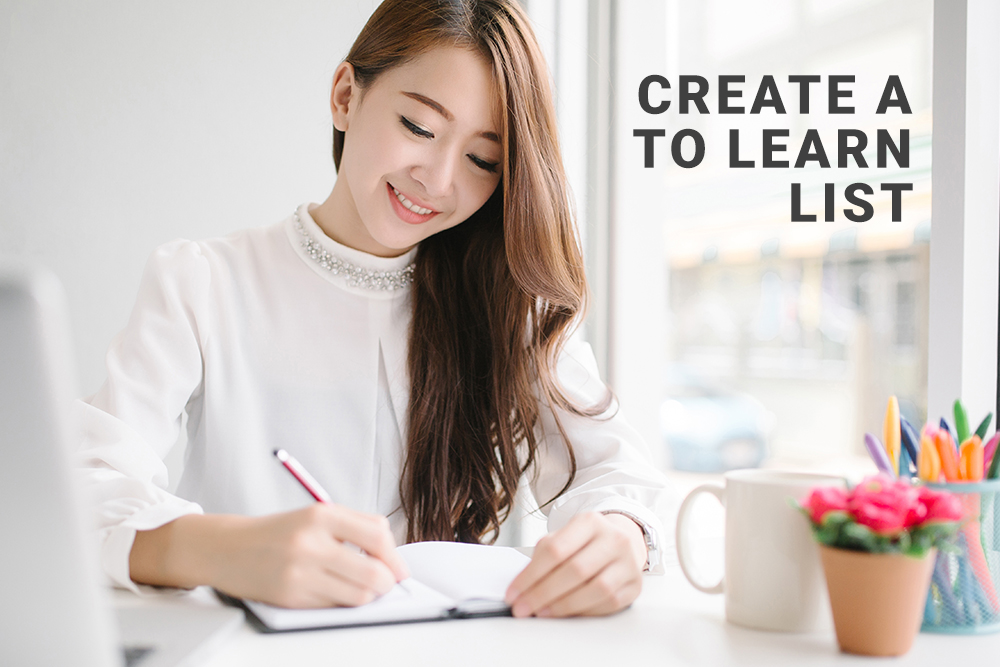 1. Create a "to learn" list
Almost everyone has a "to do" list that they aim to clear as soon as possible. But virtually no one has a "to learn" list. 
Essentially, a "to learn" list works just like a "to do" list. It covers a list of concepts, practices, skills or even vocabulary that you want to master when you have pockets of time such as while commuting. For instance, if you come across a useful article but lack the time to read, bookmark it so that you can return to it when you have time.
If you need some inspiration on what to learn, here are some in-demand skills that you could add to your resume for the future.
Stay connected with the latest career tips, events and workshops organised by Workforce Singapore. Sign up for our e-newsletters now!
2. Subscribe to newsletters
In our time-pressed society, newsletters can be a quick and effective way to sift through massive amounts of information on certain topics or keep abreast with the latest industry news. The key is to be selective in what you subscribe to so that you do not get overwhelmed.
To keep updated on the latest business news, consider subscribing to The Business Times' newsletters. The publication offers a variety of newsletters focusing on different aspects of the business world, such as the SGSME and Garage newsletters. The SGSME newsletter provides weekly updates on SME profiles, expert tips and more, while Garage covers startup news. 
For newsletters about other topics, try using keywords such as "award-winning newsletters" or "best newsletters of 2020" so that you can sift through the information quickly to find what you want. Alternatively, you can search for newsletters recommendations on LinkedIn by visiting the "My Network" tab or visit LinkedIn's Top Picks for newsletters. You can also search Milled, a search engine for email newsletters. 
Have a job but want to level up? Explore career events and resources designed to help you develop your skills and expand your knowledge with Career GRIT. Check it out now!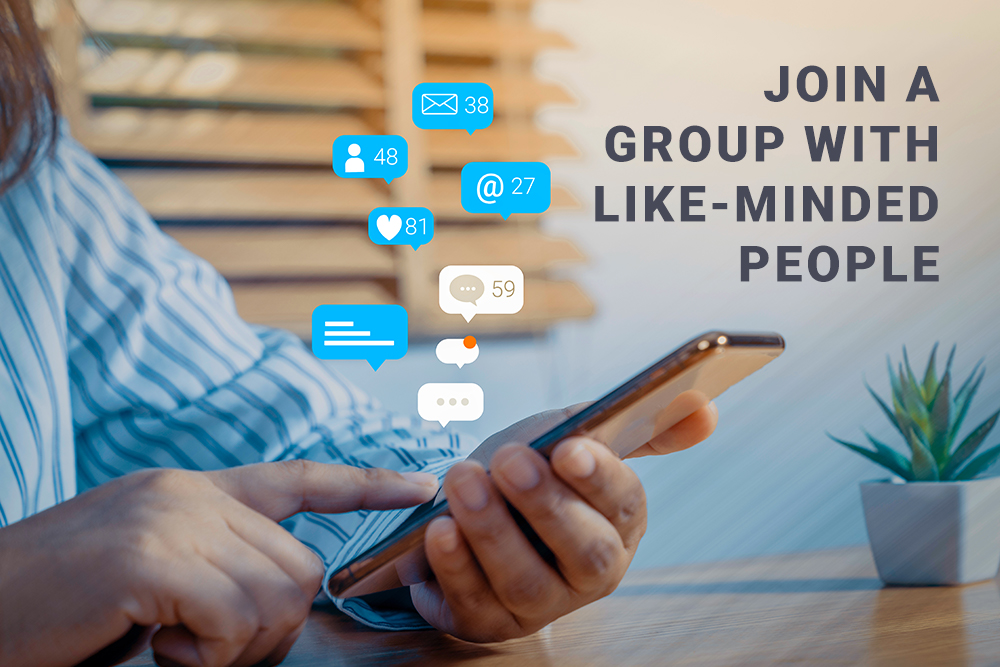 3. Join a Facebook Group or LinkedIn Learning community
Another good way to learn is by joining Facebook Groups or LinkedIn communities based on your interests.
Facebook Groups allow you to connect with people with similar interests. There are groups in areas such as business, science and technology, education, parenting, health and more. Once you are in the group, you can learn from the topics discussed and ask questions and contribute to the discussion to improve your knowledge.  
The same applies to LinkedIn Groups. Besides learning from like-minded people, you can also grow your network. 
Read Also: 3 Key Tips To Networking And Building Meaningful Relationships Online
4. Learn from others
All of us come with a set of knowledge and skills. As you go about your daily tasks at work, observe how your co-workers work and learn from them. Meetings often offer a wealth of information for learning. For instance, you can observe how different people present and adopt their best practices. You can also learn negotiation skills when you see how your colleagues get buy-in from various stakeholders. 
To take your learning a step further, ask your co-workers and supervisor for feedback to improve your work performance. If your company has a mentoring programme, consider joining it to receive guidance from an industry veteran so that you can avoid the common pitfalls as you advance the corporate ladder. Even if your company does not have a structured mentorship programme, you can still find a mentor through online platforms like Meetup.com or LinkedIn.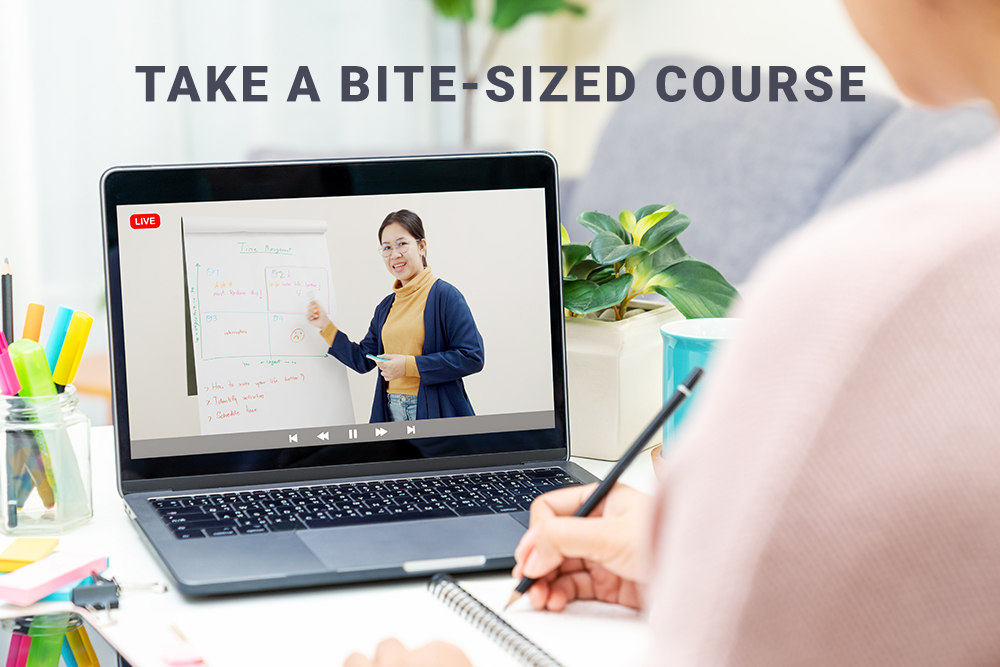 5. Take a bite-sized course
The online learning market is rapidly growing and will only continue so. Learning doesn't have to take hours at a time — you can even use the 20 minutes spent waiting in line to pick up something new. The National Trades Union Congress' (NTUC) e2i (Employment and Employability Institute) has partnered with various institutes of higher learning to create a mobile app called ULeap (Learning Enabled Through Active Participation) that lets you learn through short courses.
The app, which is targeted at working professionals, has a plethora of modules ranging from cybersecurity to conflict management, robotics and more. The best thing is that each module lasts for around 15 minutes so they can fit into your schedule as and when you have time. 
If you're looking for roles in customer service, data analysis, project management, recruitment, supply chain and sales development, LinkedIn's new Skills Path service allows you to upskill with free courses, and validate these skills with assessments, to help you become more noticeable to potential employers.
With the support of the National Jobs Council, LinkedIn will also help Singaporean companies evaluate and hire candidates based on their skills, instead of traditional criteria like education degrees, designations and networks. If you're an employer, this will help you broaden your talent and hiring pools, and build a more diverse workforce.