When Covid-19 struck Singapore, many businesses were left devastated in its wake. 
Familiar names in the food and beverage industries were forced to close down during the circuit breaker period, while others in the travel and hospitality industry, saw their bookings dry up rapidly.
Some staff had significant pay cuts while others were put on furlough. Then, there were others who lost their rice bowls and had to take up temporary jobs, to make ends meet. 
Look for your next job on MyCareersFuture. We have over 80,000 job opportunities daily for you.
Staying grounded in the face of uncertainty
Recounting her experience when the virus outbreak began in Singapore, air stewardess Ms Hailey Huang, 28, says: "I felt shocked because things escalated quickly. Suddenly, every country was on lockdown."  
With flights grounded, Hailey, like many cabin crew members, was left wondering when she can take to the skies again. 
To supplement her income since the bulk of it came from her flight allowances, Hailey started working as a receptionist temporarily.
She also wanted to use the opportunity to gain more experience working in the office, since she has been working as a cabin crew after her graduation.
Looking for a meaningful career and need professional advice? Let us help you. Click here to register your interest and we'll be in touch soon.
Initially, Hailey was worried about the office hours as she was not used to working from 9 am to 5 pm. However, she adapted to it quickly and learnt to manage her new job scope. 
It also helped that her friends and family members were behind her decision.
"They were super supportive and asked me to try out different areas before settling for something more permanent," shares Hailey.
More importantly, she is trying to stay positive during this challenging time. 
"This may be a tough period, but I have my family's support. It has also been a good break from working [as a stewardess] as my schedule is usually very packed pre-covid-19. I appreciate spending more time in Singapore with my friends and loved ones," Hailey adds.
Currently, she does not have any concrete plans for her career.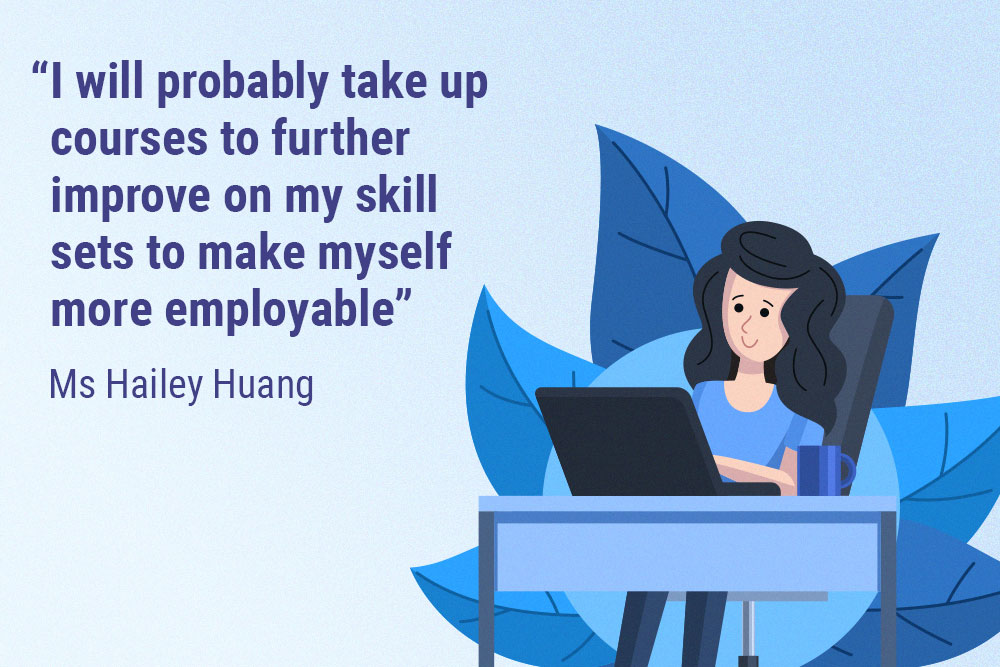 "If I find something suitable, I might switch careers. I will probably take up courses to further improve on my skillsets to make myself more employable," she says.
Hailey also encourages other jobseekers not to give up in the face of difficulties.
 "Be positive. This difficult period won't last forever. Take a break from your hectic work life and spend more time on yourself."
From DJ to frontline healthcare worker
Most people would be familiar with the name Jade Rasif.
Jade, 26, is one of the highest-paid female DJs in Singapore and Asia. She is also an influencer with over 300,000 Instagram followers.
However, the mother of one now has a new identity as a frontline healthcare worker.
In an interview with The New Paper, Jade revealed that she started volunteering with the Singapore Healthcare Corps in April 2020.
After training, she was deployed to places such as foreign workers' dormitories and hotels, though she has declined to mention her exact occupation.   
While she initially wanted to do logistics and data entry, she changed her mind to join the frontlines after she was told that they needed more manpower there. 
Now, Jade loves her new job so much that she does not regret giving up her previous sources of income from sponsorships and media appearances.
Attend walk-in interviews, virtual career fairs, workshops and more! Explore Career GRIT and find events and other resources best suited to your career journey. Check it out now.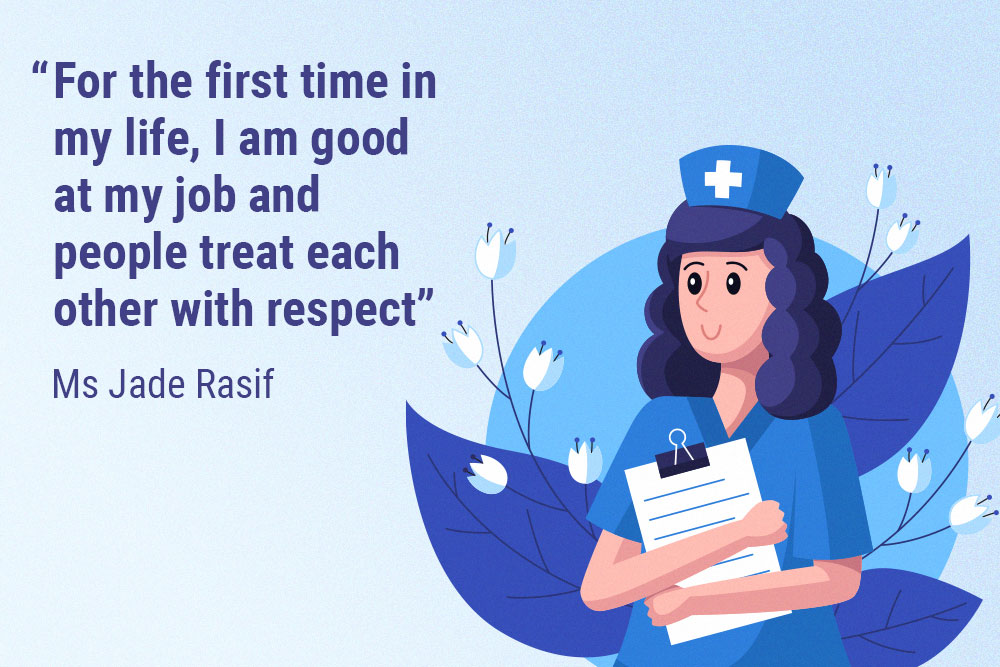 "For the first time in my life, I am good at my job and people treat each other with respect," she says.
Once the pandemic is over, Jade intends to take up a nursing degree course. She encourages everyone to "put themselves out there and upskill".
Undeniably, Covid-19 has dealt all of us a shockingly brutal and unexpected blow. Many individuals are still grappling with its effect.
Moreover, there is no guarantee that the worst will be over soon. 
However, it is important to stay resilient and be adaptable for our loved ones' sake, even if it means leaving our comfort zone to switch careers or taking on a temporary job to get by while we explore more permanent career options.  
As shown from these two Singaporeans' situations, there is a glimmer of hope even in the most challenging situations.