The world is seeing a great shift in the way we work. The future of work is already here, and with it comes automation and 'thinking machines' that are taking on human tasks. 
As such, companies now look for talents with specialised skills to remain competitive. Covid-19 has also accelerated the adoption of technology in the workplace.
So, if you've just graduated and intend to join the workforce soon, don't leave things to chance. 
To be prepared for the current economic climate and lengthen your career runway, you have to upskill to seize the opportunities available.
Find your next job on MyCareersFuture. We have over 80,000 job opportunities daily for you.
Is your university degree enough?
Now, you may be thinking, "Why should I upskill? I'm a degree holder!" 
You may believe that your academic credentials are enough, but the truth is degree programmes may not be fast enough to keep pace with how fast things are changing in the workforce. 
Speaking at The Straits Times Education Forum earlier this year, Minister for Education Chan Chun Sing said: 
"It used to be said that we may use almost 20 years to prepare for our first job, and that may be our only job for life. That's our parents' generation. But what if we need to do 10 different jobs for life, changing every five years on average? That's our generation." 
Formal education may prepare you with theoretical and fundamental skills for the job, but when it comes to the real world, there is more than meets the eye. 
A 2021 survey of more than 15,000 university students and recent graduates in the Asia Pacific by the CFA Institute, a global association of investment professionals, found that 21% of Singapore respondents felt underqualified for the job they want. 
On top of that, more than four in five (83%) have identified upskilling and professional qualifications as important in the current job market.
Nick Pollard, managing director, Asia Pacific, at the CFA Institute stressed the importance of upskilling for fresh jobseekers said: 
"With a job market that will likely remain somewhat distorted for the foreseeable future, it is clear there is value in developing skill sets that are adaptable, flexible and ready to pivot at any time."
Skills gaps are prevalent and widening. The surveys have revealed that many fresh graduates experienced a rude awakening upon entering the workforce when they discover how lacking their skills are for the jobs they're in.
Others have realised that they don't have the right skills for the job they want. 
Want to level up? Achieve career excellence, develop your skills, and expand your knowledge with resources from Career GRIT. Check it out now!
So, how do you start upskilling?
Upskilling is not a homogeneous process for everyone; our needs, career goals, skill sets and experience differ. 
As such, it is important to establish a clearer understanding of yourself and your career journey, as well as identify areas for upskilling.
Some of the questions you may want to ask yourself are:
What are the jobs that I intend to apply for?

What are the skills I'm lacking for the roles I'm keen on?

What kind of training should I go for?
If you have identified the key areas that you'd like to upskill, it's time to explore resources that will help you level up. 
To help you get started, we have put together a selection of upskilling resources for you to tap on easily.
Read More: Upskilling and Reskilling: Know the Difference and Why They're Important for Career Resilience
1. Online courses
The best thing about online courses is that you can learn at your own pace and time. Looking for an interesting topic to learn? 
Hop into one of the many bite-sized modules available on Massive Open Online Courses (MOOCs) to watch several quick videos or complete a mini quiz. 
The great thing is that many of these online courses are free!
Here are some popular MOOC platforms that offer job-relevant online through a wide range of offerings from hands-on projects and courses to job-ready certificates and degree programmes!
If you're looking for platform-specific learning, here are some popular platforms that you can tap on for industry-specific courses: 
On the other hand, if you're seeking a one-stop platform to view and register for in-depth professional certification, check out MySkillsFuture. 
A nationwide learning portal, it offers a variety of resources to help Singaporeans develop their fullest potential regardless of their skill level. 
You can also make use of your SkillsFuture Credit to offset the course fees!
The good thing about paid courses is that there will usually be instructors or trainers facilitating lessons, which allows you to ask questions, seek feedback and have active interaction in learning.
Once you complete a course, don't forget to update your newfound skills in your resume and professional profile in the jobs portals you're using. 
If you've got it, flaunt it to the employers! 
MyCareersFuture tip:
Adding relevant skills to your MyCareersFuture profile makes it easier for employers to search for you and boosts your chances of landing an interview.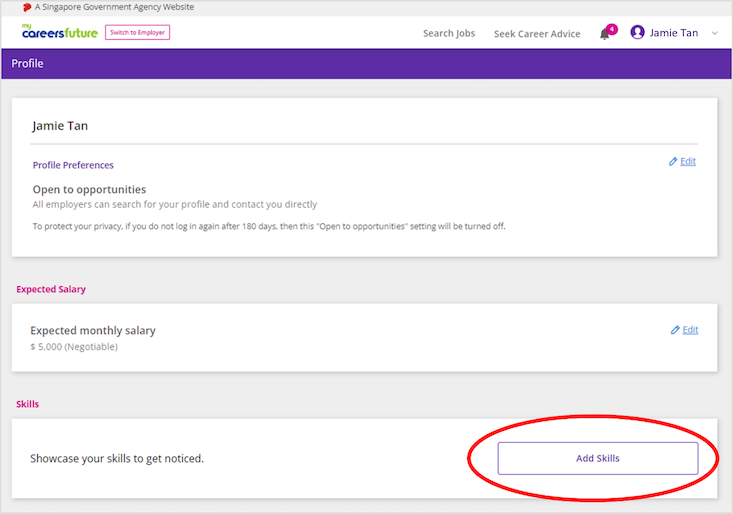 Log in to add more skills to your MyCareersFuture profile now!
2. Career advice
If you're looking to understand more about employment trends and insights, it is always good to read up on relevant career advice articles. Workipedia by MyCareersFuture offers a plethora of articles related to anything career-related under the sun! 
Whether you're a fresh graduate or a mature worker, there is something for everyone.
3. Career GRIT
If you're still unsure about upskilling, check out the Career GRIT platform for support and essential tools for each career stage.
This one-stop career advisory platform is a handy guide to navigating your career journey. As a fresh jobseeker, you can get in touch with career coaches to seek advice on upskilling or even get an assessment of your skillset.
Instead of just getting information online, it is also a good idea for you to attend physical career events, seminars and workshops and gain the opportunity to speak to employers. 
All you need to do is to scroll through the events listed on Career GRIT and register for the ones that you're keen to go for!
Read More: Job Opportunities Abound: All You Need is GRIT to Seize Them
If you need more help…
As a fresh jobseeker, you may need more help than just knowing the hows and whys of upskilling. 
Take a look at Workforce Singapore's Career Starter Programme for Fresh Graduates to prepare you for joining the working world. 
We've also compiled a list of relevant articles below for the fresh jobseeker. Good luck with your job search and upskilling journey!

6 Tips for First-time Jobseekers
Bad Job Market: Platforms to Help Fresh Grads
First Job: Should a Fresh Graduate Negotiate on Salary
The Top Soft Skills Employers Value in Fresh Graduates
First Time Looking for Jobs? Read This Beginner's Guide
First Job Tips: 7 Things You Should Do for Career Success
Newly Graduated and Looking for a Job? Here Are Some Resume Tips
Has Your Child Just Graduated? Here's How to Support Them While They Job-Hunt
Getting Your First Job: How to Prepare and What to Expect
Finance 101 for Fresh Grads: Budget Tips When Starting Your First Job
A Fresh Graduate's Guide to Legal Protections Under the Employment Act
Why Work? The Mindset that Fresh Graduates Need for Career Resilience
How Millennials Can Stay Adaptable and Advance Their Careers

How Fresh Graduates Can Get a Job Without Experience
Getting the Job: Tips for Fresh Grads to Boost Their Chances
Job-Hunting After Graduation: How to Tell Which Career to Take
5 Smart Ways for Fresh Graduates to Nab the Job They Want
Getting Your First Job: 5 S'poreans Share What to Expect
New Graduates With No Work Experience: Here's How to Nab Your First Job
Fresh Graduates: Should You Take the Job Offer or Wait?
How Millennials Can Stay Adaptable and Advance Their Careers

Looking for a Part-Time Job as an Undergraduate? Here's How
Short-term Trials for Work: How These Can Help Your Job Search
Finding it Tough as a Young Jobseeker? A Traineeship May Be Your Best Option

Getting Your First Job: 6 Tips From A Career Coach
Why Even Fresh Graduates Can Benefit From Having a Career Coach